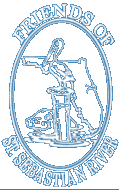 Home
About Us
Who we are
The St. Sebastian River
What's in a name?
The first 20 years
Awards
Meeting Info/Events
Photo Gallery
Membership Info/Renew
Links
News and Information
Local / National / International
Library/Newsletters
St. Sebastian River Research Project
Newsletters
Board agendas & meeting notes
Invasive Plant Information
Famous Quotes
Volunteer!
Volunteer Hours Log / Committees / Sign-up
Water Quality - SSR
Like us on Facebook

Mailing Information
P.O. Box 284
Roseland, Florida 32957-0284
Phone: 772-202-0501
email: info@fssr.org
Email Updates
Once or twice a month we send out emails to our members with information that is timely, or items we believe will be of interest to you. We also include reminders for our upcoming public meetings.
If you would like to be included on our email list, please click here to sign up. We respect your privacy and will not share your contact information with anyone else.
Board of Directors
Tim Glover, President, '23
Buzz Herrmann, Vice President, '23
Carol Lynn Peterson, Secretary, '22
Terry Greene, Treasurer, '23
Tom Bauer, Director, '22
Diana Bolton, Director, '22
Mark Bondy, Director, '22
Julia Held, Director, '22
Bruce Sabol, Director, '22
Bob Stephen, Director, '23
Bruce Zingman, Director, '23
Founding Member
Frank DeJoia
1924-2017
Directors Emeriti
Bill Brennan
Lynn Stieglitz
Frank Wegel
Committees
Advocacy - Buzz Herrmann, Chair - to further the mission of the Friends of St. Sebastian River by keeping the Board informed of public policy issues and recommending action.

Finance - Terry Greene, Chair - responsible for assisting the board in ensuring the organization is financially viable and meeting its fiduciary and compliance responsibilities. Education/Outreach - Diana Bolton & Bob Stephen, Co-Chairs - educate the public about river-related natural resource topics and what they can do to keep the river healthy and beautiful by recommending environmentally-friendly practices. Governance - Buzz Herrmann, Chair - responsible for ongoing review and recommendations to enhance the quality and future viability of the board of directors. Information - Tim Glover, Chair - search out any information available regarding the St. Sebastian River and its watershed, including scientific, historical and other knowledge, combining it with existing information, and develop a repository and/or reference list for such information. Establish criteria for validity of gathered information. Membership - Buzz Herrmann, Chair - inncrease/retain membership. Maintain accurate membership database. Publicity - Julia Held, Chair - employ a variety of communication methods to disseminate information to the FSSR membership and general public. Volunteer - vacant, Chair - grow our volunteer base and ensure volunteers have ample opportunity to be informed and involved.