We are always looking for any interesting photos to post here on our website. We are especially interested in nature/habitat photos of the St. Sebastian River, the St. Sebastian River Preserve State Park, and the surrounding area. If you have any photos that you think may be of interest to our members, that you would like us to post here, please send us an email with your photos, or for more information. Photos need to be in "JPEG" format and do not need to be any higher resolution than 72 dpi.
---
Frank Baisden Sketches - St. Sebastian River
The following sketches were done by part-time Roseland resident and artist Frank Baisden in the mid-1960s. These sketches were donated to the FSSR by Ruth Stanbridge in March 2018. We very much appreciate Ruth's donation and her consideration. Below is a comment from Ruth and her description of these sketches and how she came to acquire them.
| | |
| --- | --- |
| With gratitude to F.F.W.F. & G.C. "Before" Frank Baisden | With gratitude to F.F.W.F. & G.C. "After" Frank Baisden |
"I knew Kay and Frank Baisden when they were living in Roseland in the 1960s – I think they moved back permanently to Rising Fawn, Georgia in the 1970s. They lived at the very end of Bay Street where it dead ends. They sold that house and property to Grover Fletcher and he later moved the Quay/Winter Beach Railroad Station there. Grover has long since left the area, but I understand that both buildings are still intact and in good condition."
"Their property stretched down to the Sebastian River on the north and to the little creek to the west. From their property Bill and I took our canoe (about 1966) up the north prong of the Sebastian. The C-54 Canal was being constructed at the time. I worked for the Game and Fresh Water Fish Commission and our agency was trying to stop or, at least, mitigate that channelization. So, Frank did me a personal sketch of the "before and after" of the area. Kay and I were charter members of the Pelican Island Audubon Society. Kay was corresponding secretary for many years."
In researching Frank Baisden online, we came across a wonderful story by a Ms. Mary Moon, who serendipitously ended up living down the street from the Baisden's in Roseland. Below is an excerpt of her recollections. If you would like to read her full story, visit AStory Fifty Years and More in the Making.
"When I was five years old, my mother escaped (there is no other word for it) from Chattanooga where we lived with my drunken father. He was the sort of drunk who would go off for days and weeks at a time, leave my mother and two children with no money, and when he was home, he was often mean, I think, and I remember him threatening her and then he got a gun and then he almost burned the house down and finally, she put aside whatever pride it was she had and with the help of her minister, she took my brother (who was about three) and me down to Roseland, Florida, where her parents lived."
"And here we came, this woman of thirty-two and her two small children and the first thing that happened was that Mother ended up in the hospital with pneumonia and my brother and I were in the care of these very old people (or so they seemed to us) and when Mother got better, she wanted, for whatever reason, to go swim in the ocean every day and it was crazy because it was January, February, and even in Florida, the Atlantic was cold and rough but one of the women who lived down the road would go with us and swim with her, and bless her for doing that. Kay Baisden was her name, and she was married to a man named Frank, and Kay fascinated me because she wasn't like anyone else. Frank wasn't either and although he scared me a little, I loved to go to their house for tea in the afternoons and I loved that house. It was an old grove house and not the least bit fancy (no one's houses were fancy in Roseland) but it was beautiful with wood and art and it smelled like no one else's house and I think that Kay wore beautiful skirts and jangly bracelets."
"...I never forgot the Baisdens, even after we moved away and I dreamed of that house and when I'd go back to Roseland, it was still there and I yearned for it, or at least what it represented which was as insubstantial as smoke or the steam from a cup of tea but as deep and funky as old wood boards and a jungle outside the back door."
In addition, Jackie James, who was a member of the Friends and a long-time resident of Roseland lived in the house that belonged to the Baisdens, for a number of years. She loves Ms. Moon's story and offered us her recollections of this beautiful "unfancy" grove cottage in Roseland:
"My husband knew Frank B. at the Univ. of Chattanooga, in Tenn., back in 50s. Frank attended the Penn. Acad. of Art and was also with the art dept. in Chattanooga, Tenn. where I lived also. At that time it was the U. of Chattanooga, but now it is a part of U. of Tenn. About the time I moved to Roseland, in 1993, Mr. Frank B. was in a nursing home in Chattanooga and died. I understood when I bought the old Fear Estate in Roseland, that Frank B. and his wife, Kay, once owned it and lived here in the winters. He became friends with old Mr. Frank Moshier who lived in the winter cottage next to my present cottage. Mr. M. had one of Baisden's paintings on his living room wall, as well as old Roseland newspapers from the 70s, and a program from the Hunter Museum of Art in Chatt. about a Baisden showing there."
"The B.s lived and owned my old house where I lived when I first joined Friends of St. Seb. River. My old house was two houses. That porch was the old Knights Grocery Store and it was moved here and attached to the Fear House in the 70s. I bought the house from Nancy Fletcher and she was in the train station at that time (moved to the adjacent lot)."
"Mrs. Kay Baisden was mentioned in old records of the Roseland women's Club and I think the Roseland Garden Club, as were most women around here. Then there is another famous artist who used to come to my old house when Frank B. lived in it, as both artists also attended the Penn. Academy of Art. His name was Walter Eniss Anderson, of Ocean springs, Miss. He is one of my favorite painters and I have checked out so many of his books from local library etc. I'm wondering if any of the sketches were done from the property behind his and my house, which would be leading down to the Goodrich Estate on the river. I was told that my old house, this present cottage where I reside, and old Mr. Moshiers's cottage, still standing next door, all had views of the St. Sebastian River back in the 20s. I would suspect that the old Fear Estate, my house and later Braisden's, is the oldest house in Roseland. Seems like my old house was built in 1904 or 06."
American River's National River Cleanup 2016 - St. Sebastian River
The following photos of our 2016 St. Sebastian River Cleanup were taken by volunteer Sandy Peterson.
We filled 27 bags of trash and recyclables, for a total of about 325 pounds of trash collected!
Thanks to all the volunteers - Austin, Bruce, Buzz, Jane, Judy, Karen, Kimberley's mom, Marion, Matt, Quentin, Sandy, and Tim.
---
The following photos show kids enjoying/using the National Geographic kid's magazine the Friends provides to the Sebastian Elementary School
photos by Lorrie Scott, Sebastian Elementary School

The following photos of baby alligators were taken by Paul Erickson on the South Prong of the St. Sebastian River in the summer of 2013



National River Cleanup Week - 2008
The following photos are from our river cleanup trip on the St. Sebastian River, June 1, 2008 as part of the "American Rivers" National River Cleanup Week. The trip was hosted by the Friends and the water-side part of the cleanup was sponsored by Kayaks, Etc. of Vero Beach. The land-side part of the cleanup was held in and around Moore's Point Park at the mouth of the St. Sebastian River and was conducted by Sherry Shipley, Frank Wegel and Bruce ZIngman.
Thanks to all who helped out, especially the AmeriCorps volunteers, and to Mike & Kristen Beck of Kayaks, Etc.!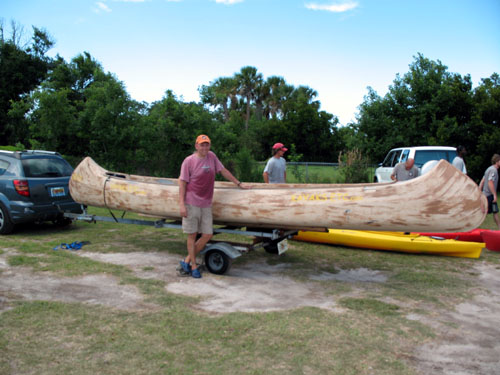 Mike Beck of Kayaks, Etc. with their mega canoe (aka garbage scow!).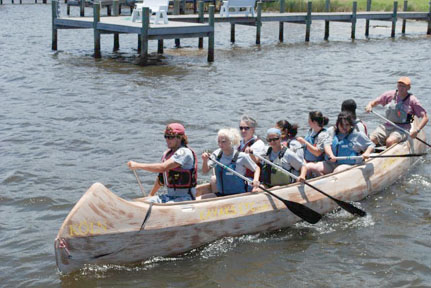 The "slave ship", commanded by Captain Mike (photo courtesy of Jerry Woods)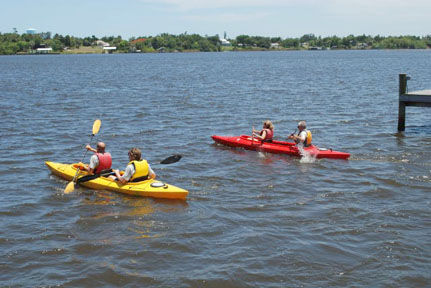 Ahh, now that looks like more fun! (photo courtesy of Jerry Woods)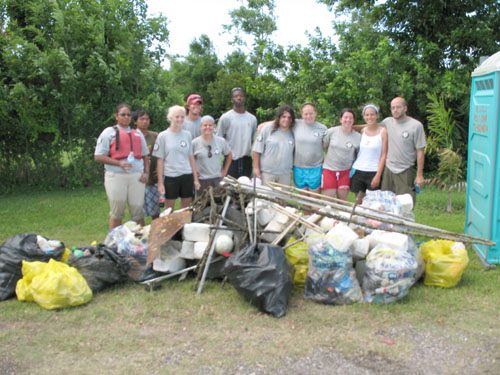 AmeriCorps volunteers with trash collected from the water-side part of the cleanup.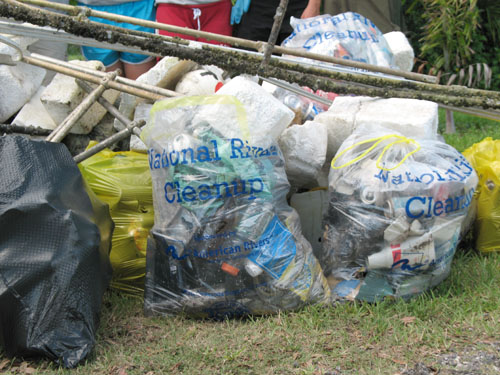 Bags of trash from the river cleanup - all bottles and cans got recycled!
---
National River Cleanup Week - 2007
Below are a few pictures from our recent kayak trip on the South Prong of the St. Sebastian River. This was the first trip we have hosted using kayaks and working with our corporate member - "Kayaks, etc". The trip was in June 2007 and coordinated as a cleanup event as part of the American Rivers organization's National River Cleanup Week.
The photos were taken by Friend's member Linda Weinstien and are used by permission.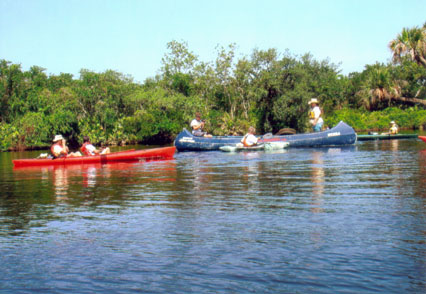 Kristen and Mike Beck of Kayaks, etc. man their huge canoe, brought from Germany to collect any trash found along the trip.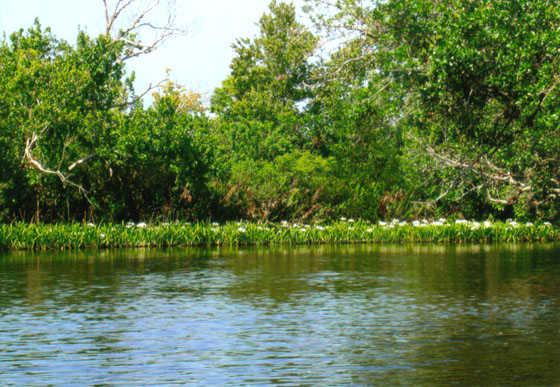 Gorgeous and fragrant swamp lilies in blossom along the shoreline of the river.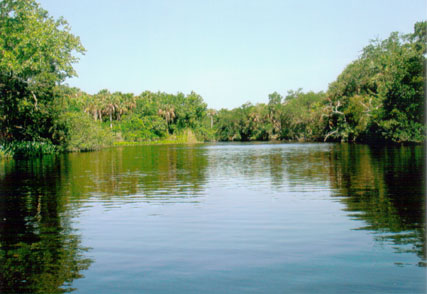 View of the South Prong of the St. Sebastian River.
---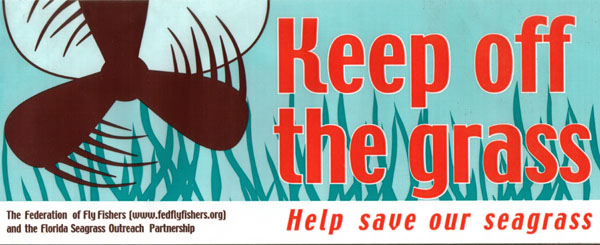 This bumper sticker is out of print, but the message is still important!
from The Federation of Fly Fishers and
the Florida Seagrass Outreach Partnership
---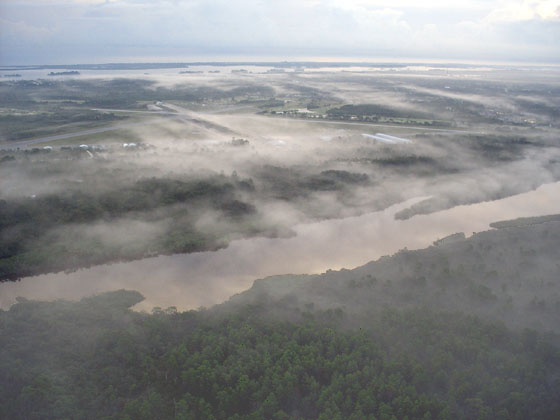 Early morning fog over the South Prong of the St. Sebastian River
Donald MacDonald park is on the eastern shoreline
©Dr. Jeff Slade, used by permission
---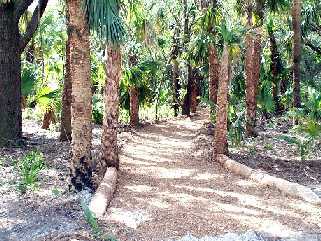 This picture is part of the walking trail at the Sebastian Stormwater Park off Englar Drive. The park is open to the public. For more information and a link to a map of the park and trails, visit the Sebastian Area Chamber of Commerce website.
This picture came from a PowerPoint presentation given to the Friends by Troy Rice, Director of the St. Johns - Indian River Lagoon Program, on January 25, 2005. If you would like to download the entire PowerPoint presentation (3.4 MB) with many more pictures of the park, please click here. You will need either the Microsoft Office PowerPoint program (or similar software) or the free PowerPoint Viewer. If you would like to download the free PowerPoint Viewer software from Microsoft, please click here.
---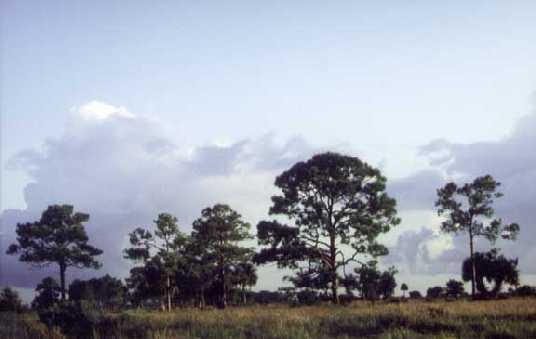 St. Sebastian River Buffer Preserve State Park
---
Below are pictures from a canoe trip that we took with about a dozen members and other "Friends" along the South Prong of the St. Sebastian River, in the fall of 2003. You can click on any of the images to view a larger version.

















---
The Florida House of Representatives Mural Project
In the late 1990s, the Florida House of Representatives undertook major renovations of the House Chamber. As part of the project, Speaker John Thrasher and the House commissioned artist Christopher Still of Tarpon Springs to paint a series of eight murals highlighting Florida's long and diverse history. These murals now permanently hang in the House Chamber.
Melane Byrd, a 7th grade teacher and wife of House Speaker Johnnie Byrd, has led an effort to teach the stories behind these murals to Florida students. Mrs. Byrd is working with the Department of Education and educators to incorporate the history depicted in these murals into art and history classes across the state. The curriculum being prepared for the fall of 2004 will include a video and detailed guide explaining each piece of art and the history within each mural. A book titled This Land Called Florida will also be available for purchase by school media centers throughout the state.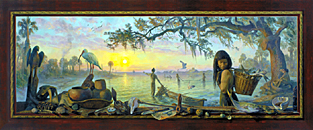 The House website no longer features these murals with their descriptions, but more information can be found on the Florida House webiste, along with a link to the artist's website and views of the murals.
---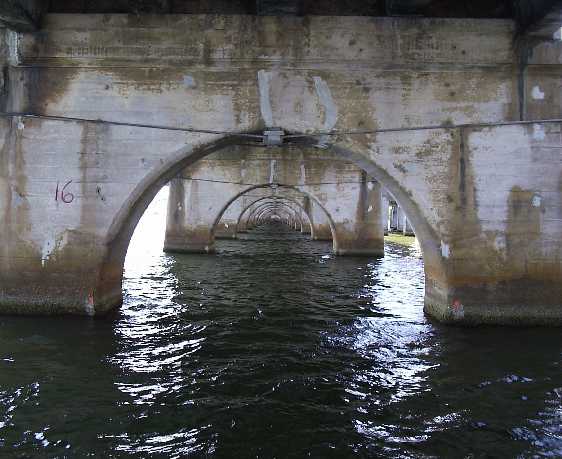 Old US 1 bridge - St. Sebastian River
©Randy Lang, used by permission