This page contains lots of information and news stories on various topics and issues of interest. To help you navigate this page easier, you can click on any of the topics listed below to link to that section on this page. You can easily return here to the top of the page by hitting the "Home" button on your keyboard.
Live News Feeds - For a page of live headline updates on environmental news, issues and information, click here. This information is continuously updated by the respective organizations, and includes a link to more information on each story.
Local News Stories
Florida Conservation Voters Applauds the passage of Senator Bradley's SB 370 as it moves to floor of Florida Senate
Jonathan Webber, Deputy Director
Florida Conservation Voters, January 11, 2018

Today, Senator Rob Bradley's Senate Bill 370 – Land Acquisition Trust Fund passed through the Senate Appropriations Committee. This was the bill's final committee stop and it now heads to the floor of the Senate.

Florida Conservation Voters strongly supports SB 370 and applauds Senator Bradley's unequivocal efforts to shepherd this bill through the legislative process. FCV also supports the addition of Amendment 697130, which further refines the type of expenses that may be funded using monies set aside in the Land Acquisition Trust Fund, bringing the state's budget one step closer to honoring the will of the voters.

Click here to read the full press release, or to learn more about the Florida Conservation Voters.
Perspective: A picturesque calendar of ranches shows why the state needs to preserve wild Florida
By Carlton Ward Jr., special to the Tampa Bay Times
December 19, 2017

These photographs may be the most important I've made in nearly 15 years focusing on Florida ranches. The reason is that all the properties featured are priorities for conservation that could be lost to development if the state of Florida doesn't take action to protect them. It was a great honor to visit these spectacular places and spend time with landowners and workers who are doing their part to save wild Florida. Now it's time for state lawmakers to do their part.

Click here to view the full story and photos by Carlton Ward Jr.
Hurricane Irma: Gov. Rick Scott's Superstorm
Florida's governor is the perfect example of how U.S. leaders fail to meet the challenge of our lifetime
By Jeff Goodell
Rolling Stone, September 20,2017

Hurricane Irma cut a wide swath of devastation, but it also created a new media star: Rick Scott. During the deadly storm, the 64-year-old Florida governor was a ubiquitous presence on cable TV, the kind of high-profile make-or-break moment that defines a political career (see George W. Bush, Hurricane Katrina). And so far, Scott has come out looking like Gen. Patton standing tall against Mother Nature.

Whoever designed the universe must have a twisted sense of humor. It would be hard to cast a more unlikely hero than Scott for this catastrophic event. In fact, Scott's triumph is its own kind of catastrophe, one that says a lot about why the politics of climate change and disaster relief are so screwed up in America.

Politically, Scott is Trump without the bluster and the golf clubs. On climate change, Scott refuses to acknowledge its existence. During his 2014 campaign, whenever the subject came up, he would shrug and say, "I am not a scientist" – as if that absolved him of any responsibility for thinking about the risk posed to millions of people in the state he proposed to run.

As governor, Scott has done everything he can to do nothing. He made sure the state of Florida contributed zero dollars to Miami Beach's $400 million plan to improve storm drainage. He took more than $1 million from Big Utilities, who tried to stop rooftop solar power in Florida, which could help reduce carbon pollution. He effectively dismantled the Florida Energy and Climate Commission, which had been assembled by Scott's predecessor, Charlie Crist, to help Florida officials think strategically about climate adaptation. As Kathy Baughman McLeod, a conservation expert who served on the commission, told the Washington Post, "There is no state leadership on climate change in Florida, period."

Click here to read the full story.
A First-ever Effort to Restore Indian River Lagoon's Vanishing Seagrass
Amy Green
WMFE, November 7, 2017

A first-ever effort is underway to replenish the ailing Indian River Lagoon's seagrass with new grass raised in an onshore nursery.

The seagrass was planted a year ago near the Merritt Island Airport, where a restoration was underway. It had been raised nowhere near the Indian River Lagoon, in a Tampa-area nursery.

Environmental advocate Laurilee Thompson, who also owns Titusville's Dixie Crossroads restaurant, says recent monitoring shows the one-acre bed is thriving.

Click here to read the full story.
An Apex Predator Returns2> After 35 years the only thing missing from this Florida paradise was the snake. The Nature Conservancy
The reintroduction of the eastern indigo snake in Northern Florida could be as significant as the reintroduction of wolves in Yellowstone.
Put it down to natural antipathy or an ancient prejudice that has lodged in our amygdala. Or maybe it's simply because snakes have been vilified throughout time and art from the Book of Genesis to Harry Potter (millennia of negative publicity can have that effect). For whatever reason, most people just don't like them.
So why are so many government agencies and conservation groups, starting with The Nature Conservancy in Florida, so ecstatic about the recent release of 12 little snakes in a north Florida preserve?
For starters, the eastern indigo is not so little. The longest snake native to the U.S., it grows up to nine feet long, as sleek as a stair bannister, with conspicuous scales as black/blue and lustrous as the sky at the end of sunset. From a public relations standpoint, it doesn't hurt that it's non-venomous, docile (not aggressive even when cornered) and, at least as far as its diet goes, fond of its fellow snakes, particularly the venomous kind. A daytime hunter, it was once a common sight throughout Florida, right up into Georgia, southern Alabama and southeastern Mississippi. By 1978, however, its numbers had so declined it was one of the earliest entries on the list of protected wildlife under the Federal Endangered Species Act, victim to that natural antipathy, cars and the steady degradation of its habitat.
Click here to read the full story.
Fix the Everglades? Don't listen to Sugar's lobbyists
Maggy Hurchalla, guest columnist
The Orlando Sentinel, February 10, 2017

The Florida Legislature is likely to be divided this session between North and South Florida.

It shouldn't be.

South Florida needs water desperately. What used to flow south from Lake Okeechobee down through the Everglades can't get there anymore.

Florida Bay is dying. The Keys fishing industry is hurting.

If Everglades National Park is to survive, it needs lots more clean, fresh water.

Miami is facing salt intrusion on the Everglades side of the Biscayne Aquifer that serves 3 million people.

Because the water can't go south, it is being dumped east and west and is destroying the coastal estuaries.

South Florida is finally united in backing the concept that we have to send clean water south, and we need to buy land for storage and treatment south of the Lake to make that possible.

The lobbying attack against Sen. Joe Negron's effort to solve the problem has turned into a game of musical chairs. As soon as one argument against sending water south is shot down, another appears.

It's confusing. It's meant to be.

Click here to read the full story.
---
ORCA: No 'silver bullet' for source of Indian River Lagoon pollution
Tyler Treadway
Press Journal, January 24, 2017

FORT PIERCE — Researchers at the Ocean Research & Conservation Association announced Wednesday evening they have discovered the primary source of pollution in the Indian River Lagoon.

"The problem is us," Edith "Edie" Widder, ORCA's founder and lead scientist, told a gathering at Pelican Yacht Club. "There's just too many of us living along the lagoon, and we're putting a lot of stress on the environment."

"We had hoped we would be able to pinpoint the source of pollution," Widder said before the presentation, "that we would be able to say, 'Agriculture is the problem,' or, 'Lawns are the problem.' But there isn't a silver bullet that you can point to and say, 'If you get rid of this, you'll clean up the lagoon.' It's all of us."

Click here to read the full story.
---
Florida's Latest Invasive Species: A Fern Capable Of Toppling Trees With Its Chokehold
by Amy Green
January 23, 2017, WMFE

LeRoy Rodgers pulls a pair of clippers from a bag and hops off an airboat.

He'll need the clippers to cut a path through the Old World Climbing Fern choking this island of trees within the Arthur R. Marshall Loxahatchee National Wildlife Refuge, part of the Everglades.

The florescent green fern renders the tree island virtually impenetrable. It cascades from wax myrtle and dahoon holly trees, its dead vermicelli-like vines weaving a thick brown mat near the ground obstructing every step. Without help the trees will collapse beneath the stranglehold.

The Old World Climbing Fern is Florida's latest and greatest invasive plant species.

Click here to listen to the story or read the transcript.
---
St. Johns River restoration touted as greatest in Florida
By Kevin Spear
Orlando Sentinel, August 26, 2016

PALM BAY -- The biggest environmental repair ever fully completed in Florida was celebrated recently with little fanfare at a boat ramp as sunbathing vultures watched.

It took decades for state and federal agencies to rehabilitate a span of St. Johns River birthplace more than double the size of Orlando, which is 50 to 80 miles away.

Agricultural damage to Florida's longest river had been epic but, according to many involved, that was met with an equally epic quest from what is now a bygone era of environmental stewardship.

"If we were starting from scratch, I doubt the project would have a prayer of gaining traction in today's political climate," said Maurice Sterling, who during some of his 37 years at the St. Johns River Water Management District had been in charge of the project.

"Forty years ago, it was an act of sheer audacity for a then-fledgling agency like St. Johns water district to propose such a bold and expensive initiative," said Sterling, now retired. "The water district had no real credibility, did not yet own any permanent office space and survived on a shoestring budget."

Gov. Rick Scott and legislators have cut budgets and staffs at water districts, and districts now boast of rapidly issuing permits for wetlands destruction and water pumping.

"The water districts are a shadow of what they used to be," said Eric Draper, Audubon Florida president. "There is no comparison between these agencies today and the ones that started restoration of Everglades and St. Johns River."

Click here to read the full story.
---
Cancer-causing chemicals will go nicely with toxic algae, flesh-eating bacteria
Fred Grimm
Miami Herald, August 18, 2016

Such auspicious timing. Rick's gang at the state Environmental Regulations Commission could hardly have picked a more gruesome year to loosen restrictions on toxic chemicals dumped into Florida's waterways.

A deluge of benzene, beryllium, trichloroethane, dichloroethylene and other known carcinogens ought to blend nicely with the stinking layers of Day-Glo green algae that has been sliming the St. Lucie River and threatening the Caloosahatchee River. Or with the massive fish kills along the Banana River, Sykes Creek, the Indian River and the Mosquito Lagoon.

The ERC, which voted last month to allow polluters to flush higher levels of 23 toxic chemicals (including 18 known carcinogens) into rivers, streams and canals, must assume that Florida waterways have become so adulterated that no one much cares about a couple of dozen more hazardous pollutants. Not in a state that frequently warns swimmers away from waters with high levels of enteric bacteria, attributable to fecal contamination.

Click here to read the full story.
---
Slimy Green Beaches May Be Florida's New Normal
The guacamole-thick algae that fouled both coasts earlier in July will likely be a regular occurrence for the Sunshine State. Here's why.
By Laura Parker
National Geographic, July 27, 2016

The green slime that washed onto Florida beaches earlier this month marks the eighth time since 2004 that toxic algae have fouled the Sunshine State's storied coastline.

The algae blooms of 2013 were so severe the event became known as Toxic Summer. And this year's outbreak has so thoroughly spread through delicate estuaries on both coasts that Florida officials declared a state of emergency in four counties. Toxic sludge has killed fish, shellfish, and at least one manatee and has sickened people who have touched it.

"This is absolutely the worst," says Evan Miller, an environmental activist and founder of Citizens for Clean Water. "We've never seen algae so thick. You can see it from space. There are places in Stuart that are on their third and fourth cycle of blooms now."

As the latest outbreak continues to play out with sporadic bursts of new algae blooms, dismayed Floridians are wondering if the recurring appearance of this tourist-repelling, fish-killing scum is their new normal.

It may be.

Blue-green algae, also known as cyanobacteria, occur naturally and thrive in warm, calm water. Two conditions work against eradicating it: climate change and political inertia.

Click here to read the full story.
---
Angry About Florida's Ruined Waters, Fishermen Unite Against Big Sugar
Bill Kearney
Miami New Times, May 24, 2016

Indian River Lagoon near Stuart, about a two-hour drive north of Miami. He used to bring clients from all over the United States here to stalk delicious pompano, yard-long snook, and the Holy Grail of inshore fishing: sea trout longer than 30 inches. Today the lush seagrass flats that once formed an underwater Serengeti are gone. Instead, Conner peers down through the shallows at a barren underwater desert — only sand, as far as he can see.

Conner, now 60, simmers with a controlled rage as he turns the skiff around, back toward the boat ramp in the Saint Lucie River. On the way, it smells like rotten lettuce as the water suddenly changes color from a delicate green to a dank wall of burnt coffee. This brown mass is the source of Conner's anger.

"I would say it's the worst environmental crisis ever in the state," he says of Florida's nasty water problem, "and I think its the 11th hour right now."

The cause of all this disgusting water was, in a nutshell, plumbing. Lake Okeechobee has been severely polluted with phosphorus and nitrates from a century of farming and development around it. Under normal circumstances, in the rainy season, water is supposed to overflow the lake and move south, through the "River of Grass," and give life to the Everglades. But vast acres of sugar farms just south of the lake, and the communities of people who operate them, stand in the way.

It's having an unusual political effect: Normally conservative Southwest Florida voters are lining up with tree-hugging environmentalists. Fishermen are organizing against politicians whom they see as concerned about corporations instead of the common good. Both the blue-collar and the rich are pissed off.

When Governor Scott ran for office in 2010, it was on a platform of pro-business deregulation. Once in office, he put the fox in charge of the chicken coop.

Click here to read the full article.
---
Public blasts DEP over new water toxin standards
Jeff Burlew
Tallahassee Democrat, May 14, 2016

Florida wants to weaken its standards for roughly two dozen cancer-causing chemicals it will allow to be discharged into its rivers, lakes, streams and coastal waters.

The Florida Department of Environmental Protection is in the process of revising limits on toxic chemicals that can be released into surface waters, something it's supposed to do from time to time under the Clean Water Act but hasn't since the early 1990s.

Of the 82 various toxic substances, the vast majority would have lower standards than recommendations from the Environmental Protection Agency. And of the 43 chemicals now regulated, about a couple dozen would see limits increased beyond those currently allowed.

DEP officials say the new standards — based on risk and factors like seafood consumption — would let Floridians safely eat Florida fish and drink local tap water their entire lives. They say the concentration of pollutants in the water wouldn't pose a significant risk to the average Floridian's health.

But environmental groups and concerned doctors say the new standards would increase chances people will get sick or develop cancer from the contamination in seafood and water. The agency's proposal drew fire last week during a DEP workshop in Tallahassee, one of only three held around the state.

Linda Young, executive director of the Florida Clean Water Network, said Florida's tourism economy could be destroyed if the state allows more and more pollution into its waters. "I can promise you that nobody takes a vacation to Love Canal," she said, referring to the contaminated Superfund site in New York. "If you keep weakening Florida's water quality standards, which you've been on a roll for a while now doing ... the word's going to get out that Florida's waters are toxic."

Click here to read the full story.
---
Rising Seas: Florida's Vulnerable Beaches and Islands
Audubon Florida

Millions of people value Florida's coastal beaches and saltmarshes as special places in which to live and play. Our coastlines also provide irreplaceable habitat for nesting sea turtles and millions of birds to nest, rest, and feed throughout each year. National Audubon Society's climate scientists recently modeled current North American bird distributions with climate change projections and found that 314 bird species are at risk of significant declines due to drastic shifts in their breeding or winter distributions.

Sea level rise is already evident along our eroding coastlines but we cannot hold back the ocean indefinitely with hard structures like seawalls. One alternative is to preserve and protect undeveloped lands adjacent to coastal beaches and saltmarsh habitat so that as sea level rises, habitat can reestablish naturally farther inland and the coastal birds that depend on these habitats for survival will have a place to live in our future.

For more information and resources, and to watch the Florida Audubon series of "Rising Seas" videos, visit http://fl.audubon.org/get-involved/florida-climate-change-messenger.
---
Creating a future for the Indian River Lagoon
Dr. Duane De Freese
Press Journal, March 27, 2016

The Indian River Lagoon needs our help.

This remarkable estuary is home to more than 4,300 species of plants and animals and a resource serving almost 50 human communities.

The lagoon has weathered countless changes over the past century. It's bottom has been dredged, filled and altered to accommodate our needs and its shoreline has been reconfigured and armored.

Its watershed was expanded by networks of canals that drain stormwater from land now occupied by urban development. These changes have increased loads of water, nutrients and sediments reaching the lagoon. We are all part of these problems. We are all part of the solutions.

Unfortunately, 2016 is shaping up to be a year that focuses our collective concerns — and awareness — on this vulnerable jewel in our backyard.

In mid-2015, the scientific community noticed an algal bloom in the Mosquito Lagoon. It moved into the northern Indian River Lagoon and affected the Banana River Lagoon and the Indian River Lagoon to the Sebastian Inlet by January 2016. The algae in these blooms include those in the 2011 to 2012 bloom, plus brown tide, which bloomed in 2012 to 2013.

Last weekend, waterfront residents and anglers discovered thousands of dead fish drifting in waterways and canals. Scientists are investigating the causes of the fish kill to see if algal toxicity may have been involved; however, oxygen depletion is a common occurrence during intense algal blooms, and fish and other animals die when they do not have enough oxygen.

People want action, and rightly so. More than just part of the fabric of our lives, the lagoon is an economic engine for our region. A 2007 study found the lagoon is responsible for one-seventh of the region's economy. The overall, annual economic value of the lagoon was estimated at $3.7 billion at that time.

In simplest terms, algal blooms do occur naturally, but we contribute nutrients like nitrogen and phosphorus that fuel more intense blooms. It's a problem in coastal estuaries worldwide.

Click here to read the full commentary.
---
Scott clueless in Lake O crisis Carl Hiaasen
Miami Herald, March 4, 2016
As a devastating deluge of polluted water darkens two coasts of Florida and threatens their tourist economies, Gov. Rick Scott is once again a flaky phantom.
Billions of gallons spiked with agricultural waste is being pumped daily from Lake Okeechobee toward the Atlantic Ocean and Gulf of Mexico, browning the blue coastal waters, choking sea grass beds and crippling small businesses that depend on a healthy marine ecology.
The U.S. Army Corps of Engineers says the discharges are necessary because the water in Lake Okeechobee is too high and the old Hoover dike is too weak. Gov. Scott says it's all President Obama's fault for not rebuilding the dike, which is absurd.
Scott, who aspires to be a U.S. senator, either has no clue how the appropriations process works, or he'll simply say any brainless thing to duck responsibility.
A brief civics lesson for our dim and furtive governor: The president cannot write a check for major capital projects. Congress is in charge of funding, and Congress happens to be controlled by the Republicans.
Being a Republican himself, Scott should fly straight to Washington and persuade his colleagues to rebuild the lake dike and fund a flow-way to the Everglades for the excess water.
Why hasn't that happened? One reason is that Scott has even less clout with Congress than he does in Tallahassee.
Click here to read the full editorial.
---
Florida Gov. Rick Scott Signs New 'Water Policy Bill' and Points State in Same Direction as Flint, Michigan
Alan Farago
Huffington Post, January 21, 2016

Public clamor for a veto and against Florida Governor Rick Scott's signing, today, of a new "water policy" bill lands in the governor's bubble like a muted, padded sound. Scott doesn't see and he doesn't hear, except through the filter of political ambition.

...And so one of the toxic strands of Florida's new water policy bill is abandoning enforceable regulations against polluters. For decades, environmentalists have struggled to hold the Florida Department of Environmental Protection accountable to tough, numeric standards on pollutants. With a swipe of the pen, Gov. Scott will erase that history.

... what replaces environmental regulations once they are eviscerated is the ethic of smash-and-grab robbery. Americans learned this lesson decades ago: when water quality is not nailed down, it disappears.

That is what happened in Flint, Michigan. A governor who didn't believe in the rule of environmental law, from a political party that has relentlessly attacked federal authority for enforcement against water polluters, ends up with an entire city of parents and families -- mostly poor people of color -- bathing in bottled water.

Click here to read the full story.
---
St. Johns Riverkeeper Blasts Rick Scott, Legislature Over Water Policy Bill
Melissa Ross
Florida Politics, January 21, 2016

Despite statewide pleas to veto it, Florida Gov. Rick Scott signed into law Thursday a water policy bill decried by the state's environmentalists but loved by agriculture interests.

St. Johns Riverkeeper Lisa Rinaman joined the chorus of critics blasting the move as one of short-term expediency at the expense of the long-term goal of protecting Florida's waterways.

"Our river and our springs still suffer from failing septic tanks, manure and fertilizer runoff, and frequent toxic algae outbreaks infamously known as the 'green monster,'" Rinaman said. "This measure makes the situation even worse."

In addition to complaints from environmental groups, former Gov. Bob Graham also called on Scott to veto the sweeping water reform measure, saying it "blatantly" favors special interests and ties the hands of local water management districts.

Click here to read the full story.
---
Bob Graham calls for Gov. Rick Scott to veto sweeping water reforms
Jenny Staletovich
Miami Herlad, January 20, 2016

The chorus demanding that Gov. Rick Scott veto a sweeping water policy hastily passed by the Florida Legislature last week just got a little louder.

On Wednesday, Bob Graham, former U.S. senator and Florida governor, called the 134-page bill a "purposeful effort to weaken protection" of state waters increasingly threatened by pollution, waste and rising consumption. In a letter to Scott, Graham said the bill "blatantly" favors special interests, ties the hands of local water management districts and mostly ignores two key measures in protecting water: conservation and rules to stop pollution at its source.

"The guiding light ought to be conservation. We can't grow ourselves out of the challenge of 40 million people wanting access to the same water quantity that Florida has historically had," Graham told the Herald, referring to Scott's aggressive growth policies.

Last week, the Florida House and Senate quickly passed expansive bills to address water issues, from imperiled springs in the central and northern part of the state to cleanup efforts in Lake Okeechobee needed to restore the Everglades. The bills evolved from legislation drafted in 2014. That effort, supported by Graham and his Florida Conservation Commission, narrowly focused changes on restoring the state's rapidly deteriorating springs. At least 24 springs have been deemed impaired, and while efforts have been under way to stop pollution from septic systems, urban pollution and agriculture, they continue to decline.

Chaos in the Legislature last year prevented any measure from moving forward. But this month, on the eve of the session, House Speaker Steve Crisafulli unveiled a plan he said was crafted with the help of both powerful agricultural and development interests and environmental groups including Audubon Florida, the Everglades Foundation and the Nature Conservancy. Crisafulli said the plan would "modernize" Florida's water policy with new rules for the springs, uniform permitting, Lake Okeechobee clean-up and better planning.

Some conservationists, however, say the changes largely do the opposite and force taxpayers to foot the bill for cleaning up pollution. Last week, a letter signed by more than 100 environmental groups (including the Friends, -ed.) and businesses was sent to Scott also demanding a veto.

The letter writers say the changes weaken rules by more than doubling the duration of permits for massive water withdrawals to between 30 and 40 years. If a local water management district attempts to deny a permit, the changes allow the Department of Environmental Protection to demand districts find a way to approve the request. And in regions where water is scarce, the law allows for the use of other sources including surface water that could further damage supplies.

The law would also hinder long-standing efforts to repair the Everglades by setting up new time lines for cleaning up Lake Okeechobee, where levels of phosphorus from decades of farming and nearby urban runoff continue to rise.

Click here to read the full story.
---
Environmentalists: Water protection bill has loopholes
AP, Florida, January 7, 2016

TALLAHSSEE, Fla. (AP) — A massive bill to protect Florida's springs, waterways and groundwater appears headed for passage at the start of the coming legislative session, despite objections from environmentalists who say it's been weakened by the influence of industry and agriculture interests.

They say they still hope floor amendments will close loopholes in Senate and House companion bills SB 552 and HB 7005, and are trying to pressure legislators.

Some water quality advocates say they consider the bill in its present form a step forward.

"It definitely moves protection of Florida springs and the northern Everglades forward," said Eric Draper of the Audubon Society. "I've been working on this for more than a year, and I know where we got beat. I can't really find that many things that are objectionable in the legislation."

Environmentalist backers, including Sen. Darren Soto, D-Orlando and House Minority Leader Mark Pafford, D-West Palm Beach, say they'll bring up floor amendments reflecting some of the criticisms.

But Soto, recently named Audubon's Champion of the Everglades, also said he wants the bill to pass despite his concerns. If it's not passed this year, when both House Speaker Steve Crisafulli and Senate President Andy Gardiner back it, he said, "We might not have the juice to get it done later."

Rep. Matt Caldwell, R-North Fort Myers, said it's designed to fix a history of "rampant, unfettered development and poor decisions made from the 1920s to the 1960s."

The bill modifies dozens of areas of Florida law including controlling pollution and restoring natural water flows in springs and rivers; developing alternative water supplies; water use permitting; and restoring flows and preventing pollution around Lake Okeechobee and the northern Everglades.

Click here to read the full story.
---
Brazen theft of our Amendment 1 bucks
Carl Hiaasen
Miami Herald, September 26, 2015

Most embezzlers try to conceal their thefts, but not in Tallahassee. The looting of Florida's Amendment One conservation funds took place in broad daylight, orchestrated by two poker-faced swindlers named Andy Gardiner and Steve Crisafulli.

Gardiner is president of the Senate. Crisafulli is speaker of the House. Remember their names, because they ripped you off big-time — and it will happen again next year, if they think they can get away with it.

More than 4 million Floridians voted last November to set aside 33 percent of the revenues from existing real-estate stamp taxes for buying conservation and recreation lands, and for the restoration of such areas already owned by the state.

The plan offered hope for the Everglades, the Indian River Lagoon and other places endangered by over-development and pollution.

Amendment One was approved by a landslide, an unprecedented mandate to protect what remains of Florida's wetlands and wild places. And the Legislature, led by Gardiner and Crisafulli, responded with a bold statement of its own: Screw you, folks.

Click here to read the full editorial.
---
Florida Fights EPA on Clean Water Rules
Public News Service, July 8, 2015

TALLAHASSEE, Fla. - Florida's State Attorney General Pam Bondi is getting the state involved in clean water lawsuits lately and conservation groups contend she's on the wrong side of the issues.

On Tuesday, a federal judge rejected a case by the American Farm Bureau Federation, that Bondi joined as a friend of the court, that would have stopped restoration of Chesapeake Bay in Maryland.

David Guest, managing attorney with the environmental law firm Earthjustice, calls Bondi's involvement "hypocritical."

"It's a tragedy that Florida, with problems that are really worse than the Chesapeake Bay, and our Attorney General is joining with the factory farm corporations to try to get off the hook and prevent this problem from being solved," says Guest.

Click here to read the full story.
---
Get Amendment 1 right this time
Editorial
The Tampa Tribune, May 31, 2015

Florida lawmakers keep reaching deeper in their bag of excuses for their refusal to faithfully implement Amendment 1, which voters overwhelmingly passed last fall to ensure adequate conservation funding.

Some lawmakers claim the state doesn't need to buy more land, which is nonsense, given that state officials have identified 2 million unprotected acres that should be saved.

The claim also ignores the fact that many of the acres to be protected would remain private property, with the state preserving aquifer recharge areas, river corridors and key wildlife habitat by acquiring the development rights. This allows cattle and other operations to continue, but prevents the land from being paved over.

Other lawmakers say the state should concentrate on managing the land it already owns, ignoring the amendment, which clearly provided for preservation and management.

Click here to read the full editorial.
---
Central Florida's water agency roils with resignations
Kevin Spear
Orlando Sentinel, May 6, 2015

Simultaneous and unexplained departures by four executives from the agency that protects Central Florida's wetlands, rivers and aquifer triggered complaints Wednesday that the moves were orchestrated to weaken the region's environmental safeguards.

Two of the four executives said in resignation letters they were leaving rather than be fired by the St. Johns River Water Management District, which already was roiling from the earlier resignation of its executive director. The four had a combined 89 years of service at the agency, and all had excellent or high marks in performance reviews.

Audubon of Florida's advocacy director, Charles Lee, speculated that the ousting of so much institutional knowledge was forced by Gov. Rick Scott's office through the state Department of Environmental Protection.

Click here to read the full story.
---
Has Florida Already Conserved Too Much Land? Do We Properly Manage What We Own?
Anne Cox, President, Florida Native Plant Society
April 27, 2015

Much of the debate surrounding the distribution of Amendment 1 funds has revolved largely around whether Florida should conserve additional land through public acquisition. Many legislators have taken the position that Florida is not properly managing the land it already owns – so it would be irresponsible to purchase more. Some legislators go a step further and suggest our inability to properly manage what we already own is a clear sign we have already acquired too much land.

Click here to download and read this full, excellent letter by the Florida Native Plant Society.
---
Florida Legislature Has Its Own Ideas for Voter-Approved Conservation Fund
By Lizette Alvarez
The New York Times, April 25, 2015

MIAMI — Facing a thicket of candidates and ballot measures in the November election, Florida voters sent one resounding message to elected officials: More must be done to protect the state's natural habitats — including the long-suffering Everglades.

But as the Legislature heads into the final days of this year's session, Republican leaders are being criticized for the way they are divvying up a $750 million pool of money created to buy, conserve and restore land and water resources. It was established when three-quarters of Florida voters approved constitutional Amendment 1, which sets aside part of a real estate tax.

The amendment was intended to bolster a popular conservation program, Florida Forever, that had been hard hit by state budget cuts. But instead of using the bulk of the money to safeguard land from development, supporters of the amendment say, state lawmakers have shifted it to other projects and programs.

So far, the Republican-controlled Legislature has funneled only a modest amount of money into buying land — not the $300 million share that was expected. Other environmental initiatives, including protection of springs, are also languishing. And a pivotal component of a long-term plan to restore the Everglades — acquiring land from the U.S. Sugar Corporation to help increase the flow of water into the Everglades — appears to be off the table entirely.

Click here to read the full story.
---
New pond to help Indian River Lagoon
Jim Waymer
Florida Today, April 8, 2015

A new stormwater park in southern Brevard County promises a cleaner Indian River Lagoon.

Construction of the $3.57 million stormwater park on 300 acres south of Micco Road soon will capture pollution from 21,000-acres in southern Brevard before it can reach the lagoon.

The series of stormwater ponds and restored wetlands, known as the Wheeler Stormwater Park, is being built through a partnership between St. Johns River Water Management District, Florida Department of Environmental Protection, Florida Department of Transportation and Brevard County.

The project includes a 23-acre pond and a 7-acre pond. It also includes the Herndon Swamp restoration area and additional wetland restoration areas next to the Sottile Canal. Hundreds of wetland trees will be planted at the site.

Click here to read the full story.
---
From the Water - Healing our Lagoon
Florida Today

The Indian River Lagoon is deathly ill.

Seagrass — the base of the food web — has yet to recover from severe algae blooms in 2011. And scientists are still puzzled by what killed more than 70 dolphins and hundreds of lagoon manatees and pelicans.

But the patient can be cured.

Ecologists say healing our lagoon will take multiple long-term remedies and all hands on deck. Dredges must first stop the bleeding, scientists say, removing noxious muck built up over half a century. A key battle this spring in Tallahassee will determine how much of the new state conservation money that voters approved in November will help buffer the lagoon.

Meanwhile, we need new ways to temper runoff, septic tank seepage and what we put on our lawns — all recipes for more muck.

Click here to view the full series on the Florida Today website.
---
Don't further weaken growth management
Tampa Bay Times, March 13, 2015

Two bills in the Florida Senate would further weaken what little growth policy still exists in the state. Sen. Wilton Simpson, R-Trilby, who is sponsoring both bills, should craft a narrower measure if his intent is to update the law rather than gut it entirely.

One bill changes a process called sector planning, which applies to landowners looking to convert large tracts into new housing and industrial projects. As the Tampa Bay Times' Dan DeWitt reported, SB 832 reduces the detail required in these plans, calling only for "a long-term vision" that sketches just the basic impacts of any development.

A second measure (SB 562) would change the process for reviewing developments of regional impact, or DRIs. The bill allows those projects to be reviewed by local governments as part of their comprehensive plans instead of being subjected to review by the state's regional planning councils.

Florida should have used the recession as an opportunity to craft smarter growth policies — ones that grow the economy while also protecting against overheated property values and environmental risks. But these bills go in the opposite direction. As Audubon Florida's Charles Lee said, the bills "stomp on the head of any surviving vestige of growth management on the state level."

To read the full editorial, click here.
---
Big Sugar weasels out of land deal
Carl Hiassen
Miami Herald, March 7, 2015

In Tallahassee you can be a gutsy champion for the Everglades, or just another lame shill for Big Sugar.

You can't be both, though some politicians try to pretend.

In an email to the Palm Beach Post, Crisafulli (Steve Crisafulli, Republican speaker of the Florida House) stated his opposition to using Amendment 1 funds to buy the U.S. Sugar land "at this time," saying Everglades restoration efforts should focus on pending projects.

This puppet dance, while pleasing to sugar growers, is a kick in the teeth to all the Floridians who supported Amendment One, especially those who've been watching the slow death of the Indian River Lagoon.

Every day 614 millions gallons of polluted water are pouring out of Lake Okeechobee toward the lagoon, but Steve Crisafulli has other priorities.

To read the full commentary, click here.
---
Should Amendment 1 money to go leaky pipes? Enviros say no
Palm Beach Post, December 8, 2014

Environmentalists are wary of early reaction by legislative leaders to the water and land conservation amendment, overwhelmingly approved by Florida voters last month including 85 percent of those in Palm Beach County.

The measure would set aside one-third of the state's existing real estate transaction tax, raising millions of dollars for such conservation programs as Everglades restoration, Florida Forever land purchases and freshwater springs protection.

But lawmakers also seem to be eyeing to make a broader menu of projects eligible for the amendment's more than $600 million in first-year cash.

House Speaker Steve Crisafulli, R-Merritt Island, said city water and sewer projects – basic repair, maintenance and expansion work that lawmakers spent $88.5 million on this year – could be among those aided by the Water and Land Legacy campaign dollars.

Although environmentalists and their attorneys drafted the ballot measure, Crisafulli pointed out, "Now it's up to us to interpret the intent."

That reality worries some in Florida's conservation community.

"I didn't see any mention of paying for leaky pipes in the amendment," said Eric Draper, executive director of Audubon of Florida.

Click here to read the full article.
---
Environmentalists Urge Support For Water Rules Rep. Southerland Seeks To Block
WFSU Radio, August 22, 2014

As the federal government seeks to clarify which water bodies it protects, a Florida congressman came to Tallahassee this week to decry what he calls a gross overreach of power and tout his legislation blocking the effort. But Florida environmental groups and former state regulators say the federal clarification is necessary to protect Florida's fresh water from pollution.

Rep. Steve Southerland summed up his concerns like this:

"When the EPA proposed an outrageous new rule that would expand its regulatory authority under the Clean Water Act to include almost any body of water, from puddles to ditches, to pipes, to farmland ponds, I wanted to return to Tallahassee – the heart of our district – to begin our fight anew."

Vicki Tschinkel, former secretary of the Florida Department of Environmental Regulation, says, "I'm not even sure it's possible that he personally read the regulations."

Click here to read the full story, or listen to the report online.
---
Editorial: Time to stand and be counted on water
Tampa Bay Times, April 4, 2014

The Florida Senate is closing out an election-year session with a historic package to restore the state's natural springs. The House is moving in the opposite direction, readying an anti-environmental bill that is bad for the ecosystem, bad for taxpayers, bad for local control and bad for anyone interested in the security of the state's drinking water supply. This is a moment for lawmakers to choose sides and for voters to watch.

The Senate's legislation, SB 1576, would start the long job of reversing decades of degradation to Florida's springs. A bipartisan bill pushed by Sen. Charlie Dean, R-Inverness, would provide nearly $371 million a year for a range of cleanup projects, from removing leaky septic tanks to limiting the spread of fertilizer and restoring the springs' natural flow.

The House has opted instead to push a measure that's toxic even by the low standards of its sponsor, Rep. Jimmy Patronis, R-Panama City. His bill would give landowners the right to pump from public water sources for 50 years, up from the current 20 years. Counties would be barred from adopting more protective rules for wetlands than the state, and locally elected officials would be prohibited from requiring a supermajority vote to approve new, large-scale development. Patronis' bill makes it easier for developers to game the system by getting agricultural tax breaks for speculative land investments. And it weakens the oversight of wells and well contractors while creating flimsy new standards for environmental mitigation banks.

The Senate has stripped away some of the worst provisions of HB 703, but the House seems prepared to force a trade off. It makes no sense to spend millions in tax dollars to restore Florida's springs while at the same time opening a back door to polluters to sabotage the very effort. Is this the legacy outgoing House Speaker Will Weatherford wants to leave?

The Senate bill is an overdue starting point in resurrecting a treasured natural and economic resource, just as the Patronis bill is an example of everything that's gone wrong with Tallahassee. The Senate should continue to push its springs bill and call out the House measure as a sellout to polluters. The two chambers could not have more contrasting visions for the environment. With their votes, lawmakers will show whether they stand with public health, clean water, property values and the people back home or with the monied special interests.

Click here to read the full editorial.
---
Proposed Rule Would Close Gap in FL Water Protection
Stephanie Carroll Carson
Public News Service - FL, March 27, 2014

TALLAHASSEE, Fla. – For more than a decade, 20 million wetland acres and 2 million miles of streams – including many in Florida – were left unprotected, despite the federal Clean Water Act.

Experts say the gap in coverage was the unintended result of two U.S. Supreme Court decisions.

This week, the Obama administration proposed a new rule to clarify which types of water have Clean Water Act protection, which will be helpful to Florida wetlands, streams and freshwater springs, according to Jan Goldman-Carter, senior manager of wetlands and water resources for the National Wildlife Federation.

Click here to read the full story.

The American Rivers organization currently has a "Take Action" opportunity available to send your comments to the EPA regarding this proposed improvement to the Clean Water Act. Click here to access this Take Action alert.
---
Commentary: Residents must fight state assault on local comprehensive plans
Maggy Hurchalla
The Palm Beach Post, March 25, 2014

State Rep. Jimmy Patronis, R-Panama City, is well-known in environmental circles. Florida Audubon Society says his bills are notorious for the damage they do. Every year Patronis introduces a "Christmas tree for lobbyists" who want to weaken environmental and growth management policies.

The current Christmas tree, House Bill 703, is aimed at local government.

The Ocala Star-Banner calls it a horrible bill that is an assault on water supply and local decision-making. The group 1000 Friends of Florida calls it "appalling." The Florida Conservation Coalition pointed out that the Legislature had abandoned statewide growth management because they said they wanted local communities to make local decisions. Now Patronis wants those decisions made in Tallahassee.

Click here to read the full commentary.
---
Lawyers Put State on Notice Over Indian River Lagoon Pollution
Craig Pittman
Tampa Bay Times, March 15, 2014

Manatees are threatening to sue the Florida Department of Health over leaky septic tanks tainting their habitat.

On behalf of manatees — which actually are named as plaintiffs in the case — two other animal species and the chairman of an environ­- men­tal group, attorneys filed a 60-day notice of intent to sue state health officials Thursday over septic tank waste that has polluted the Indian River Lagoon on Florida's east coast.

Hundreds of manatees, dolphins and pelicans have died in the lagoon, once considered one of the most productive estuaries in North America.

The deaths were preceded by toxic algae blooms that wiped out more than 47,000 acres of its sea grass beds, which one scientist compared to losing an entire rainforest in one fell swoop.

Click here to read the full story.
---
Climate Change Showdown in Florida Governor's Race
Katherine Bagley
InsideClimate News, March 13, 2014

Florida, the most vulnerable state in the country to climate change, faces a key election this November that could have significant ramifications for its ability to cope with the challenge of rising seas and intensifying coastal storms.

If incumbent Tea Party-aligned Rick Scott is reelected governor, it is expected to mean four more years of inaction on global warming. His likely opponent, Democrat Charlie Crist, a former governor of Florida, is committed to aggressive climate action. Environmental groups, scientists and policy experts say that if Crist or another climate hawk wins, it would give the state at least a shot at staving off the worst effects of global warming.

"It is critically important that the governor of Florida take action on climate change," said Frank Jackalone, senior organizing manager of the Florida chapter of the Sierra Club. "Even if the [average] forecasts for sea level rise come true, much of the state will be in trouble, areas will be wiped out and communities evacuated."

Click here to read the full story.
---
Environmental groups to challenge federal judge's ruling allowing state water quality rules
Bruce Ritchie
The Florida Current, March 6, 2014

Environmental groups on Thursday filed a notice in federal court that they are appealing a federal judge's order in January siding with Florida and the U.S. Environmental Protection Agency on their agreement in 2013 allowing the state to set pollution standards in waterways.

The appeal may prevent the Florida Department of Environmental Protection from moving forward with state rules approved by the federal court and the federal EPA, DEP spokesman Patrick Gillespie said.

The Legislature in 2013 passed SB 1808 ratifying an agreement between DEP and the federal EPA calling for the state to move forward in implementing rules once federal water quality standards were withdrawn.

The appeal on Thursday was filed in the 11th U.S. Circuit Court of Appeals in Atlanta on behalf of the Florida Wildlife Federation, the Conservancy of Southwest Florida, the Environmental Confederation of Southwest Florida, St. John's Riverkeeper and the Sierra Club.

Earthjustice attorney David Guest said the groups are challenging Florida's "polluter-friendly" rules.

"The (federal) Clean Water Act is supposed to mean clean water," Guest said. "That's not happening here in Florida, and that's why we're going to court."

Click here to read the full story.
---
Rick Scott touts 'record funding' for environmental protection in State of the State speech
PolitiFact Florida, March 4, 2014

So we know Gov. Rick Scott likes to portray himself as the jobs-promoter-in-chief but what about tree-hugger-in-chief?

During his fourth State of the state speech March 4, Scott began by reeling off a list of recent accomplishments.

"A lot has happened since I spoke to you last year. I can talk about how our unemployment rate is now down to 6.3 percent. How our crime rate is at a 42-year low. How we have invested record funding in protecting our environment....."

Some of those numbers sounded familiar to us. But we hadn't heard Scott's claim that during his tenure we have invested record funding to protect the environment, so we decided to fact-check that claim.

Click here to read the full story.
---
Counties fighting Florida to keep fertilizer from ruining waterways
Frank Cerabino
Bradenton Herald/Cox Newspapers, February 27, 2014

If clean water's your goal, it's not a good sign that your state's environmental efforts are being applauded by The Fertilizer Institute.

Fertilizer is to clean waterways as cigarette smoke is to clean lungs.

The fluorescent green slime that was the product of a massive toxic algae bloom that fouled the St. Lucie and Indian Rivers last summer was a result of the pumping of excess rainwater tainted with fertilizer and other pollutants to the ocean.

It's why the St. Lucie County commission voted unanimously last month to ban the use of fertilizers containing nitrogen or phosphorous from June through September.

But on that same month, the Fertilizer Institute was praising Florida's state government for successfully waging a legal fight to weaken the previously negotiated water standards set by the federal Environmental Protection Agency.

The Fertilizer Institute praised Florida for "its tireless work to craft strong, realistic and achievable nutrient criteria using a science-based approach that will have a positive impact on Florida's waters."

Hint: If the people who are in business of selling clean-water poison are patting you on the back for your clean-water efforts, it's not good news for clean water.

Click here to read the full editorial.
---
Environmental land-buying amendment gets signatures to make ballot Craig Pittman, Staff Writer
Tampa Bay Times, January 16, 2014
Backers of a constitutional amendment to set aside billions of dollars in tax money for purchasing environmentally sensitive land and protecting wildlife and water resources said Thursday that they have passed the threshold to get the measure on the November 2014 ballot.
They obtained 686,000 verified petition signatures from 15 of Florida's congressional districts, according to Manley Fuller, president of the Florida Wildlife Federation, part of a coalition of environmental groups backing the measure.
If it passes, "this will be the largest state-based conservation initiative in United States history," Fuller said. So far, he said, "we have seen no organized opposition."
The Florida Water and Land Conservation Amendment requires no new taxes. Instead, it calls for one-third of the documentary tax paid on real estate transactions to be set aside for conservation spending programs such as land purchases and protecting drinking water sources.
The amendment's backers, which include such groups as Audubon Florida, the Sierra Club and 1000 Friends of Florida, estimate the measure could raise as much as $10 billion over 20 years.
Click here to read the full story.
---
Growth management didn't cause state's economic woes
Bob Graham, Guest columnist
Sun Sentinel, January 12, 2014

In a recent widely circulated opinion piece, Wendell Cox, a St. Louis-based demographer, blamed Florida's growth-management laws enacted in the 1970s and '80s for the devastating effects of the 2007 great recession. Cox contends these laws restricted the supply of housing in Florida, contributing to the housing bubble and subsequent financial crisis and great recession.

He further asserts that the repeal of those growth-management laws in 2011 was a key factor in the state's recovery.

Florida's new anti-government political order "seized the moment" in 2011, securing draconian cuts to Florida's conservation lands acquisition program and growth-management laws and sharp reductions in the budgets and staff of the agencies responsible for enforcing them. Like Mr. Cox, the blame for Florida's economic woes was pinned on these laws, saying they created an unfavorable climate for business.

Florida's growth rate, which slowed dramatically during the great recession, is now well on track to return to the rate of 1,000 new residents a day. Florida's population grew by about 232,000 between 2011 and 2012. During the 21st century, Florida's population is projected to conservatively double and could triple to more than 50 million.

But due to the 2011 changes, Florida is less prepared to deal with the impacts of growth.

Throughout much of its history, Florida has been treated as nothing more than a commodity, to be bought and sold regardless of the consequences. Florida's laws calling for smarter, more compact development patterns brought more stability and predictability through the wise use of land and water resources.

Instead of being distracted by false diagnoses of the causes of the great recession and thus repeating those mistakes, it is time for Florida to learn from the past and prepare for the future.

Click here to read the full editorial.
---
Huh? It must be something in the water
Ron Littlepage
The Florida Times-union, January 9, 2014

Grown-ups say the darndest things.

Take Agriculture Commissioner Adam Putnam.

This was his reaction to a federal judge's misguided ruling earlier this week that approved the state's weak rules governing pollution in Florida's waterways instead of enforcing tougher federal standards.

In a written statement, Putnam said the judge's decision "is a testament to Florida's proven ability to manage its own water resource protection and restoration programs."

Huh?

What planet is Putnam living on?

Click here to read the full editorial.
---
Federal judge signs off on water pollution limits
Gary Fineout
Associated Press, January 7, 2014

TALLAHASSEE, Fla. -- A federal judge is signing off on Florida's water pollution rules, but environmentalists are blasting the decision and say they may appeal it.

U.S. District Judge Robert Hinkle ruled Tuesday that state and federal authorities can move ahead with an agreement that lets the state set rules designed to head off contamination that leads to toxic algae blooms.

It's the latest chapter in a long-running battle over the regulation of the state's lakes, rivers and estuaries and whether the rules should be developed by state environmental officials or by the U.S. Environmental Protection Agency.

...environmentalists contend the ruling means that stricter federal Clean Water Act protections will not apply to two-thirds of Florida waters.

David Guest, an attorney with the nonprofit environmental law firm Earthjustice, said the state's rules aren't preventing pollution.

"Florida's clean water regulations just aren't working, and we need EPA to step in and do the job," said Guest. "We have so much sewage, fertilizer, and manure contamination that we have toxic slime outbreaks happening all over the state. Hundreds of dead manatees, dolphins, fish and birds have been washing up on shores in South Florida. The Clean Water Act is supposed to prevent things like this."

Click here to read the full story.
---
Need to manage growth evident as Florida passes New York
Editorial
The Tampa Tribune, January 5, 2014

Gov. Rick Scott greeted with glee U.S. Census Bureau numbers that show Florida is close to passing New York as the third-largest state.

"Florida is on a roll," Scott said in a statement last week. "Cutting taxes and reducing red tape on businesses is a great catalyst for economic opportunity and job creation"

Florida does indeed seem to be on a roll, and the governor can justly take pride in the state's improving job numbers. Unemployment is down to 6.4 percent, below the national rate of 7 percent.

Scott deserves credit for trying to attract new enterprises and making it easier to do business here.

But Scott and other state leaders also should recognize there is more to economic success than simply adding new residents. Florida could easily roll off a financial and environmental cliff if it doesn't recommit to confronting the challenges of growth.

This is a lesson Florida leaders once understood. Lawmakers adopted policies in the 1980s to ensure responsible growth after seeing haphazard construction lead to polluted waterways, congested roads, overcrowded schools and crime.

Responsible growth was a bipartisan concern, and fiscal conservatives such as former Republican Govs. Bob Martinez and Jeb Bush understood the wisdom of making sure growth didn't overwhelm resources or create costly bills for taxpayers.

These laws did not slow growth or eliminate the backlog of infrastructure needs, but they did bring more foresight and accountability to the development process.

But Scott, a relative newcomer to Florida, state lawmakers and special interests used the recession as an excuse to junk the state's growth management efforts.

Click here to read the full story.
---
State studies as water disaster looms
Editorial by, Ron Littlepage
The Florida Times-union, December 19, 2013

The Department of Environmental Regulation's oft-stated goal is "to get the water right."

That's not happening.

As 2013 draws to a close, our waterways are indeed troubled.

... the Indian River Lagoon — an estuary that stretches for 156 miles and is considered one of the most ecologically diverse systems in the world — is near collapse.

The lagoon, like the St. Johns, is beset by algal blooms that have wiped out 47,000 acres of sea grasses, which are vital to marine life.

Over development. Storm water runoff. Septic tanks. Over fertilization. Nutrient overloads. Canals and ditches that divert water from its natural flow.

And more threats will be coming in 2014, especially for the St. Johns River.

State officials should be in emergency mode to deal with an impending disaster.

Instead we get studies that take three, four, five years to determine what to do. In the meantime, our waterways are further degraded.

These problems began long before Rick Scott became governor, but he has made them worse by gutting growth management laws, neutering the state's water managers and weakening environmental regulations.

The upcoming year is an election year. Protecting our waterways must be made a campaign issue in the gubernatorial and legislative races.

Last week, about 50 environmental groups gathered in Orlando to sign a "Floridians' Clean Water Declaration" and to pledge to work together for the state's waterways.

Protests such as theirs draw needed attention, but real power for change comes at the ballot box.

Click here to read the full editorial.
---
Troubled Water: The Indian River Lagoon in Peril
Dinah Voyles Pulver
Daytona Beach News-Journal, December 18, 2013

Unprecedented algae blooms. Thousands of acres of precious sea grass lost. Record numbers of manatee and dolphin deaths due to mysterious illnesses. The Indian River Lagoon is facing a crisis decades in the making.

The estuary is considered one of the most diverse in the world. But a host of threats — storm water, wastewater, septic tanks, fertilizer, and Mother Nature herself — have degraded the lagoon system.

A team of scientists is at work studying just what's happened to the lagoon system, and what can be done to repair it. It could cost billions of dollars to fully restore the lagoon system. Doing nothing carries a cost of its own, experts and residents say.

This is a multi-part series of articles, assembled with photos and graphics. Click here to view the full series.
---
Local Volunteer Jane Schnee Receives U.S. Fish & Wildlife Service Regional Director's Honor Award
Indian River County Conservation Lands Program
November 19, 2013

Local volunteer Jane Schnee just returned from a trip to Atlanta, Georgia where she was recognized by the U.S. Fish & Wildlife Service for her local volunteer efforts. Ms. Schnee received the U.S. Fish and Wildlife Service Regional Director's Honor Award with other leading professionals and volunteers in the Southeast USFWS Region on October 30, 2013. "Recognizing the excellence of partners, volunteers and employees is one way we can say thank you to those who practice what we like to call 'Southern-style conservation'," USFWS Regional Director Cindy Dohner said. "Every day, they demonstrate their long-term commitment to working together to sustain fish and wildlife for future generations. We are indebted to them."

In 2011, upon learning of a 10.67 acre parcel of land for sale that was occupied by a pair of scrub-jays and located near the Pelican Island Elementary School scrub-jay habitat, Ms. Schnee was quick to start finding a potential buyer that would preserve the land which was once slated for 80 multi-family residential units. During a time when Indian River County environmental land bonds were dwindling and the tax revenues were down, the County and City of Sebastian were not in a position to acquire the environmentally sensitive land. Other non-profits were either focusing on conservation acquisitions along the Indian River Lagoon or simply not in a position for such an acquisition. Ms. Schnee then decided to make the more than $100,000 purchase herself with her personal life savings. Since then, Ms. Schnee has tirelessly worked to improve the habitat with her own finances as well as receiving some grants through the USFWS Partners for Wildlife program and St. Johns River Water Management District.

Click here to read the full story on the IRCCLP facebook page.
---
A record you don't want to break
Katie Tripp, Save the Manatee Club
The Gainesville Sun, November 1, 2013

Florida's manatees are having a record year. Unfortunately, the records they are breaking are measured in carcasses washing ashore in our coastal communities. A "worst ever" red tide event earlier this year in southwest Florida and a lingering unusual mortality event in the Indian River Lagoon on Florida's east coast have made it a really difficult year to be a manatee.

And to those who would argue that "we have more manatees, so we have more deaths," let me stop you right there. The deaths we are seeing have nothing to do with the size of the manatee population. These deaths are not natural controls on a growing population. They are a loud and clear signal that our waterways are in trouble.

When the 2010 manatee mortality statistics were finalized at 766, that was significant, frightening, and sad -– several hundred more deaths than had ever been recorded in a single year, many the result of a prolonged cold weather event. It was regarded as a rare event; an anomaly. Here we are again, less than three years later, having broken that 2010 record only 10 months into the year.

As of October 29, 769 Florida manatees had died. Of those, 123 were stillborn, newborn, or young calves less than five feet in length – another record, and 49 of these were found in Brevard County, at the epicenter of the unusual mortality event linked to a variety of algal blooms and loss of 47,000 acres of seagrass since 2010.

Click here to read the full guest opinion.
---
When can you water your lawn? It changes on Sunday
Kevin Spear
Orlando Sentinel, October 31, 2013

With the end of daylight savings time Sunday, homes and businesses in nearly all of Central Florida will be allowed to water lawns only once a week.

Watering restrictions – the limit is twice a week during warmer weather – are meant to lessen stress on the Floridan Aquifer, the region's prime source of water.

But do the restrictions help? It depends on whom you ask.

Fertilizer and lawn-care companies contend that grass in shabby condition contributes to water pollution. Environmentalists respond that such talk promotes an addiction to a landscape hungry for chemicals and thirsty for the state's limited supply of water.

Adam Jones, director of quality assurance at the Orlando lawn-care company Massey Services, said rules limiting watering to pre-set days once or twice a week means lawns regularly get watered when they shouldn't and not watered when they need it most. The result, he said, is often dead or patchy lawn.

Orange County Utilities thinks that problem can be solved with gadgets such as soil-moisture sensors. "We hope with smart technology we can water on the appropriate day, no matter what day that is," said Jacqueline Torbert, manager of the county water division.

Many environmentalists and lawn-care representatives agree the automatic sprinklers that are ubiquitous in newer subdivisions often cause lawns to be wimpy and constantly thirsty for sprinkler water. That's because their roots aren't forced to grow deep – as much as a couple of feet – in search of soil moisture.

Steve Kelly, manager of the Scotts Miracle-Gro research station in Apopka, said healthy, resilient lawns are those that get "deep and infrequent watering."

Going even further, Charles Lee, advocacy director for Audubon Florida and an outspoken critic of intensively cultivated lawns, said grass should get no more water than what rain provides.

"You have to ask where are the most important places to direct the limited supply of water that we have," Lee said. "One of the least important and most frivolous is spraying it on lawns."

Click here to read the full story.
---
Activists aim to spook lawmakers into increasing protections for waterways listen
Janelle Irwin
WMNF Community Radio, October 30, 2013

Some waterways haven't been protected under the Clean Water Act over the past decade because of some Supreme Court rulings. Last month, the Environmental Protection Agency proposed a rule change that would close those loopholes. At a press conference Wednesday at Rivercrest Park in the Seminole Heights neighborhood of Tampa, Environment Florida's Jennifer Rubiello said without the change water bodies considered unnavigable are vulnerable to pollutants.

"This did not used to be the case, so we, with this science report and rule making would restore protections to not just larger rivers like the Hillsborough and the St. Johns, but also smaller creeks and streams and tributaries that flow into these larger bodies of water that we enjoy for recreational purposes and also for our drinking water."

"More than 80% of the lakes and reservoirs that have been tested in Florida have failed basic water quality standards, yet over 2/3 of the Florida delegation voted to undermine restoration of Clean Water Act protections."

She added the protections are particularly important in this area because Tampa Bay is the largest open water estuary on the Gulf of Mexico.

"Yet it is assaulted by more than 4 billion gallons of oil, fertilizer ingredients and other hazardous materials each year and pollution throughout Florida's waterways has resulted in three times more dolphin deaths in the Indian River Lagoon in 2013 than in the years past and in the deaths of over 250 brown pelicans likely due to red tide."

Environment Florida along with groups from other states are unleashing a campaign to have the loopholes in the Clean Water Act closed.

Click here to read the full story, and access an online video of the press conference.
---
Water is a Florida matter that needs your support today
Guest Editorial by Doug Smith
Ft. Myers, News-Press, Oct. 16, 2013

Recently, state and local elected officials and community leaders from 16 South Florida counties traveled to Washington to advocate on behalf of the 2013 Water Resources Development Act and funding for Everglades restoration projects.

Now we need your help to pick up the phone or send an email encouraging the U.S. House of Representatives to pass this important bill.

For more than seven years, Congress has been unable to pass legislation authorizing the U.S. Army Corps of Engineers' civil works program, which constructs critical navigation and water infrastructure projects across the nation.

Proposed legislation in the House, known as the Water Resources Reform and Development Act (WRRDA), authorizes more than $10 billion in Corps' projects nationwide, including almost $1 billion in critical navigation and water projects to improve Florida's ports and advance Everglades Restoration — an undertaking that will enhance water resources for more than 8 million Americans.

Click here to read the full editorial.
---
Indian River Lagoon: Geography of a Collapse
Jim Waymer
Florida Today, October 11, 2013

The Indian River Lagoon stretches from Ponce Inlet to Jupiter Inlet. Hundreds of millions of dollars have been spent in taxpayer money to guard against population-fueled pollution since the lagoon became part of the National Estuary Program in 1990. But the lagoon remains in crisis. Here's why:

Click here to view the interactive slide show.
---
Fouling Florida's environment? Simply insane
Bill Maxwell, Opinion Columnist
Tampa Bay Times, October 11, 2013

Albert Einstein said that insanity is "doing the same thing over and over again and expecting different results."

In Florida, environmentalists have their unique definition of insanity: knowingly destroying our environment — one of our major economic resources — while blocking efforts to slow or stop the destruction.

This brand of insanity plays out daily and has for decades, from the moment business owners, their political supporters and lobbyists learned that the abuse of our precious wild places can bring huge profits.

Here on the southeast coast, the Indian River Lagoon, the St. Lucie River and its estuary are being polluted like never before — perhaps irreversibly — by an algae slime that proliferates from excess manure, sewage and fertilizer released by municipalities and, of course, from Lake Okeechobee.

Research clearly shows that most of the nutrients flowing into Lake Okeechobee come from tributaries in the northern Everglades. This is Big Sugar country, the Everglades Agricultural Area, where most of the nation's sugarcane is grown. Adjacent regions also are affected by discharges from the lake.

Elected officials and others have known for more than 30 years about our nutrient-rich water problems, but they consistently have put business interests ahead of eliminating the sources of the pollution. The discharge of dirty water from Lake Okeechobee is not new. It has been going on since the U.S. Army Corps of Engineers constructed the dike around the lake decades ago and created a reservoir system that enabled the sugar industry to operate without major interruptions or effective regulation.

Click here to read the full story.
---
Test Results: Unsafe Levels of Algal Toxins
On October 7, 2013, St. Johns Riverkeeper took two algae samples from the St. Johns River to GreenWater Laboratories in Palatka for analysis. The test results detected total microcystin toxin levels at 1085 and 2080 micrograms per liter, or more than 50 and 100 times higher than the recommended recreational exposure threshold of 20 micrograms per liter from the World Health Organization (WHO).
Click here to read the full story.
---
Florida Ag Commish To Legislature: Let's Make Water A Priority
By Jessica Palombo
WFSU Radio, October 8, 2013

Heads of the agencies that help manage Florida's water supply told state lawmakers Tuesday it's time to make smart water-management policies a legislative priority. The state's water quality and water quantity problems don't have clear quick fixes.

Water policy is the top concern for state Agriculture Commissioner Adam Putnam.

"There is now not a single corner of the state that is not impacted by this," he said.

Putnam asked lawmakers on two House committees to keep the long-term picture in mind when making any laws or spending money relating to water this session.

Department of Environmental Protection Secretary Herschel Vinyard says he welcomes any state money that can go toward water restoration projects.

"What I will commit to ya'll to do is making sure that whatever money you give me, that we will use it in a common-sense way and science-based solutions," Vinyard said.

But he noted a solution will not come overnight in the troubled Indian River Lagoon, where the state is waiting on about a quarter-million dollars in federal funding for reservoir construction and water treatment.

Click here to listen to the news story or read the transcript.
---
Fisherman likely contracted near-fatal infection in lagoon
By Steven M. Thomas
Vero Beach 32963, October 3, 2013

A month after Harbor Branch research scientist Peter McCarthy reported a sizable increase in antibiotic-resistant bacteria in the Indian River Lagoon, a Sebastian fisherman nearly died from a drug-resistant, "flesh-eating" bug he says infected him while he was wading near Pelican Island National Wildlife Refuge.

"My wife and I took the kids fishing in a spot off Jungle Trial," says Robert Gogan. "I was wading in the lagoon, casting a net for bait. When I came out of the water I felt a sore spot inside my thigh, like it was rubbed raw."

McCarthy, who calls Gogan's experience "scary," began studying levels of antibiotic-resistant bacteria in the lagoon in 2011.

He says, "The amount of drug-resistant bacteria was stable from 2011 to 2012, but there was a substantial increase this year at both locations we tested."

Click here to read the full story.
---
Photos capture the disgusting reality of Florida's water pollution
If these images don't convince Congress that Florida's estuaries are in serious trouble, nothing will
Lindsay Abrams
Salon.com, October 2, 2013

It can be difficult to conceive of just how polluted Florida's estuaries are, even with reports filing in of the record-setting deaths occurring there — including over 60 dolphins and 120 manatees. In order to make the case to Congress that Florida is in a state of disaster, U.S. Rep. Patrick Murphy, D-Jupiter, is holding a photo contest.

The devastation began earlier this summer, when huge amounts of rainfall overwhelmed Lake Okeechobee's 80-year-old dike in South Florida. Faced with a problem to which there were no clear answers, the Army Corps of Engineers chose to release billions of gallons of polluted water into the St. Lucie River estuary in the east and the Calossahatchee River estuary in the west. Large algae blooms spread, and the delicate balance of salt and fresh water was overwhelmed.

Click here to read the full story and view a slide show of the photos from the contest.
---
Protect Florida's imperiled water supply
By Walter Taylor
Editorial, Orlando Sentinel, September 30, 2013

How many more studies and articles, such as "Aquifer is maxing out, exhaustive study finds" (Orlando Sentinel, Aug. 26), are necessary to get action from the Governor's Office, the Florida Legislature and county and local officials to drastically reduce the amount of water sucked daily from the Floridan Aquifer?

Many years ago, the late Henry Swanson pleaded with elected officials in Tallahassee to conserve water and protect the aquifer.

Sadly, much of the water taken from the aquifer goes to watering lawns. Elected officials do little to encourage homeowners to have lawns that require less water. Homeowners associations and/or county and city officials often penalize homeowners who have replaced their water-sucking grass with a water-friendly native landscape.

Unless stiff penalties are imposed on Florida's citizens to reduce water consumption, the aquifer will continue to be lowered.

Click here to read the full editorial.
---
State agency hasn't filed legal challenges against any local growth decisions since 2011
Bruce Ritchie
The Florida Current, September 30, 2013

The state has filed no legal challenges against any local comprehensive plan amendments since sweeping growth law changes passed the Legislature in 2011, according to the Department of Economic Opportunity.

Supporters of the 2011 law changes said they would return control of local growth management decisions to local government where it belonged.

Environmental groups, though, said the law changes could allow urban sprawl and threaten natural resources when the economy rebounds and development resumes.

In HB 7207, agency actions to block proposed developments were limited to protecting the functions of "important state resources and facilities."

Other legislation eliminated the Florida Department of Community Affairs, moving state planners to the new Department of Economic Opportunity.

Click here to read the full story.
---
Time running out for vital waterway
NBC Nightly News, September 29, 2013

NBC Nightly News Reports: The crisis in the Indian River Lagoon received national attention this weekend, including two feature stories on NBC Nightly News highlighting the value of South Florida's estuaries, the problems they face, and the efforts to save them.

Click here to watch the two reports.
---
Thousands link across Indian River Lagoon
Concerned citizens joined hands by the thousands Saturday to show they care about their dying lagoon.
Jim Waymer
Florida Today, Sep. 29, 2013

MELBOURNE — Thousands linked hands across a cloudy Indian River Lagoon on Saturday to raise awareness about their beloved, dying estuary.

But as hands dropped, they exited the causeways determined to get their hands dirty doing more in their own backyards to help clean up their languishing lagoon.

"We're all excited that so many people care about our lagoon," Celia Phillips, of Melbourne, said from the U.S. 192 causeway. "This was definitely a heighten-your-awareness day."

As part of National Estuaries Day, citizens held hands across at least seven bridges that span the lagoon, from New Smyrna Beach to Stuart. And about 100 kayakers and people on paddleboards launched from Kiwanis Island Park on Merritt Island.

Click here to read the full story.
---
Supporters of land-buying amendment win state Supreme Court OK
Bruce Ritchie
The Florida Current, September 26, 2013

A proposed Florida Constitution amendment that would provide more spending for conservation land-buying and restoration cleared a major hurdle Thursday.

The amendment proposed by environmental groups for the 2014 general election ballot would provide one-third of the state documentary stamp tax revenue for conservation spending. The amendment would generate $19 billion over 20 years, according to the state Financial Impact Estimating Conference.

"It's a huge deal," Will Abberger, chairman of the Florida Water and Land Legacy political committee, said of the Supreme Court opinion.

The group and its environmental supporters have collected 385,000 signatures to put the measure on the ballot. They need 683,317 by Feb. 1, but Abberger said they are seeking to collect them by Nov. 30 to provide time for local elections supervisors to verify signatures.

The initiative has support from numerous environmental groups including Audubon Florida, the Sierra Club, 1000 Friends of Florida, the Florida Wildlife Federation and The Nature Conservancy. Abberger is director of director of conservation finance for The Trust for Public Land, which also has provided financial support.

Supporters say the amendment is needed because the Legislature has sliced spending for land acquisition through the Florida Forever program and for Everglades restoration. They say both are important to the state's economy, environment and quality of life.

Click here to read the full story.
---
With Murky Water And Manatee Deaths, Lagoon Languishes
Greg Allen
NPR's Morning Edition, September 26, 2013

Something is wrong in Florida's Indian River Lagoon.

Over the past year, record numbers of dolphins, manatees and pelicans have turned up dead in the 150-mile-long estuary that runs along Florida's Atlantic Coast. Bouts of algal blooms have flourished in the waters. All the signs point to an ecosystem that is seriously out of balance. The crisis has mobilized scientists, residents and elected officials in Florida.

Because of the release of water from Lake Okeechobee, the lower end of Indian River Lagoon this summer has been beset by large algae blooms, some toxic. They've killed off delicate sea grass beds and dealt a blow to a regional economy that depends on the lagoon for recreation and commercial fishing.

It's the third year in a row of bad news in the lagoon. In 2011, the northern end of Indian River was devastated by an algae superbloom, an event that was followed last year by a different outbreak.

"We have reached a tipping point in the Indian River lagoon now," says Brian Lapointe, a research professor at Harbor Branch who has investigated the algal blooms and the death of marine mammals in the lagoon.

Click here to listen to the NPR "Morning Edition" report, on read the full transcript.
---
Hands Across Lagoon Set For Sept. 28
Lagoon's health gains national attention
Space Coast Daily, September 25, 2013

CENTRAL FLORIDA, USA – Thousands of residents are expected to hold hands across seven coastal bridges throughout the region on Saturday, Sept. 28, in an effort to raise awareness about the serious threats to the health of the Indian River Lagoon.

Thousands of residents are expected to hold hands across seven coastal bridges throughout the region on Saturday, Sept. 28, in an effort to raise awareness about the serious threats to the health of the Indian River Lagoon.

"The goal is to raise awareness and let people know how truly important the health of our waterways is, not just to save species, but for people who want to use the waterways for fishing and recreation," said Linda Walters, a UCF biologist who has been working to help restore oyster beds in the Mosquito Lagoon.

"Oysters are natural filters that help keep waterways clean and healthy for other species. These threats are real and we all need to do our part to turn this situation around. There's a lot at stake."

Click here to read the full story.
---
Governor's chameleon act disregards facts on environment
Ron Littlepage
JaxAirNews, September 24, 2013

Gov. Rick Scott keeps trying on new personae as his re-election bid nears.

One of his new looks is particularly difficult to swallow, the appearance that he's committed to protecting Florida's fragile environment.

Scott made a big splash earlier this month when he announced $37 million would be spent to begin reversing the damage in some of the state's springs that are now polluted and losing flow.

"We care about the quality of water; we care about the flow of water," Scott said to much applause.

Really? Let's review:

One of Scott's first acts as governor was to cancel a springs restoration effort that Jeb Bush began when he was governor.

Next up was Scott's dismantling of the Department of Community Affairs, which at least tried to add some reason to the explosive growth that leads to more pollution and more strain on the Floridan aquifer.

Scott then neutered the state's five water management districts by gutting their budgets and driving out valued employees experienced in protecting the environment.

Click here to read the full opinion editorial.
---
Environmental groups argue state pollution rules don't meet federal court requirement
Bruce Ritchie
The Florida Current, September 24, 2013

An attorney representing environmental groups on Tuesday told a federal judge that the U.S. Environmental Protection Agency was seeking to shirk a court requirement that it set pollution limits in the state.

U.S. District Judge Robert L. Hinkle gave no indication of how he would rule on the federal agency's request to modify a 2009 court agreement requiring it to set pollution limits called numeric nutrient criteria. But Hinkle zeroed in on arguments by Earthjustice attorney David Guest that state pollution limits that would replace federal rules failed to meet the agreement's requirements.

Guest argued that the state rules, approved by EPA, do not actually set pollution limits because they allow waterways to be put on a "study list" without affecting the issuance of pollution permits. Those rules have not actually taken effect across much of Florida because they require that the federal EPA first withdraw the pollution limits that it set.

Click here to read the full story.
---
Federal court hearing on water rules set for Tuesday as Putnam calls for 'victory lap'
Bruce Ritchie
The Florida Current, September 23, 2013

Agriculture Commissioner Adam Putnam says Floridians should enjoy a "victory lap" on the issue of federal water quality, but an attorney representing environmental groups suggests the state has nothing to celebrate.

U.S. District Judge Robert L. Hinkle on Tuesday is scheduled to consider a request by environmental groups asking him to enforce a 2009 court agreement requiring the U.S. Environmental Protection Agency to set phosphorus and nitrogen limits in Florida waterways.

Environmentalists have been battling industry groups and state officials since the court agreement with federal officials was signed four years ago. However, federal officials earlier this year reached an agreement with the state that calls for Florida officials to set those pollution limits under a plan favored by industry groups.

On June 27, the EPA filed a motion in federal court asking Hinkle to modify the 2009 agreement requiring the federal agency to set nitrogen and phosphorus limits for Florida waterways. The EPA said it is now backing Florida's plan to establish limits called numeric nutrient criteria and that federal limits are not necessary or warranted under federal law.

In a response Monday to Putnam's comments, Earthjustice attorney David Guest said EPA is not complying with the 2009 consent decree, which his firm will be asking the court to enforce on Tuesday.

"EPA simply caved to the polluting industries in the state in proposing to get out of complying with large fractions of their obligations under it," Guest said. "A substantial part of the state rule that EPA approved does not comport with the consent decree at all."

Putnam said the issue shows how federal agencies "are looking for creative ways to impose their view on the world without going through the process that all of us learned about in the eighth grade about how a bill is supposed to become law."

But Guest said the EPA must set pollution limits because states have shown they are unable to do so because of the influence of polluting industries.

He said the ecological collapse at Indian River Lagoon and manatee and dolphin deaths point out the problems with state regulations.

"That is the fruit of the state regulatory system," Guest said. "That is what happens when you let the state regulate. This argument is a continuation of that. It comes at a good time the real effects of state regulation are clear in those places."

Click here to read the full story.
---
New UF/IFAS survey: Floridians strongly support endangered species protections
September 16, 2013

GAINESVILLE, Fla. — Floridians are ardent fans of endangered species and want to see them protected, even if it means fines for violators or restrictions on personal freedoms, a new University of Florida Institute of Food and Agricultural Sciences survey finds.

In conjunction with the 40th anniversary of the Endangered Species Act, an online survey of 499 Floridians last month found that survey respondents ranked the importance of endangered species as 11th out of 15 public issues, well behind topics such as the economy, health care and food safety.

But they were solid in their support of legal protections for endangered species of all kinds, including fines, restrictions on residential and commercial development and buying habitat for endangered species to ensure their survival.

Florida is home to 47 endangered animal species, such as the Florida panther and the West Indian manatee, and another 44 plant species, including the Key tree-cactus and pondberry.

Click here to read the full story.
---
Florida DEP consideration of the sale of "surplus" conservation lands
September 13, 2013

The Florida DEP held its Acquisition and Restoration Council meeting on Friday, September 13, 2013 to consider the list of recommended "surplus" conservation lands in Florida. The DEP was mandated by the 2013 Florida Legislature to development an assessment process to review and dispose of suplus conservation properties, as a condition of continued funding for the state's "Florida Forever" land acquistion program.

The state solicited public comments prior to their September meeting and the Friends submitted some brief comments on two island properties in the St. Sebastian River, that are currently on the list. Below is the response we received from the DEP:
It is important to realize that the list of sites posted on our State Conservation Land Assessment website (http://www.dep.state.fl.us/lands/assessment/default.htm) is NOT a list of recommendations for surplus. The list represents the initial results of our assessment, which included a scientific and environmental assessment of all lands owned by the Board of Trustees (Governor and Cabinet), as well as recommendations from the state's land managing agencies. This list is still undergoing site-by-site review, and that review includes gathering public input on the proposed sites, review of title, as well as an assessment of whether any of these sites might actually be more suitable to being managed by another state agency or local government. Should a given site make it through all levels of review and be recommended for sale, it would still need to:

Go through the statutorily required process of first being offered to other state managing agencies, universities and local governments
Receive a recommendation from the Acquisition and Restoration Council (ARC) as being no longer needed for conservation
Receive a determination of whether it should be sold with the retention of a conservation easement or deed restrictions to preserve conservation values
Approval by the Board of Trustees as being no longer needed for conservation.

Proceeds of sales are required to be used to purchase lands that fulfill state priorities for conservation. In short, this is an opportunity to upgrade our conservation land inventory.

There will be a special meeting of the ARC on Friday, September 13, to receive their input and guidance on the assessment and its initial results. ARC will NOT be voting on a final recommendation on any of the sites at that time, because the public input period will continue into late September and early October, with several public meetings to be held regionally around the state. Any sites that pass all stages of review are therefore not likely to begin the statutory surplus process until November or December 2013. Please check back to the above webpage for more information about upcoming meetings.
As mentioned above, public input meetings will be held around the state within in the next month or so. One is proposed to held in the Melbourne area. Please see the above website for more information and dates/location of public input meetings, as they become available.
---
Florida Fights to Save a Troubled Lagoon and Its Once-Flourishing Marine Life
BY NADIA DRAKE
Wired Magazine, August 29, 2013

Florida's governor and legislature are finally taking an active interest in the demise of the Indian River Lagoon, which runs for 156 miles along the state's Atlantic coast. The lagoon, once prided for hosting more species of marine life than any other estuary in the U.S., is now better known for its toxic algal blooms and mass animal die-offs.

In just the past year, 68 dolphins, 112 manatees, and hundreds of pelicans have turned up dead along the lagoon's shores.

"The Indian River Lagoon has become a toilet," said Brian Lapointe, a marine environmental scientist from the Harbor Branch Oceanographic Institute at Florida Atlantic University.

The lagoon's continuing collapse has prompted impassioned pleas from citizens desperate to halt the catastrophe and save the embattled ecosystem; scientists are racing to find out what's killing the lagoon's treasured birds and marine mammals. Earlier this year, the federal government declared the manatee and dolphin die-offs an "Unusual Mortality Events" and sent federal funds and investigators to the region.

Click here to read the full article.
---
New lawn legislation fuels a growing debate
Here are some tips to do it effectively fertilize your lawn
Jim Waymer
Florida Today, August 10, 2013

To fertilize or not to fertilize, that is the question Space Coast residents face this rainy season.

If they live in unincorporated Brevard County, for the first time they must heed an ordinance this summer that discourages fertilizing when rain is in the forecast.

Rockledge goes further. Its new ordinance more specifically bans fertilizing from June 1 to Sept. 30. Other local cities are considering their own ordinances, which could make for a hodgepodge of approaches to prevent excess fertilizer from running off into the Indian River Lagoon, where it can fuel algae blooms toxic to wildlife and even humans.

Debate rages on about how to make the best policies match the best science. State legislators have talked recently of revamping Florida's fertilizer rules to make them more uniform. Environmentalists fear changes that could thwart local governments from adopting stricter ordinances that include rainy season fertilizer application bans, yearly application rate limits and that require a high percentage of controlled-release nitrogen.

So as the debate simmers, what's an environmentally conscious homeowner to do this summer?

University of Florida and industry experts say we can have healthy lawns and a healthy Indian River lagoon, too.

Click here to read the full story.
---
Deaths of Manatees, Dolphins and Pelicans Point to Estuary at Risk
Michael Wines
The New York Times, August 7, 2013

MELBOURNE, Fla. — The first hint that something was amiss here, in the shallow lagoons and brackish streams that buffer inland Florida from the Atlantic's salt water, came last summer in the Banana River, just south of Kennedy Space Center. Three manatees — the languid, plant-munching, over-upholstered mammals known as sea cows — died suddenly and inexplicably, one after another, in a spot where deaths were rare.

The cause continues to evade easy explanation. But a central question is whether the deaths are symptoms of something more ominous: the collapse of the natural balance that sustains the 156-mile estuary's northern reaches.

"We may have reached a tipping point," said Troy Rice, who directs the Indian River Lagoon National Estuary Program, a federal, state and local government partnership at the St. Johns River Water Management District.

Mr. Rice's fear, widely shared, is that an ecosystem that supports more than 4,300 species of wildlife — and commercial fisheries, tourism and other businesses generating nearly $4 billion annually — is buckling under the strain of decades of pollution generated by coastal Florida's explosive development.

Click here to read the full story.
---
Scott vetoes funds critical to tracking lagoon pollution
Steven M. Thomas
Vero Beach 32963,July 11, 2013

Governor Rick Scott has dealt another blow to the Indian River Lagoon by vetoing $2 million approved by the legislature for a network of sophisticated sensors that would have enabled scientists to track pollution and water conditions in real time, speeding up diagnosis and cure of environmental problems plaguing the estuary.

In a statement sent to Vero Beach 32963, Scott's office said he yanked the funds, which were requested by Rep. Debbie Mayfield and Sen. Joe Negron for a Harbor Branch initiative and approved by a bi-partisan vote, because the project lacks statewide significance.

Click here to read the full story.
---
Florida's Indian River Lagoon Is A "Killing Zone" Of Mass Animal Deaths: Video Report
The Huffington Post, June 20, 2013

Day after day, dolphins floated up dead, emaciated down to their skeletons. Florida's Indian River Lagoon, considered one of the most diverse ecosystems in North America, was in dire crisis.

And it wasn't just the 46 dead bottlenose dolphins. The casualty list is long and depressing: gone are 47,000 acres of sea grass beds, 111 manatees, and 300 pelicans, reports Fox News.

It's been described as a "killing zone" and a "mass murder mystery" that is perplexing biologists.

Click here to read the full story and watch the video report.
---
A lagoon in collapse? Something is happening in the Indian River Lagoon
Theories differ, but one thing is sure. Something is happening in the Indian River Lagoon
By Jim Waymer
Florida Today, May 5, 2013

MELBOURNE — Something's wrong with the Indian River Lagoon.

Manatees, dolphins and pelicans are dying at record rates. Blue crabs seem weak. Bloom after bloom of algae clouds the lagoon's seagrass.

Scientists can't say with any certainty what's wrong, though all agree something has gone awry and may be irreversible.

Some point to global warming. Others blame pollution. Even manatees are among the speculation about what's triggered the collapse.

Whatever the reasons, those who make their living on the lagoon — North America's most biologically diverse estuary — witness daily signs of decline that make them worry: Is our lagoon in a death spiral?

Click here to read the full story.
---
Assault on Environment Unabated
Editorial, April 29, 2013
Tampa Bay Times

Growth management has been gutted, and the water management districts have been neutered. Developers have free rein, and water quality rules have been weakened. The state spends a fraction of what it once did to preserve sensitive lands, and the Department of Environmental Protection makes up new rules when private interests can't make enough money under existing rules. Yet the Florida Legislature still finds more ways to do more damage to the environment.

A bill passed by the House and awaiting Senate action in the last week of the session would make it easier to pollute waterways, destroy flood protection areas, squander the drinking water supply and extend even more leverage to developers over when and where they build. It would hurt Florida's economy as much as its natural resources, and if the Senate votes for this mess Gov. Rick Scott should veto it.

The sponsor of HB 999, Rep. Jimmy Patronis, R-Panama City, describes the legislation as "tweaks and fixes" that would make Florida more business-friendly. But the provisions are toxic. They would prevent local governments from regulating the destruction of wetlands by small, independent drainage districts that oversee more than 1 million acres across the state. They would give legal cover to a no-bid, 30-year sweetheart deal that Scott and the Cabinet gave to two farming operations to continue polluting the Everglades. The bill also would fast-track permitting for natural gas pipelines, and big water users would have every incentive to continue pumping groundwater even after new technologies offer a more sustainable water source. So much for the House's truth in packaging.

Click here to read the full editorial.
---
Special interests vs. public interests Editorial, April 26, 2013
Ocala StarBanner
Pandering to special interests is routine in the 21st century Florida Legislature, something we Floridians have come to expect and, too often, accept. But even by the Legislature's own standards the House's approval of House Bill 999 on Thursday by a 98-20 vote signals a major sellout of the public interests to special interests.
HB 999, which 1000 Friends of Florida has dubbed "the most problematic environmental bill of the session," now heads to the Senate where a companion measure, SB 1064, is awaiting for that chamber's vote, possibly as early as today. We urge ... senators ... to vote against this affront to the environment, home rule and anyone who cares about preserving Florida as we know it.
That the House voted for HB 999 so overwhelmingly shows its members' disconnect with everyday Floridians. The lengthy bill and its Senate companion are dubbed by their sponsors "environmental regulation" measures when, in fact, they are aimed at massive environmental deregulation. Everything from wetlands and marinas to water permits and pollution testing to fertilizer ordinances and local development permitting are covered, and in every case the bills seek to weaken regulations to the detriment of our communities and state.
"Line by line, and dollar for dollar, these bills were written for those who wish to exploit our environment for personal gain," wrote the respected Florida Conservation Coalition, founded and chaired by former governor and senator Bob Graham.
Click here to read the full editorial.
---
Septic tanks a major threat to lagoon
By Steven M. Thomas
Sebastian River News, April 11, 2013

New research by Harbor Branch scientist Brian Lapointe shows that septic tanks are flooding the Indian River Lagoon with nitrogen that is feeding algae blooms and killing marine life.

Countywide there are approximately 37,000 septic systems that dump more than 10 million gallons of effluent into the environment each day.

Because of the branching canal system that drains the county, nitrogen, bacteria and other pollutants that enter the groundwater miles from the lagoon end up in the estuary.

"Sewage is probably the biggest source of pollution in the estuary," says Lapointe, who presented his findings for the first time at the recent county lagoon symposium put on by District 3 Commissioner Tim Zorc.

Click here to read the full story.
---
Suit likely if EPA lets state set pollution limits for lagoon
BY STEVEN M. THOMAS
Sebastian River News, March 7, 2013

Indian Riverkeeper Marty Baum and four other Florida Riverkeepers are planning concerted legal action to stop the EPA from withdrawing federal limits on nutrient pollution in the Indian River Lagoon and other Florida waters.

Ten years into a tangled chronology of state and federal lawsuits, consent decrees and dueling agency actions, EPA seems poised to let DEP – the Florida Department of Environmental Protection – set and enforce its own nutrient pollution standards for all Florida waters in the near future.

The Riverkeeper groups and other environmental organizations are fighting hard to stop the transfer of authority because they view DEP as a weakened and politically compromised organization more likely to serve the interests of well-connected polluters than to protect the environment.

"The state's rules are far weaker and wait too long to be enforced – only after a water body is polluted with slime – and do not include a timeline for clean-up action," according the Sierra Club.

Click here to read the full story.
---
Lagoon in mid-2000s aided by natural phenomena
BY STEVEN M. THOMAS
Sebastian River News, February 28, 2013

For more than 10 years prior to 2011, conditions in the Indian River Lagoon improved steadily and dramatically with water clarity increasing and seagrass, the lush green foundation of the lagoon's ecology, spreading into areas where it had not grown since before the Second World War.

"The water was like what you see in the Keys," says St. Johns River Water Management District scientist Joel Steward, recalling the glory days in the mid-2000s. "It was better than anyone had ever seen. We were ecstatic."

Now, ironically, it turns out most of the efforts of agency and elected government officials – who were quick to take credit for the aquatic renaissance – had little to do with the restoration, which was actually caused in large part by a series of natural phenomena, including a prolonged drought and two hurricanes.

Steward, who revealed the disconcerting news about the limited relevance of human efforts in estuary restoration in his keynote address at the Harbor Branch Oceanographic Institute lagoon symposium last month, says the improvements lulled some government officials and entities into an ill-founded complacency.

Click here to read the full story.
---
Florida's twisted waterways policy
Editorial, Tampa Bay Times, February 3, 2013

It is senseless to give the major polluters a green light to foul the very waterways that taxpayers are spending dearly to fix. But that is what Gov. Rick Scott and the state's Republican leadership continue to do in a twisted cycle of taking with one hand and giving with the other. A governor who has just recommitted to spending money on Everglades restoration projects should recognize the inconsistency.

About two weeks ago, the governor and Cabinet unanimously approved the request of two agriculture companies to continue farming state land under terms that would pump even more pollution into the Everglades cleanup area. The state is also beginning to tally the costs of ignoring the degradation of Florida's springs, with cleanup costs estimated at $122 million (just to start). That hefty price is a natural result in a state that has weakened clean-water efforts for years. And it reflects the damage-now, pay-later environmental policy that harms the state's economy.

Click here to read the full editorial.
---
Bad policies pose historic threats to Fla. environment
By Bob Graham and Nathaniel Reed, Guest columnists
Orlando Sentinel, January 30, 2013

Recent investigative reporting by Kevin Spear in the Orlando Sentinel reveals the dramatic and widespread pollution and flow problems facing so many of Florida's rivers and springs. These reports were echoed by editorials across the state calling on Florida's governor, Department of Environmental Protection and Legislature to take action to protect and restore our impaired waterways.

Yet instead of resolving the serious problems that threaten our state's most precious natural resources, efforts in Tallahassee have focused on rolling back environmental safeguards and growth-management guidelines, cutting funding for conservation and regulation, reducing enforcement against polluters and liquidating public lands.

Severe budget cuts are seriously compromising the ability of Florida's DEP and water management districts to adequately protect our state's natural resources. Funding for many important conservation, restoration, monitoring, research, enforcement and education programs has been drastically reduced or eliminated.

Our state has also lost decades of valuable knowledge and expertise from significant layoffs, resulting in less capable agencies with insufficient resources and demoralized personnel. Although the DEP recently claimed "these reductions have done nothing to erode the agency's role in regulating industry and protecting the environment," it is not hard to find evidence to the contrary.

Click here to read the full story.
---
Natural Florida needs stewards, not profiteers
Bill Maxwell, Times correspondent
Tampa Bay Times, Sunday, January 6, 2013

In his 1998 book Some Kind of Paradise: A Chronicle of Man and the Land in Florida, environmentalist Mark Derr wrote that "in these past one hundred years, man has reshaped and relandscaped the peninsula, leveling forests, draining the marshes. The process continues at such a rapid rate that many residents of more than a decade barely recognize the areas around their homes."

Since Derr wrote those observations, the process of destruction has gone on at breakneck speed.

Two out of three Florida residents come from other states or foreign countries, and they have no memory of our old natural beauty and too often little respect for that beauty. Most have no qualms about electing lawmakers who dismiss the intrinsic value of our environment. As a result, Derr wrote, the "tale of Florida's development often is sordid, marked by the greed of people intent on taking whatever the land offered and leaving nothing in return."

Gov. Rick Scott is an outsider, and he is proving to be no friend of the environment in almost every move he makes.

Most recently, as suggested by an article in the Tampa Bay Times, the future of Florida's natural environment was put in jeopardy when Hershel Vinyard, secretary of the Department of Environmental Protection, laid off 58 DEP employees who have what is described as a "history and knowledge" of the state's critical environmental problems.

It is no secret that Vinyard, like the governor, is a probusiness crusader who has little use for environmental regulations.

Click here to read the full story.
---
Protecting Florida's polluters
Editorial, Tampa Bay Times
Saturday, January 5, 2013

Few operations have been as compromised under Gov. Rick Scott as Florida's Department of Environmental Protection. An agency that time after time has put the interests of developers and the polluting industry ahead of the state's natural resources struck again last month, laying off nearly 60 employees — many if not most of them responsible for enforcing compliance with environmental regulations. This agency is supposed to protect the environment, not enable its destruction.

The layoffs included veterans with two or three decades worth of service. Charles Kovach came up with a solution that saved Tampa Bay after a leaky gypsum stack in 2003 threatened to kill a vast cross-section of marine life. Gone. Mark Bardolph blew the whistle on DEP more than a decade ago for failing to protect the aquifer from animal waste. He's gone, too — and so is his boss. Kovach said he's seen politics at work in the past, "but never like this." Bardolph calls the agency "all a political farce." A former DEP attorney, Jerry Phillips, now with an outside advocacy group, said Scott's administration wants "to essentially turn the agency over to the regulated industries."

Click here to read the full editorial.
---
Florida environmental agency lays off longtime employees and hires from regulated industries
By Craig Pittman
Tampa Bay Times, December 25, 2012

In 2003, when a leaky gypsum stack at an abandoned phosphate plant threatened to kill a vast cross section of Tampa Bay's marine life, Charles Kovach came up with a solution that saved the bay.

But this month, 17 years after he was hired by the state Department of Environmental Protection, Kovach was one of 58 DEP employees laid off by the agency. Kovach believes those layoffs were designed to loosen regulation of polluting industries.

"I've seen the way politics has influenced that agency in the past, but never like this," Kovach said. "It's not about compliance (with the rules). It's about making things look like they're compliant."

On top of the layoffs is the fact that DEP Secretary Herschel Vinyard has installed a number of new people in the agency's upper ranks whose prior experience was working as engineers or consultants for companies the DEP regulates.

The DEP's deputy secretary in charge of regulatory programs previously spent a decade as an engineer who specialized in getting clients their environmental permits. Another engineer who worked for developers heads up the division of water resources. A lawyer who helped power plants get their permits is now in charge of air pollution permitting. An engineering company lobbyist became a deputy director overseeing water and sewer facilities.

The DEP "was never great," said Mark Bardolph, a 27-year DEP veteran — and onetime whistle-blower — who was laid off from the Tallahassee office. "But now it's all a political farce."

The hiring of people from the private sector to run the agency's most important divisions has been going on since Vinyard, a shipyard executive, was appointed to the office in January 2011 by Gov. Rick Scott. According to former employees, the hiring and layoffs reflect the Scott administration's pro-business attitudes.

"It's a hatred of regulation in general and in particular environmental regulations," Bardolph said. "It's profit that counts."

Click here to read the full story.
---
Florida Rivers Getting Sicker
Kevin Spear
Orlando Sentinel, December 15, 2012

Florida's rivers are in trouble.

That's what the Orlando Sentinel found after a yearlong evaluation of some of the state's biggest and smallest, most urban and remote, cleanest and dirtiest, protected and abused rivers.

Of the 22 rivers studied, from Miami to Pensacola, nearly half are in decline because of pollution from lawns, street runoff, wastewater and agriculture, and because of shrinking flows caused by drought and rising demand for water by cities and industries.

Other rivers in the group, while either stable or improving, are profoundly impaired.

Click here to read the full story.
---
EPA Must Protect Florida Waterways
Randy Schultz
Editorial, Palm Beach Post, December 12, 2012

For three years, Florida tried to stall on setting tougher anti-pollution standards for the state's lakes, rivers, streams and estuaries. Finally, and correctly, it appears that Florida has lost — for now.

On Nov. 30, U.S. District Judge Robert Hinkle refused to give Florida any more time in trying to set state rules that are weaker than those established by the Environmental Protection Agency. Earthjustice attorney David Guest said of the environmental groups that brought the federal lawsuit seeking enforcement of the Clean Water Act, "We won this case." He believes that the more stringent standards will apply to roughly 85 percent of Florida waters, including canals in South Florida. "That's the big story."

Click here to read the full editorial.
---
Report Finds Water Pollution in Florida Costs up to $10.5 Billion, Annually
Press Release, Earthjustice
November 27, 2012

Tallahassee, FL — In the first comprehensive review of its kind, the Stockholm Environment Institute (SEI), based at Tufts University, has released a white paper entitled Valuing Florida's Clean Waters. The paper finds that algae and red tide outbreaks caused by water pollution cost Floridians between $1.3 billion and $10.5 billion each year.

The EPA will soon decide whether to accept a state-written water pollution plan (which clean water advocates say won't do the job) or to step in with stronger federal rules and enforcement.

SEI researchers compiled data from dozens of studies and assessments to come up with the valuation of environmental services provided by clean water for Florida.

"The scientific community is now clear that pollution is a primary cause of harmful algae outbreaks. What remains is for federal and state agencies to set, and fund, an agenda for gathering the underlying data needed to comprehensively assess the value of Florida's clean waters."

Click here to read the full press release and for a link to the SEI report.
---
Seagrass vanishes; most game fish gone
Steven Thomas
VeroNews.com, August 17, 2012

INDIAN RIVER COUNTY — In a sudden environmental shift that could have dire consequences for Indian River County, nearly all the seagrass that grew in the lagoon between Grant, north of Sebastian, and the 17th Street Bridge in Vero Beach has disappeared.

Since seagrass is the foundation of the lagoon's ecology, the loss threatens birdlife, bottlenose dolphins, manatees and green sea turtles, which mature in the estuary's sheltered waters before braving the Atlantic.

Most resident game fish are already gone, according to lagoon scientists and longtime fishermen.

"This is a crisis," says Grant Gilmore, Ph.D., senior scientist with Estuarine, Coastal and Ocean Science, Inc. "Everyone should be concerned."

Gilmore, one of two founding scientists at Harbor Branch Oceanographic Institute, wrote his doctoral dissertation on sea grass areas between Sebastian and Jupiter and is a leading expert on lagoon ecology.

Seven types of seagrass are found in the lagoon, the most species found in any estuary, according to Gilmore.

He says the current seagrass loss is extraordinary, far outside normal seasonal fluctuations in grass acreage.

... Gilmore has conducted four surveys between Grant and Vero Beach, checking areas of the lagoon where he knows seagrass was abundant in the past, and found nothing but bare sand.

"There is no seagrass in that entire stretch, other than two tiny patches of shoal grass smaller than a desktop," Gilmore says. "We have created a desert out there and it has happened very quickly."

Click here to read the full story.
---
Governor to water district: Sell off 'surplus' parks and preserves
By Steven Thomas
Vero Beach 32963, July 12, 2012

Governor Rick Scott has ordered the St. Johns River Water Management District to review all of its conservation lands and make recommendations about which lands should be sold or traded away by the end of the year.

"Everything is on the table," says Robert Christianson, director of operations and land resources for the agency.

That includes state parks, land bought with money approved by voters specifically for land conservation, and lands bought under the Florida Forever program – which may not be forever, after all.

Click here to read the full story.
---
Scott guts water protection funding, endangering lagoon
By Steven M. Thomas
Vero Beach 32963, January 5, 2012

Governor Rick Scott's draconian cuts to water protection budgets might seem halfway reasonable if not for a majority of first-born dolphins dying from toxic overload, if not for last summer's deadly Indian River Lagoon algae bloom – the worst ever in extent, severity and longevity – and if not for the near doubling of polluted waterways in Florida between 2008 and 2010.

In action the Miami Herald called "foolhardy" and dangerous to the state in a December editorial, Scott in 2011 slashed Florida water management district budgets by 40 percent, cutting more than $700 million from the amount available to monitor and clean-up pollution in groundwater, rivers, lakes, stream and estuaries, including the lagoon that is Vero Beach's aesthetic and economic centerpiece.

"We cannot afford to continue ignoring water quality," says Vero Beach Mayor Pilar Turner. "The lagoon is responsible for $800 million a year in revenue for our community."

"I think the cuts are insane, and you can quote me on that," says Richard Baker, president of the Pelican Island Audubon Society.

"Scott's cuts to water quality protection dwarf all of the cuts made over the past 20 years by all local and state agencies," says Jim Egan, executive director of the Marine Resources Council.

"No one can understand it," says Warren Falls, managing director of the Ocean Research and Conservation Association (ORCA) in Fort Pierce. "The waterways are why people move to Florida. Governor Scott is tearing down the very thing the tourism industry and the towns along the waterway are built on. I think the long-term ramifications of the state cutbacks will have a devastating effect on the waters and economy of Florida."

Click here to read the full story.
---
Illuminating the Perils of Pollution, Nature's Way
By ERIK OLSEN
New York Times. December 19, 2011

FORT PIERCE, Fla. — Edith Widder presented a handful of greenish muck that had been pulled from the shallows of the Indian River Lagoon and cupped it in her palm.

Collecting mud is a new calling for Dr. Widder, a marine biologist who is known around the world for her work in much larger bodies of water.

...Now, Dr. Widder has found a way to put bioluminescence to work to fight pollution in the Indian River Lagoon, a 156-mile estuary that scientists say is one of Florida's most precious and threatened ecosystems.

...Scientists have long been aware of problems in the lagoon, where residential and commercial development has led to declining water quality and loss of habitat. But Dr. Widder's work adds a visual element to what is already known, allowing people to see the hot spots most in need of immediate attention.

"It's my belief if we can make pollution visible, and let people know what small things they are doing are actually making an improvement in this incredible environment," she said, "I think it could make a huge difference. It can be a game-changer."

Click here to read the full story.
---
New Conservation Coalition issues proposals that deserve the attention of Florida's elected leaders
Editorial
Press Journal, December 14, 2011

Treasure Coast resident Nat Reed said he's ready to "raise Cain" with Gov. Rick Scott and the Florida Legislature over the last legislative session — in which lawmakers slashed programs and projects that support the state's water and other natural resources — and to encourage them to do better in the upcoming session.

"The developers paid for and got what they wanted," said Reed, the Jupiter Island resident who served as assistant secretary of the interior under Republican presidents Richard Nixon and Gerald Ford and is chairman emeritus of 1000 Friends of Florida. "And it's a disgrace to the state of Florida."

Reed is not alone in his outrage over budget cuts and policy decisions that threaten bipartisan efforts to protect the state's environment. Reed spoke in Tallahassee at a rally organized by the new Florida Conservation Coalition, founded by former Florida governor and U.S. senator Bob Graham, a Democrat, and whose members include representatives of the Florida Wildlife Federation, the Nature Conservancy, Everglades Foundation, Audubon of Florida, Sierra Club, the Trust for Public Land and the League of Women Voters.

Click here to read the full editorial.
---
Florida's big water polluters win again
St. Petersburg Times Editorial
November 4, 2011

Why is the federal government continuing to reward Florida for dragging its feet on cleaning up dirty waters? The latest gift to the state's big polluters and their enablers in Tallahassee came this week when the Environmental Protection Agency gave tentative approval to new state pollution standards. The rules are far short of what Florida waterways need — a testament to politics winning out over science.

The EPA is backing off a long-running fight at the expense of public health, the environment and tourism. In 1998, the federal government told the states to limit nutrient pollution in lakes, rivers and coastal areas by 2004 or it would do the job for them. But the deadline came and went. Environmental groups sued in 2008 seeking to compel the EPA to intervene under the Clean Water Act. The agency settled the case in 2009 under an agreement that it would draft the standards for Florida. After 11 years of stalling, new rules were on the way and expected this year.

But the agency backtracked after industry groups and newly elected Republican leaders made wild and inflammatory charges about what the cleanup would cost. In June, the EPA said it would give the state another chance to write new standards on its own. This week, the agency said in a preliminary review that Florida was headed in the right direction.

Click here to read the full editorial.
---
For Florida, Water Quality an Increasing Challenge
By Ralph De La Cruz
Florida Center for Investigative Reporting, September 7, 2011

Florida has 1,700 streams and rivers, 7,800 freshwater lakes, 700 springs, 11 million acres of wetlands, not to speak of 1,350 miles of coastline and more than 8,000 miles of tidal shoreline. And some of the largest population increases in United States history.

It's a prospering recipe that lacks just one ingredient: water. Fresh, clean water. And lots of it. In 2005, Floridians used almost 7 billion gallons of freshwater a day. And there were almost a million fewer people in the state in 2005.

Water is the single most important resource in the Sunshine State. Which is why the state legislature passed the Florida Water Resources Act in 1972, creating six regional water management districts in 1972 (in 1975, two southern districts merged to become the South Florida Water Management District).

Now, 39 years later, the state is bursting at the population seams and facing unprecedented water-related challenges, such as the restoration of the entire Everglades ecosystem and the rehabilitation of other polluted freshwater supplies, mostly from agricultural runoff (agriculture also uses more freshwater than humans). In 2010, Florida had 1,918 miles of "impaired" or polluted rivers (that number almost doubled from 2008 to 2010), and 378,000 acres of impaired lakes.

Click here to read the full article.
---
State environmental chief, Gov. Rick Scott shaking up water management districts
By Craig Pittman, Staff Writer
St. Petersburg Times, September 4, 2011

Six months ago, Gov. Rick Scott's newly appointed Department of Environmental Protection secretary, Herschel Vinyard, sat down for lunch at Tallahassee's Governor's Club with four of his predecessors. They offered to answer any questions about the job.

Vinyard, a Jacksonville shipbuilding executive, made it clear he didn't know much about the state's environmental agency, but he did have one thing on his mind: the state's water management districts, which are nominally under the DEP but have long functioned independently of Tallahassee.

"He talked about the water districts, that that was something he wanted to take a hard look at," recalled Jake Varn, who served as the state's top environmental regulator from 1979 to 1981 under then-Gov. Bob Graham, a Democrat.

"It was his first week in Tallahassee, and he was talking about all their money and their taxing authority," agreed Victoria Tschinkel, who headed the environmental agency for the remaining six years of Graham's term.

Now Scott and Vinyard have shaken up the water districts — cutting millions from their budgets, capping executive salaries, pushing for layoffs and freezing land buying — and Scott says that's only his first step.

Click here to read the full story.
---
WATER POLLUTION: Greens furious over GOP field hearing on EPA rules for Fla.
Paul Quinlan, E&E reporter
Environmnetal & Energy Publishing, August 8, 2011

Florida environmentalists are accusing Rep. Cliff Stearns (R-Fla.) of stacking the witness panel of his congressional hearing on EPA water pollution rules with representatives of polluting industries.

The House Energy and Commerce subcommittee on oversight, which Stearns chairs, will meet tomorrow at the University of Central Florida to hold the sixth in a series of hearings meant to broadcast the message that Obama administration regulations are overly burdensome job killers that are stifling economic recovery.

Tomorrow's hearing will focus on the numeric water pollution limits EPA proposed to replace Florida's descriptive, verbal standards, which environmentalists argue are too vague. EPA proposed the new limits in accordance with a settlement agreement reached with environmental groups after they sued the agency in 2009, alleging it had failed to properly enforce the Clean Water Act.

Defending the agency will be EPA Regional Administrator Gwendolyn Keyes Fleming, the first scheduled witness. Criticizing the agency's efforts will be everyone else invited to testify: a state agriculture official and representatives of utilities, the county government, the building industry and the dairy industry, according to a committee memo.

Earthjustice attorney David Guest called the hearing a "sham" and an "embarrassment."

"This is not a public hearing. This is a chance to offer, publicly, reasons on why the polluters should be exempt from the law," Guest said. "It's so obviously contrary to the law, to the facts, and to good public policy that Representative Stearns is not willing to take the risk that someone might tell the truth in front of everyone."

"This is a surprising and disappointing about-face for Rep. Stearns," Sierra Club Florida staff director Frank Jackalone said in a statement, noting that Stearns was the only Florida Republican to vote against an amendment by Rep. Tom Rooney (R-Fla.) earlier this year that would have blocked EPA from moving forward with the limits.

The meeting comes as industry and state officials continue to battle EPA and environmentalists in court over the rules, which take effect next March. Last week, an appeals court dismissed a challenge brought by water utilities (Greenwire, Aug. 4).

The biggest disagreement between the two sides of the debate centers on costs. EPA estimated the statewide cost of compliance with the new limits at $135 million to $206 million annually, or between $40 and $71 a year per household. Industry puts the annual cost at between $5.7 billion and $8.4 billion, extrapolating that individual water and sewer rates would rise by hundreds of dollars.

Environmentalists say those figures are scare tactics based on the deliberately false assumption that sewage would have to be treated to drinking water standards by expensive, "reverse-osmosis" filtration technology. Richard Budell, director of the office of agricultural water policy at the Florida Department of Agriculture and Consumer Services, testified to as much before another House committee in June. He will appear again at tomorrow's hearing, testifying alongside EPA's Fleming.

"Florida wastewater utilities believe that expensive reverse-osmosis technologies will have to be employed in order for them to comply with the requirements," Budell testified in June. "These technologies are not only costly to implement and maintain, but they require an enormous amount of energy to operate."

A spokesman for Stearns did not respond to a request for comment on the hearing.

Last week, the congressman issued a statement that said "numerous studies in Florida indicate that the Washington-imposed standards will have a devastating impact on Florida's job creation, economy, and certain agencies."

"On Tuesday, we will hear from witnesses how these EPA standards will affect Florida and from the EPA on why it is imposing its standards," Stearns said in the statement.
---
Our views: Every precious drop
Legislature, Scott are putting state's water resources in peril
Florida Today Editorial, July 8, 2011


Water shortages loom on the horizon, but state lawmakers and Gov. Rick Scott are aggressively and wrongly undermining the very agencies that protect Florida's increasingly inadequate water supplies.

First, the Legislature passed and Scott signed a bill that slashes Florida's five water district budgets by $210 million.

The St. Johns River Water Management District, which includes Brevard and all or part of 17 other East-Central Florida counties, will see its budget cut 26 percent next year.

That loss of as much as $30 million will force 100 or more layoffs and put projects critical to safeguarding drinking water resources on life support.

That includes completion of the St. Johns River Upper Basin project in South Brevard, one of the largest wetland restorations in the world, that's scheduled to be finished in two years.

Click here to read the full editorial.
---
Florida Loses Its Mind. Again.
By Michael Grunwald
Time.com, Monday, May 9, 2011

If you think that Snooki has relationship problems because of overly strict drinking laws, or that the Bernie Madoff story is a cautionary tale about overly intrusive financial regulation, you're probably a Florida politician. Because the geniuses who run the state have decided that its economic distress is the result of overly strict growth management. So they're wiping out three decades of growth management laws and making it even easier for developers to build, the legislative equivalent of making it even easier for Kirstie Alley to eat.

This is so insane I don't even know what to say about it, except that I assume Carl Hiaasen has found the subject of his next novel. It's hard to imagine how any sentient being who's visited Homestead or Cape Coral or any of Florida's other boarded-up foreclosurevilles and seen all the vacant homes with unmowed lawns and mosquito-infested pools could conclude that the housing boom was insufficiently robust.

Click here to read the full story.
---
Land developer Billy Buzzett to oversee Florida's growth management agency
By Michael C. Bender
Miami Herald/St. Petersburg Times Tallahassee Bureau, January 06, 2011

TALLAHASSEE - Gov. Rick Scott has appointed an executive of one of Florida's largest land development companies to oversee the state department charged with managing growth.

Billy Buzzett, vice president of the St. Joe Co., will take over the Department of Community Affairs, the state's land planning and community development agency that Scott is eager to overhaul.

Environmentalists see the appointment of Buzzett as another sign that Scott -- in his quest to create jobs and spur Florida's economy -- will allow developers to run rampant over the state's natural resources. On Monday, Scott appointed a shipbuilding executive as his top environmental regulator.

Buzzett led the master planning of more than 100,000 acres and titled more than 30,000 residential units during his eight years at St. Joe. The North Florida real estate company gave the maximum $25,000 contribution to Scott's inauguration.

"I can't think of anyone who would be less appropriate for that job," said Linda Young, director of the Clean Water Network of Florida, who has sparred with Buzzett and St. Joe for years. "To put it mildly, it's troubling to know that he's in charge of steering the growth and development of the state. He has been at the heart and soul of some of the most destructive developments that the Florida Panhandle has seen."

Click here to read the full story.
---
`The Real Florida' a moneymaker
Buying land for parks, refuges solid investment
OUR OPINION, Miami Herald, December 6, 2010

What do Humphrey Bogart and John Pennekamp Coral Reef State Park have in common?

The famous actor starred in the 1948 movie Key Largo, which, despite its depiction of a fierce hurricane, drew new visitors to the Florida Keys' northern-most island, according to the Florida Parks System.

Trouble was, many visitors wanted to collect saltwater mementos -- colorful corals, sea fans, sponges -- and that took a terrible toll on the only living coral formation in the continental United States. In 1957, Dr. Gilbert Voss of the Marine Institute of Miami joined other scientists and South Florida preservationists, including The Miami Herald's then-associate editor, John Pennekamp, to urge the state to designate the beautiful reef area a preserve that would be off-limits to coral collecting and the like.

In 1959, activists got their wish when a 75-square-mile reef tract was declared a state preserve, the first underwater park in the United States. The next year, the federal government kicked in more sea bottom, and on Dec. 10, 1960, the park was named for Mr. Pennekamp.

Now Pennekamp park is having a 50th-anniversary celebration with a series of events to please new and frequent visitors alike. The park's anniversary is actually the culmination of a year-long 75th-anniversary celebration of the Florida Parks System, which includes magnificent beaches, forests, bayous, caverns, historic sites and more. The state Parks Service likes to brag that it manages ``The Real Florida.'' It serves as steward to more than 700,000 acres of parklands.

Many state parks were established by the same kind of local activism that saved Pennekamp. We owe a debt of gratitude to the John Pennekamps and Dr. Vosses. They saw wilderness threatened by the state's relentless growth throughout much of the 20th century and spoke up to protect tracts for future generations.

But it isn't just beachgoers, campers, hikers and other nature lovers who can truly appreciate Florida's parks system. So can economists. Our parks and refuges are moneymakers.

A 2009-10 fiscal-impact assessment by the Parks Service found that the state's 160 parks had a direct impact of nearly $950 million on local economies throughout the state and accounted for 18,900 new local-area jobs. Last year the state park system contributed more than $66 million to the general revenue fund via state sales taxes.

Beyond the parks system, a 2009 Nature Conservancy study found that hunting and fishing on Florida's conserved lands and waters had an $8 billion economic impact in 2006 alone.

The Nature Conservancy's study had a purpose, of course -- to persuade the Legislature to continue funding the state's land-acquisition program Florida Forever -- using hard dollars as an argument. A smart move. Saving ``The Real Florida'' really does pay off. Just ask the owners of Key Largo motels, restaurants and dive shops celebrating this month.
---
EPA unveils new pollution standards for Florida waters, then delays them
By Craig Pittman
St. Petersburg Times, November 16, 2010

For months, everyone from Florida's new Republican governor to its Democratic senator to its farmers, sewer plant operators and utilities has been trying to get the U.S. Environmental Protection Agency to back off new water pollution standards for Florida.

Cleaning up the waterways, they warned, would ruin the state's already shaky economy.

On Monday, EPA officials announced they were ready to unveil the new pollution limits for Florida's rivers, lakes and springs - but with a catch.

The federal agency will not implement the 168 pages of new standards, which could cost residents an extra 11 to 20 cents a day per household, for another 15 months.

The delay is necessary to counteract all the "exaggerated, doomsday claims" that opponents have been spreading, explained the EPA's Atlanta regional administrator, Gwen Keyes Fleming.

Click here to read the full story.
---
Last-Minute Lobbying Over EPA's Water-Quality Rules for Fla. Focuses on Costs
By PAUL QUINLAN of Greenwire
The New York Times, November 15, 2010

...Florida's current environmental regulations currently include narrative water quality standards that have failed to stop algae blooms and red tides that have turned rivers green, triggered massive fish kills and caused respiratory problems.

Environmentalists sued EPA in 2008 for not enforcing the Clean Water Act in the state. Under the settlement, EPA must replace the state's narrative rules with specific, numeric criteria as to how much phosphorus and nitrogen pollution -- byproducts of fertilizer and sewage treatment that trigger the noxious algae blooms -- can be allowed to enter each of the state's lakes, rivers, streams and springs.

But exactly how much it will cost to upgrade sewage treatment plants and improve farming and industry practices to comply with the new rules has dominated the debate over whether to move forward as planned.

Click here to read the full story.
---
EPA imposes controversial water-pollution limits on Florida
Industry says limits will be a costly burden but some environmentalists say they are riddled with loopholes
By Kevin Spear
Orlando Sentinel, November 15, 2010

A federal crackdown on Florida's polluted rivers and lakes was spelled out in detail Monday by the U.S Environmental Protection Agency, which simultaneously agreed to hold off on enforcing the new regulations for 15 months.

An EPA official, speaking in Tallahassee, said the rules will not cost residents, businesses and local governments nearly as much as opponents have alleged but will, after years of procrastination by state environmental officials, help revive rivers and lakes plagued with a type of pollution that triggers algae blooms and fish kills.

"Anyone who has seen the green slime that coats waters from Lake Munson near Tallahassee to the St. Johns River, to Lake Apopka in Central Florida, has seen the consequences," said Gwen Keyes Fleming, a regional EPA administrator from Atlanta.

Click here to read the full story.
---
Loss of Indian River Lagoon seagrass beds threatening fish breeding grounds
By Tyler Treadway
Press Journal, October 28, 2010

STUART — The lower Indian River Lagoon is a crossroads at a crossroads, according to R. Grant Gilmore Jr., senior scientist and president of Estuarine, Coastal and Ocean Science Inc. in Vero Beach.

Speaking on Thursday to the Rivers Coalition, Gilmore called the area of the lagoon near the St. Lucie Inlet and the St. Lucie Estuary a "crossroads" of biodiversity because it serves as the nursery for fish species found throughout the Eastern Seaboard.

But the lagoon is at a crossroads, he added, because loss of its seagrass beds threatens the nursery and the fish raised in it.

"Seagrass is a major food source for all kinds of little critters that live in the estuary and the lagoon," Gilmore said, adding that a study in the 1970s showed 10,000 fish are produced per year on each acre of the lagoon.

"But if there's no seagrass," he added, "that drops by 90 percent."

Click here to read the full story.
---
Two projects nourish lagoon
Fresh water in canals getting diverted back to St. Johns
B Jim Waymer
Florida Today, October 23, 2010

PALM BAY — While Indian River Lagoon advocates want us to control stormwater in our own yards, government has two big, long-awaited "replumbings" that could pay huge dividends for the estuary's health.

Officials say the $50 million in new water-control structures and storage areas soon will ease fresh-water shocks during downpours, allowing more seagrass to grow, with fish and clams to follow.

The two projects -- one in Fellsmere, the other in Palm Bay -- could make the lagoon's next 20 years healthier than its last, officials say, by steering water closer to the way it flowed a century ago.

As the region celebrates the 20th anniversary of the federal government making the lagoon part of the National Estuary Program, St. Johns officials are pointing to the two projects as major milestones in the estuary's recovery.

Too much fresh water, too fast lowers the lagoon's salt content and clouds the water so sunlight can't reach seagrass -- the main nursery ground for fish, crabs and other marine life.

Click here to read the full story.
---
Florida sprawl's free-for-all even worse without the DCA
By Dan DeWitt
St. Pete Times, Friday, May 7, 2010

The Florida Department of Community Affairs is good at telling developers how their plans to build subdivisions out in the country — think of Hickory Hill and the Quarry Preserve — can cause sprawl, clog roads and destroy the environment. But it hardly ever says no.

This frustrates a lot of citizen activists, who think that the agency does nothing but push papers.

And they are dead wrong.

Look closely and you'll find that once DCA gets involved, plans change for the better. Developers agree to pay more for roads and schools, add protection for wildlife habitat and groundwater, rewrite plans to make sure projects that are supposed to function like real cities are designed like real cities.

That was true to some degree even under its weakest leadership. It's even more true under current DCA secretary Tom Pelham.

Yes, it would be nice if the DCA flat turned down a few more requests for changes to local comprehensive plans, though this does happen once in a while.

But anyone who knows much about development in this state knows that without the DCA, it would be even more of a chaotic free-for-all.

And maybe because the state Legislature tried to do so much crazy, irresponsible stuff this year — forcing most women seeking abortions to pay and review ultrasounds of their fetuses, stripping tenure from teachers, allowing leading lawmakers to take in even more special interest money (all of which, by the way, received the votes of our own state Rep. Robert Schenck, R-Spring Hill) — we've overlooked an equally wild attack on the DCA.

In the final days of the session, the House of Representatives failed to hear a routine bill to reauthorize the agency.

Legally, this might not mean much. Politically, it's a killer — a vote of no-confidence that is extra significant because it is widely believed to be the work of incoming House Speaker Dean Cannon, R-Winter Park. (He previously has said he had nothing to do with the lack of reauthorization, and a representative from his office said Thursday this would have no impact.)

Next year, members will have been freshly re-elected and the Hometown Democracy amendment, the threat of which has supposedly forced lawmakers to at least pretend they care about controlling growth, will have been resolved one way or another.

Click here to read the full story.
---
Water war
EPA's 'legal-containment strategy' called murky deal for Floridians?
Kenric Ward
Sunshine State News, March 8, 2010

Operating under the theory that "no good deed goes unpunished," the U.S. Environmental Protection Agency is targeting Floridians with punitive new water-quality standards.

In an unprecedented move, the EPA is singling out Florida for strict rules governing the release of nitrogen and phosphorous. The Florida Water Environment Association Utility Council estimates that the state's utilities will have to spend between $24.4 billion and $50.7 billion in capital improvements (before interest charges) to comply with the new standards and up to $1.3 billion more in annual operating costs.

This price tag will trickle down to every home and business, with yearly annual sewer rates expected to rise an average of $726 per customer, per year. And that's just for the customers with sewer service.

For large businesses, including agriculture, the annual hit could run into the hundreds of thousands of dollars, analysts say.

Cleaner water is an admirable, even essential, goal but critics say the EPA's proposal is murky, at best.

David Guest, managing attorney for Earth Justice in Florida, said the state was targeted because of its "uniquely serious problems" of "toxic algae" and "uncontrolled slime growth."

Florida Clean Water Network director Linda Young said during the Tallahassee hearing that opposition was "the result of many months of organizing that's been done by … our own state government."

"DEP has exaggerated the threat and there is a little bit of panic created by a state agency screaming fire," Young charged.

Guest believes that the fertilizer industry is driving much of the resistance, because nitrogen- and phosphorous-heavy fertilizers -- both in commercial and residential use -- are laden with the chemicals that cause algae blooms.

Click here to read the full story.
---
Hold polluters accountable for what they do to Florida waters
David Guest, Special to the Times
St. Petersburg Times, November 9, 2009

It is hard to imagine anyone defending the polluters that are turning our waters green.

At long last, the U.S. Environmental Protection Agency is agreeing to set legal, enforceable limits on Florida's worst water pollution problem: excess nutrient runoff from fertilizer and manure. Now the state's biggest polluters are trying to get out of complying.

Florida has one of the worst water pollution problems in the nation. We've got toxic algae blooms, contaminated drinking water, beaches closed by dangerous bacteria and Red Tide, rivers fouled with green slime, dead fish, dead lakes and excess nutrients bubbling out of our crystal springs.

A Florida Department of Environmental Protection report last year found that half the state's rivers and more than half of its lakes had poor water quality.

Click here to read the full story.
---
Land Management In Florida: Old Challenges In The New Economy
Nathaniel P. Reed, Chairman Emeritus, 1000 Friends of Florida
Why Florida Needs Smart Growth, March 2009, 1000 Friends of Florida

We are all facing up to the gross financial mismanagement on the national level, but I would like to share with you some thoughts on how Florida fits into the picture. I agree with those who say that the Ponzi premise pretty much sums up Florida's management strategy. As long as you can recruit new suckers to pay back the existing pyramid club members you'll be okay. I would invite you to name one public program in Florida – transportation, education, public health, environmental resource management – where we have actually put the cost of meeting immediate needs upon the existing population. Florida's history has been to expect that future growth will cover the cost of the current needs. Next year's new taxpayers will get the bill for existing infrastructure deficiencies, and their new demands will in turn be paid by their successors. As the St. Petersburg Times/Miami Herald recently reported:
For years, governors and legislators relied on population growth to create jobs, avoid raising taxes, and shield the state from recession. The saw Florida's population swell annually by 2 to 3 percent per year, adding the equivalent of a new Miami or Tampa each year.
We've marked ourselves as a low-tax, low-cost retirement haven. We have further convoluted the scheme with an absolutely archaic tax scheme, full of exemptions intended to provide short-term growth incentives but higher future costs, which will supposedly be covered by distributing those costs over a larger taxpayer base in the future.
But now we are finding that if Florida doesn't keep growing, the pyramid can't be sustained. Florida's residential and commercial building spree has resulted in a vastly overbuilt market with, by some estimates, at least two years of inventory. The Times/Herald reported that Florida led the nation in job growth in 2005, and now leads the nation in job losses. After five years of double-digit increases in housing starts, it is now second in the nation in foreclosure filings. Florida led the nation in gross domestic product in 2005. It now ranks 47th in this most important indicator of a productive economy.
In its 2009 New Years Day editorial, the Palm Beach Post summarized brilliantly our past and possible future:
For decades Florida and the officials running the state, counties, and towns have perpetrated the myth that growth will pay for itself and provide a prosperous lifestyle for everyone who buys into the myth. With special tax breaks for long-time residents, the expectation that an ever-increasing supply of newcomers, snowbirds and tourists would pay most of the bills was as enticing a Ponzi scheme as any that Bernard Madoff promised. Now, Florida's growth scheme has collapsed. The growth myth should collapse along with it. Yes, the real state market will come back – let's hope in a more rational form. But unbridled growth never again should be seen as Florida's perpetual money machine.
Some might argue that Florida hasn't really had unbridled growth, but rather truly managed growth, some have said over-managed. This is a rather hard premise to accept given the obvious massive over-building which has glutted the state.
Over the past ten years, the Florida Department of Community Affairs – which oversees growth management in our state – has been continually reduced until, according to current DCA Secretary Tom Pelham, the agency is barely able to fulfill its statutory mission. Rather than confront the large public and institutional support for growth management controls, the budgetary process has become the tool to curtail growth management. In the early 1990's – during the height of DCA's efforts to implement the 1985 law – it had a staff of more than seventy professionals, two field offices, and three separate divisions. By the end of the Bush administration, the field offices were gone, one division had been reassigned to the Governor's Office, and fewer than thirty professionals remain.
The Legislature is now faced with addressing a massive budget shortfall – in the neighborhood of $5 billion – for the 2099-2010 year and has only two options – further cuts in spending or additional revenue income. I expect that the legislature will be forced, reluctantly, to consider additional revenue sources. Higher "sin" taxes such as cigarettes or Internet taxes are easy, but reform of our tax codes will require real courage.
I also expect proposals to relax environmental rules, or even eliminate the Florida Department of Community Affairs, and/or all comprehensive planning will surface as possible "quick fixes." Some of the same interests who gave us the current market glut claim that they need unbridled freedom to respond to "market conditions," that the "planning process" takes too long and will impeded recovery. Private landowners who still believe that unrestricted property rights are a divine right will certainly join in any opportunity to eliminate growth management programs.
In another spin, counties across the state are all now facing requests to simply extend existing approved expiring development permits that are no longer economically viable until "the market improves." In almost all cases, they are extending the projects. Is that really a good idea? Admittedly, it saves both the developer and the government the costs of repeating the permit process, but are all those projects really that good?
With hundreds of approved projects dormant for lack of funding, and with an estimated two-year glut in existing housing and commercial space, we should feel no urgency to encourage more. It will be a long time (if ever) before fixed-income retirees in the north again contemplate mass-migration to Florida. The bleak economic situation affords Florida a unique opportunity to reconsider our land management planning programs.
I think that all the discussions need to face the fact that sound economic policy must also be sound environmental policy – or we're just once again pawning the true costs into the future – with compounded interest! And while "smart growth" is considered a desirable goal, I would argue that any growth that doesn't pay for itself isn't smart at all!
We now have the time, and hopefully the economic incentive, to move (sic) promote serious planning policies that would:
Promote infill and rehabilitation of existing urban areas over creating new towns. The argument for years has been that remote vacant land is cheap, and building on a blank slate is faster and cheaper – so we've gone toward new communities in the boondocks.
Pay special attention to agriculture in Florida. We need an environmentally sound, productive agricultural industry in our state for its economic, social and environmental benefits. Our current development model is driving out agriculture as speculative real estate ventures swallow rural tracts with "New Towns" that don't pay for themselves.
Rethink new rural communities. In the future, they should only be built if they offer us true long-term benefits economically, socially, and environmentally. If they don't, let's learn to just say NO and wait for a true enhancement to the state to be developed.
Florida is truly at an economic crossroads; do we try to fall back to our old ways, or find a smarter growth model for our future, one that sustains our economy, protects our environment, improves education – and truly best serves our citizens? Do we simply try to jumpstart quick growth, or can we develop a well-devised, balanced economy and a rational growth program supported by a truly intelligent tax program? This will take true leadership and courage.
---
Reaping the fruit planted by greed
By CARL HIAASEN
Miami Herald, February 15, 2009

It wasn't surprising that President Barack Obama came to Florida to push his economic stimulus package, because no place in the United States has fallen so hard, so fast.

And when the mega-recession finally ends, Florida will be one of the last places in the country to turn itself around. That's because other states have actual industry, while our employment base depends fatally on double-digit population growth and, to a lesser extent, tourism.

Everything was going gang-busters when a thousand people a day were moving here, but now the stampede is over, and the jig's up. Without fresh meat for the housing market, Florida basically hasn't got an economy.

Developers have controlled state and county governments for so long that no Plan B exists. Lost and clueless, lawmakers desperately hack away at public budgets while clinging to the hope that boom times will return.

For good reason, Florida has become the poster child for America's fiscal disintegration. We stand at the top of the leaderboard in rising unemployment, foreclosures and, of course, mortgage fraud.

Where else could a man step out of prison and straight into a job peddling adjustable-rate home loans to buyers with virtually no credit?

Click here to read the full story.
---
Climate change threatens Florida's drinking water supply
Asjylyn Loder, Times Staff Writer
St. Pete Times, November 9, 2008

If climatologists are right, Florida's future could be a thirsty one: Climate change, blamed for eating away at Florida's coastline, is also quietly encroaching on the state's drinking water.

Much of the damage to Florida's water supply will take place out of sight, in the underground aquifers that provide most of the state's drinking water. As rising seas nibble at the state's coastline, saltwater intrusion will also creep steadily inland.

"We used to assume that we could use the past records to predict the future," said Mark Stewart, a professor at the University of South Florida. "Now, we just don't know."

To cope with uncertain freshwater supplies, the state has turned to expensive reservoirs and energy-intensive desalination plants, and plans to build even more. Florida could turn to schemes that seem unthinkable today, like pumping wastewater into aquifers that supply our drinking water.

...Florida's climate has already begun to change. Sea levels have started to rise. Saltwater fish are swimming farther upstream, while saltwater mangroves invade freshwater marshes. Rainfall has become less predictable. Rivers and reservoirs are at near-historic lows.

Click here to read the full story.
---
For sale: One state, everything must go
By HOWARD TROXLER
St. Petersburg Times, August 19, 2007

Wipe out 2,000 acres of wetlands in the Florida Panhandle to build an airport?

Sure. We have to do it.

Otherwise, developers might miss a spot of the state. And we can't have that.

Here's what was striking about last week's approval of a $330-million airport northwest of Panama City:

It felt like the year was around 1965, and a bunch of guys in horned-rimmed glasses were bragging about how they were going to Put Florida on the Map.

Florida's governor, Charlie Crist, hailed the airport's approval because, he said, it will "attract new businesses and jobs to grow and diversify the local economy."

(Then Crist went out and appointed a couple more gator rasslers to the Florida Fish, Wildlife and Manatee-Eatin' Commission.)

Realtors predicted the airport would be just the thing for jump-starting the Panhandle's real estate market.

"Once they start turning dirt," one declared, "we'll see things really rapidly escalate."

Click here to read the full editorial.
---
Homeowners use water-wise plants
Xeriscaping can reduce need to irrigate yards
BY MARIA SONNENBERG
FLORIDA TODAY, June 23, 2007

Landscape adaptation. Xeriscaping primarily focuses on selecting plants that easily thrive in the conditions in which they are planted. The concept is appealing to environmentalists, as well as gardeners, who can save lots of money and time by not struggling to keep plants alive that are not suited to the area.
How to get started
Hank Largin, spokesman for the St. Johns River Water Management District, suggests the following steps to get started in xeriscaping your home:
Obtain a soil analysis from a source such as the county extension services office. The analysis will tell you which plants are best suited for your backyard.
Choose proper plants.
Use turf wisely. Grass is the biggest water-guzzler.
Irrigate efficiently. Hydrozone, or place plants that need the same amount of water close together.
Use mulches to hold moisture in the soil. 6. Perform proper maintenance.
While her neighbors fret over watering their yards, Vicki Williams sits back and enjoys the view from her West Melbourne home.
About a decade ago, Williams began swapping her landscape plantings from water-guzzling to water-wise.
"I replaced my tropicals with some hardy native plants," Williams said. "They're doing very well, as predicted. I don't have to mess with them, even to this day."
Click here to read the full story.
---
Overcrowding? Nature will fix that
By CARL HIAASEN
Miami Herald, May 13, 2007

In the absence of a sane growth-management policy, nature is becoming the great equalizer in Florida.

A 17-month drought has made a puddle of Lake Okeechobee and has parched the Biscayne Aquifer. Parts of the Everglades are drying up, while advancing seawater endangers the well fields that serve hundreds of thousands of residents in Broward and Palm Beach counties.

Water managers warn that, unless consumption is drastically reduced, the taps could run dry -- or, at the least, start spitting salt -- in several coastal communities. Forget about watering your lawn; you won't be able to water your kids.

The emergency is so dire that even a busy hurricane season may not make it go away. Florida, one of the wettest states in the country, is running dry.

Drought cycles here are nothing new, but this is the first one to occur with 18 million people encamped on the peninsula. They might cut back on sprinkling their geraniums, but they won't stop taking showers or washing their laundry.

Not many politicians are brave enough to cite overpopulation as a cause of the current crisis, though it is. There are too many people using too much water, but it's easier to blame the weather.

Click here to read the full opinion article.
---
Activist says Indian River County gave road contractor wrong plans
By HENRY A. STEPHENS
Press Journal, December 13, 2006

INDIAN RIVER COUNTY — Tim Glover, president of the Friends of the (sic) St. Sebastian River, isn't blaming the county's road contractors for clearing the wrong property in October on County Road 512, burying at least one gopher tortoise, breaking the cap off an artesian well and letting the water carry silt into the St. Sebastian River.

Rather, he said Tuesday, crews with J.W. Cheatham Co., of West Palm Beach, got the wrong set of plans from the county.

"As far as I know, the contractor is fine," Glover said. "The problem seems to be the county provided the wrong information. ... This is a real can of worms."

Click here to read the full story.
---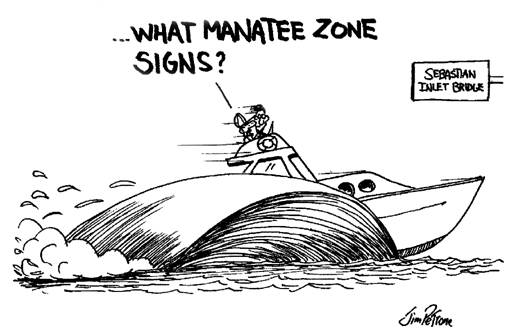 by Jim Petrone, Hometown News, April 7, 2006
---
Vanishing Wetlands
Special Report
Craig Pittman and Matthew Waite
St. Petersburg Times, May 23, 2005

"Florida has more wetlands than any other state but Alaska. They stop floods, clean up water pollution, and replenish drinking supplies. Yet despite government promises, they are disappearing."

This is a Special Report series of articles by the St. Pete Times that also includes multimedia graphics and photo galleries with some wonderful images. Click here to view their Web page with links to all the stories.
---
Our Coastal Watershed
Pelican Brief - Official City of Sebastian Quarterly Newsletter
Winter 2005
What's (sic) is a Coastal Watershed?
"A watershed is a geographic area in which all sources of water including the rivers, streams, lakes, wetlands as well as ground water, drain into a common surface water body. Because all watersheds are defined bu natural hydrology and ultimately drain to coastal waters, they are a good focal point for managing coastal resources. In Sebastian the watershed drains into the Indian River Lagoon, a distinctive estuary that extends from Volusia county to our south. This estuary provides a unique habitat for a diverse group of organisms. It is the breeding and feeding grounds for a variety of aquatic and terrestrial animals."
What are some of the Impacts on our Coastal Watershed?
"Loose soil from construction sites, farms, and other areas where dirt is exposed can wash off into the streams and rivers when it rains and flow to our estuary. The result is muddy waters which leave deposits in the Lagoon that smother the organisms living on the bottom, decrease the amount of sunlight reaching the sea grass beds, and clog fish gills. Some types of pollutants can bind to the sediment and flow with it to the coastal waters."
"Excess nutrients and pesticides can also wash off the land when it rains and end up in the coastal waters. Sources of excess nutrients include lawn and garden fertilizers and pesticides, pet and farm animal waste, decaying plant material, and failing septic tanks. The loss of wetlands in many watersheds has reduced the ability of nature to process these nutrients before they enter rivers, streams, and ultimately estuaries."
"Toxic substances such as lead, oils, antifreeze, brake linings and greases deposited on the roads from cars, trucks and buses, can all run off the streets and land with the rainfall. Commercial and industrial sites can also contribute to the amount of toxic substances entering the coastal waters."
What can I do to help protect our watershed, you ask?
"You can do several things to help protect our beautiful Indian River Lagoon."
"Start in your back yard through sensible lawn care, and resource conservation. Use pesticides and lawn fertilizers sparingly and correctly. Composite (sic) organic waster."
"Practice good housekeeping by properly disposing of toxic substances like paint and paint thinners, automotive fluids and cleaning products. Take your toxic wastes to the Indian River County Recycling centers. Many of the local automotive stores collect and recycle automotive wastes."
"When walking your dog remember to pick p the waste and dispose of it properly. Co not leave it on the ground where it will increase the public health risks by allowing harmful bacteria and nutrient (sic) to wash into the storm system. Flush it to your septic system."
"Properly maintain your boat, use pump out facilities, and operate your boat in a responsible manner to avoid shoreline erosion."
"Pick up litter when you see it and properly dispose of your own trash."
"Take your car to a car wash where the water is cleaned and recycled or wash your car over your lawn where the nutrient rich soapy water is good fertilizer but can lead to algae blooms in canals stream and the Indian River Lagoon."
"It is our duty as responsible citizens to start at home and do everything possible to protect our great natural resources, especially the Indian River Lagoon, a special waterbody that provides us with all types of wildlife, recreation and enjoyment."
---
Sebastian's Stormwater Utility and you, working together to improve water quality and protect your property!
Pelican Brief - Official City of Sebastian Quarterly Newsletter
Spring 2004
What's the Problem with Stormwater?
The first and most obvious issue is flooding. According to the U.S. Geological Survey, one inch of rain falling on one square mile of land equates to 17,378,560 gallons of water.
Our environmental concern is the pollution all of this water picks up as it rushes into storm drains and heads to the receiving water body. In Sebastian, the runoff water goes to the Sebastian River (sic) and the Indian River Lagoon where the pollutants are deposited. In fact, stormwater runoff is the number one pollution problem in the Indian River lagoon (sic) and in other waterways across the country. When it rains, the water carries with it dirt, discarded trash, nutrient rich fertilizers, grass clippings left on the curbside, pet waste, insecticides, motor oils, brake dust, tire fragments, and toxic chemicals, from the road. The good news is that corrective action can be taken. The City of Sebastian and Sebastian Stormwater Utility is taking strong action to fight the problems of stormwater pollution, measures that will also help alleviate potential flooding problems. There are also many things residents can do to fight the problem and keep our waterways clean and safe so we can enjoy sailing, motor boating, fishing, kayaking, jet skiing, swimming, and nature watching.
What can I do?
Sweep up leaves or grass clippings that accumulate on your driveway, sidewalk or in the street. If you are using a blower, blow them back into your yard, never into a storm drain or swale.
Pick up pet waste and dispose of it by flushing it down the toilet or by burial.
Redirect roof down spouts from paved areas to grassy areas.
Wash your car on the lawn rather then on the driveway. The nutrient-rich soapy water is good fertilizer for the grass but can lead to algae blooms if it enters the Indian River Lagoon system.
Plant native landscaping and reduce your amount of sodded areas. Native plants require less irrigation, maintenance, fertilizers and pesticides.
Dispose of used motor oil, paint and other household hazardous waste at a designated collection center.

(The IRC Collection Convenience Center for the disposal of hazardous materials is located at 7860 130th Street, Roseland and is open daily from 7 a.m. to 6 p.m., except Tuesday and Wednesday. For additional information call Solid Waste Disposal District at 770-5112.)



Never throw trash or cigarette butts out the window where they can enter the stormwater system.
Don't overuse fertilizers. The nutrients released into the water can cause algae bloom.
Never fertilize before rain is expected.
Use pesticides sparingly and only on problem areas.
---
Deep Trouble: The Gulf in Peril
A Naples Daily News Special Report
This is a 15 part special report on the many threats that are destroying the Gulf of Mexico.
Click here to access the full report.
---
National News Stories
Hurricane Irma, Rising Seas and Our Endangered Cities
Why the back-to-back blows of Hurricanes Harvey and Irma have certainly woken people up to the risks of climate change
Jeff Goodell
Rolling Stone, September 11, 2017

President Donald Trump and EPA administrator Scott Pruitt may not want to talk about climate change right now, but judging from these storms, Mother Nature sure does.

I began covering energy and climate change in 1990, shortly after George H. W. Bush was elected president and announced the fossil fuels were going to be a big part of American life again. I wrote about coal mines and electric cars (My test-drive of a prototype Tesla roadster through the hills above Palo Alto made me an early and enthusiastic convert to electric cars), and interviewed influential climate scientists like NASA's James Hansen. I understood a lot about climate change in an intellectual and theoretical way, but I had not yet had what Al Gore calls an "oh-shit" moment. For me, my oh-shit moment was Hurricane Sandy, which spun into New York City in 2012. In the days after, as I walked through the sodden, mold-smelling streets of the Lower East Side, I understood not just the power of Mother Nature, but, more specifically, the power of water to destroy – or at least, deeply wound – a great American city. And it wasn't just big storm surges. As one scientist said to me, "Imagine a world where the water comes in ... but then doesn't go out."

In the aftermath of Sandy, I tried to imagine exactly that. A scientist I was interviewing suggested that if I wanted to see a city that was really at risk from sea level rise, I should visit Miami. So I did. I arrived during the annual king tides (the highest tides of the year), and was stunned to find myself wading through knee-deep water in the swanky streets of Miami Beach. It became clear to me within 24 hours that the city of Miami was doomed.

Click here to read the full story.
---
EPA asked the public which regulations to gut — and got an earful about leaving them alone
Brady Dennis
The Washington Post, May 16, 2017

Last month, the Environmental Protection Agency put out a call for comments about what regulations are in need of repeal, replacement or modification. The effort stemmed from an executive order issued by President Trump earlier this year instructing agencies to reexamine regulations that "eliminate jobs, or inhibit job creation" and/or "impose costs that exceed benefits."

More than 55,100 responses rolled in by the time the comment period closed on Monday — but they were full of Americans sharing their experiences of growing up with dirty air and water, and with pleas for the agency not to undo safeguards that could return the country to more a more polluted era.

"Know your history or you'll be doomed to repeat it," one person wrote. "Environmental regulations came about for a reason. There is scientific reasoning behind the need for it. It is not a conspiracy to harm corporations. It's an attempt to make the people's lives better."

"Have we failed to learn from history, and forgotten the harm done to our air, water, and wetlands?" EPA is for the people.

Click here to read the full story.
---
Historic Climate Case Led By Kids Is Headed to Trial
Twenty-one children want to hold the federal government accountable for climate change, potentially changing how we handle environmental law.
Molly Bennet
"Audubon," Winter 2016

Early one morning this past August, as torrential rains pounded Louisiana, a 13-year-old named Jayden Foytlin woke up, stepped onto her bedroom floor, and found herself ankle-deep in water. At first she was confused, Foytlin says. She knew the storm would cause flooding, but it wasn't supposed to reach her home, in the small city of Rayne. By the time the storm passed, 7 trillion gallons of rain had fallen across the state, flooding more than 60,000 homes and leaving 13 people dead. According to the National Oceanic and Atmospheric Administration, the odds that the central Gulf region would be hit by a rain event of that magnitude have increased by at least 40 percent compared to a century ago because of climate change.

Foytlin first learned about climate change when she was seven or eight. "I always thought, 'Oh, there are people that will handle it,' " she recalls. But as the years passed, "I noticed that nothing is getting better," she says. "They aren't taking control." So in 2015, when she and her mother heard that an Oregon-based nonprofit called Our Children's Trust (OCT) was looking for youth plaintiffs to participate in a potentially groundbreaking climate lawsuit, she wanted in. In August of that year, Foytlin and 20 other children from around the country—joined by renowned environmental expert James Hansen—filed a civil suit that accuses the government of failing to protect future generations from the impacts of climate change.

Click here to read the full story.
---
Why Are Dolphins Dying on East Coast? Experts Alarmed
Nearly 120 corpses have washed up so far this summer, government says
Christine Dell'Amore
National Geographic News, August 7, 2013

Bottlenose dolphins are washing up dead in unusually high numbers along the U.S. East Coast this summer—a "very alarming" situation that has experts scrambling to decipher the cause.

Nearly 120 corpses have washed ashore in coastal states from New York to Virginia in July and the first week of August, which is much higher than the normal number of strandings attributed to natural deaths. Virginia has had the highest mortality, with 64 animals found during that period.

Gregory Bossart, the Georgia Aquarium's chief veterinarian and pathologist, has been studying the impact of infectious disease and pollutants on bottlenose dolphins in Florida's Indian River Lagoon (map) for several years.

He's found that many of the lagoon's dolphins carry toxic mercury at 20 times the level permitted in human food by the U.S. government.

Said NOAA's [Trevor] Spradlin, "Marine mammals are like the canary in the coal mine"—many bottlenose dolphins live on the same coasts and eat the same fish that we do.

Click here to read the full story.
---
A Republican Case for Climate Action
By WILLIAM D. RUCKELSHAUS, LEE M. THOMAS, WILLIAM K. REILLY and CHRISTINE TODD WHITMAN
The New York Times, August 1, 2013

Each of us took turns over the past 43 years running the Environmental Protection Agency. We served Republican presidents, but we have a message that transcends political affiliation: the United States must move now on substantive steps to curb climate change, at home and internationally.

There is no longer any credible scientific debate about the basic facts: our world continues to warm, with the last decade the hottest in modern records, and the deep ocean warming faster than the earth's atmosphere. Sea level is rising. Arctic Sea ice is melting years faster than projected.

The costs of inaction are undeniable. The lines of scientific evidence grow only stronger and more numerous. And the window of time remaining to act is growing smaller: delay could mean that warming becomes "locked in."

Mr. Obama's plan is just a start. More will be required. But we must continue efforts to reduce the climate-altering pollutants that threaten our planet. The only uncertainty about our warming world is how bad the changes will get, and how soon. What is most clear is that there is no time to waste.

Click here to read the full editorial letter.
---
Trash Inc - The Secfet Life of Garbage
CNBC Special Report on a $52 billion-a-year industry

Garbage. It's everywhere — even in the middle of the oceans — and it's pure gold for companies like Waste Management and Republic Services who dominate this $52 billion-a-year industry. From curbside collection by trucks costing $250,000 each, to per-ton tipping fees at landfills, there's money to be made at every point as more than half of the 250 million tons of trash created in the United States each year reaches its final resting place.

At a cost of $1 million per acre to construct, operate and ultimately close in an environmentally feasible method, modern landfills are technological marvels — a far cry from the town dump that still resonates in most people's perceptions. Not only do they make money for their owners, they add millions to the economic wellbeing of the towns that house them. Technologies, such as Landfill Natural Gas and Waste To Energy, are giving garbage a second life, turning trash into power sources and helping to solve mounting problems.

Across the world, we're producing more trash than ever before…nearly a ton per year for every man, woman and child in the U.S. Nearly half of it winds up in landfills....

For more information about the program and to view video segments and slideshows from the program, please visit their website.
---
New Report Warns of Expanding Threat of Hypoxia in U. S. Coastal Waters
Declining oxygen levels in Nation's waters forming dead zones, destroying habitats
National Oceanic and Atmospheric Administration
September 3, 2010

A report issued today by key environmental and scientific federal agencies assesses the increasing prevalence of low-oxygen "dead zones" in U.S. coastal waters and outlines a series of research and policy steps that could help reverse the decades-long trend.

The interagency report notes that incidents of hypoxia—a condition in which oxygen levels drop so low that fish and other animals are stressed or killed--–have increased nearly 30-fold since 1960. Incidents of hypoxia were documented in nearly 50 percent of the 647 waterways assessed for the new report, including the Gulf of Mexico, home to one of the largest such zones in the world.

To read more about, and download a copy of the full report, please visit the NOAA website.
---
Study Reveals Mercury Contamination in Fish Nationwide
The Florida Monitor Weekly, August 21, 2009

Scientists detected mercury contamination in every fish sampled in 291 streams across the country. About a quarter of these fish were found to contain mercury at levels exceeding the criterion for the protection of people who consume average amounts of fish. More than two-thirds of the fish exceeded the U.S. Environmental Protection Agency level of concern for fish-eating mammals. Some of the highest levels of mercury in fish were found in the tea- colored or "blackwater" streams in Florida, North and South Carolina, Georgia, and Louisiana - areas associated with relatively undeveloped forested watersheds containing abundant wetlands compared to the rest of the country. High levels of mercury in fish also were found in relatively undeveloped watersheds in the Northeast and the Upper Midwest.

For more information, please visit the National Water-Quality Assessment Program website.

Also see U.S. Environmental Protection Agency's National Listing of Fish Advisories www.epa.gov/waterscience/fish/advisories/.
---
Natural Connections - Harness the healing power of time spent outdoors Publix "GreenWise Market", May 2008
Though it happened more than 40 years ago, Dan Shelton remembers it like it was yesterday. "My family had just moved to rural Illinois, and I was standing on a riverbank, looking at a field and some woods," he recalls. He was only 6 years old, and life at home was tumultuous. Yet Shelton says that while standing there, alone with the trees and grass, he had an emotionally healing experience. "I felt so peaceful," he says. "I remember deeply feeling that somehow I was meant to be there."
For Shelton, frequent contact with nature played a key role in his emotional and spiritual health until the late 1980s, when he moved to Chicago. "It was my first time living in the big city," he says. Without easy access to the natural world he loved, he slipped into depression. "I didn't experience any relief until I moved back to South Carolina nine months later."
Since then Shelton has made it his mission to help others get back to nature via workshops he conducts. Shelton is just one of many involved in the emerging field of ecotherapy¿the practice of promoting mental and physical well-being by deepening one's relationship with the natural environment. Like Shelton, "many people have some of the deepest experiences they've ever had through the natural world," says Linda Buzzell-Saltzman, a psychotherapist and founder of the International Association for Ecotherapy. Yet today many folks are more disconnected from nature than ever. "People are realizing that something has gone profoundly wrong in the human/nature relationship," she says.
Click here to read the full story.
---
The Encyclopedia of Life, No Bookshelf Required
By Carl Zimmer
The New York Times, February 26, 2008

Imagine the Book of All Species: a single volume made up of one-page descriptions of every species known to science. On one page is the blue-footed booby. On another, the Douglas fir. Another, the oyster mushroom. If you owned the Book of All Species, you would need quite a bookshelf to hold it. Just to cover the 1.8 million known species, the book would have to be more than 300 feet long. And you'd have to be ready to expand the bookshelf strikingly, because scientists estimate there are 10 times more species waiting to be discovered.

It sounds surreal, and yet scientists are writing the Book of All Species. Or to be more precise, they are building a Web site called the Encyclopedia of Life (www.eol.org). On Thursday its authors, an international team of scientists, will introduce the first 30,000 pages, and within a decade, they predict, they will have the other 1.77 million.

While many of those pages may be sparse at first, the authors hope that the world's scientific community will pool all of its knowledge on the pages. Unlike a page of paper, a page of the Encyclopedia of Life can hold as much information as scientists can upload. "It's going to have everything known on it, and everything new is going to be added as we go along," said Edward O. Wilson, the Harvard biologist who spearheaded the Encyclopedia of Life and now serves as its honorary chairman.

Click here to read the full story.
---
The Power of Green
By THOMAS L. FRIEDMAN
The New York Times Magazine, April 15, 2007

One day Iraq, our post-9/11 trauma and the divisiveness of the Bush years will all be behind us — and America will need, and want, to get its groove back. We will need to find a way to reknit America at home, reconnect America abroad and restore America to its natural place in the global order — as the beacon of progress, hope and inspiration. I have an idea how. It's called "green."

In the world of ideas, to name something is to own it. If you can name an issue, you can own the issue. One thing that always struck me about the term "green" was the degree to which, for so many years, it was defined by its opponents — by the people who wanted to disparage it. And they defined it as "liberal," "tree-hugging," "sissy," "girlie-man," "unpatriotic," "vaguely French."

Well, I want to rename "green." I want to rename it geostrategic, geoeconomic, capitalistic and patriotic. I want to do that because I think that living, working, designing, manufacturing and projecting America in a green way can be the basis of a new unifying political movement for the 21st century. A redefined, broader and more muscular green ideology is not meant to trump the traditional Republican and Democratic agendas but rather to bridge them when it comes to addressing the three major issues facing every American today: jobs, temperature and terrorism.

How do our kids compete in a flatter world? How do they thrive in a warmer world? How do they survive in a more dangerous world? Those are, in a nutshell, the big questions facing America at the dawn of the 21st century. But these problems are so large in scale that they can only be effectively addressed by an America with 50 green states — not an America divided between red and blue states.

Because a new green ideology, properly defined, has the power to mobilize liberals and conservatives, evangelicals and atheists, big business and environmentalists around an agenda that can both pull us together and propel us forward. That's why I say: We don't just need the first black president. We need the first green president. We don't just need the first woman president. We need the first environmental president. We don't just need a president who has been toughened by years as a prisoner of war but a president who is tough enough to level with the American people about the profound economic, geopolitical and climate threats posed by our addiction to oil — and to offer a real plan to reduce our dependence on fossil fuels.

... Bush won't lead a Green New Deal, but his successor must if America is going to maintain its leadership and living standard. Unfortunately, today's presidential hopefuls are largely full of hot air on the climate-energy issue. Not one of them is proposing anything hard, like a carbon or gasoline tax, and if you think we can deal with these huge problems without asking the American people to do anything hard, you're a fool or a fraud.

Being serious starts with reframing the whole issue — helping Americans understand, as the Carnegie Fellow David Rothkopf puts it, "that we're not 'post-Cold War' anymore — we're pre-something totally new." I'd say we're in the "pre-climate war era." Unless we create a more carbon-free world, we will not preserve the free world. Intensifying climate change, energy wars and petroauthoritarianism will curtail our life choices and our children's opportunities every bit as much as Communism once did for half the planet.

Equally important, presidential candidates need to help Americans understand that green is not about cutting back. It's about creating a new cornucopia of abundance for the next generation by inventing a whole new industry. It's about getting our best brains out of hedge funds and into innovations that will not only give us the clean-power industrial assets to preserve our American dream but also give us the technologies that billions of others need to realize their own dreams without destroying the planet. It's about making America safer by breaking our addiction to a fuel that is powering regimes deeply hostile to our values. And, finally, it's about making America the global environmental leader, instead of laggard, which as Schwarzenegger argues would "create a very powerful side product." Those who dislike America because of Iraq, he explained, would at least be able to say, "Well, I don't like them for the war, but I do like them because they show such unbelievable leadership — not just with their blue jeans and hamburgers but with the environment. People will love us for that. That's not existing right now."

... Am I optimistic? I want to be. But I am also old-fashioned. I don't believe the world will effectively address the climate-energy challenge without America, its president, its government, its industry, its markets and its people all leading the parade. Green has to become part of America's DNA. We're getting there. Green has hit Main Street — it's now more than a hobby — but it's still less than a new way of life.

Why? Because big transformations — women's suffrage, for instance — usually happen when a lot of aggrieved people take to the streets, the politicians react and laws get changed. But the climate-energy debate is more muted and slow-moving. Why? Because the people who will be most harmed by the climate-energy crisis haven't been born yet.

... An unusual situation like this calls for the ethic of stewardship. Stewardship is what parents do for their kids: think about the long term, so they can have a better future. It is much easier to get families to do that than whole societies, but that is our challenge. In many ways, our parents rose to such a challenge in World War II — when an entire generation mobilized to preserve our way of life. That is why they were called the Greatest Generation. Our kids will only call us the Greatest Generation if we rise to our challenge and become the Greenest Generation.

Click here to read the full story.
---
Crossing the Divide - Evangelists and Environmentalists Join Forces
by Rachel Martin
National Public Radio

All Things Considered, January 21, 2007 · A group of leading scientists and evangelicals have chosen to put aside their differences on how the world came to be and join forces to protect its future. They've formed a coalition and are lobbying Capitol Hill on environmental issues.

Richard Cizik is the vice president of the National Association of Evangelicals. He believes God made the world in matter of days. Eric Chivian is a biochemist from Harvard University who maintains that man evolved from matter over billions of years.

Chivian says that, before meeting each other, Cizik may have thought of him and other scientists as "latte-sipping, Prius-driving, endive-munching, New York Times-reading snobs. And we might have seen them as Hummer-driving, bible-thumping, fire-breathing…"

"…snake-handling fundamentalists," Cizik finishes.

Unlikely allies? Perhaps. But that's exactly what they've become in their mutual quest to fight global warming. The two men have launched what they're calling a dialog between leading figures in science and religion, specifically evangelical Christianity. They're not pushing any specific legislation, but they're trying to raise the public profile of environmental issues.

Click here to read the full story and a link to listen to the entire broadcast online.
---
Introduction to the Clean Water Act
The Clean Water Act celebrated its fortieth anniversary in October 2012. The EPA has produced a "slide show" to help the public understand the Act and how it is used. A link to the slide show can be found on the EPA's "Watershed Academy Web" homepage.
---
New Reports Assess the Condition of U.S. Coral Reefs, Outline Strategy to Reduce Threats
National Oceanic and Atmospheric Administration

NOAA announces the availability of two new reports on coral reef ecosystems produced in cooperation with the United States Coral Reef Task Force and other partners.

The new report—the first-ever national look at the condition of U.S. coral reefs—points to pressures posing increasing risks to reefs, particularly in certain "hot spots" located near population centers.

Click here to access more information on the NOAA reports.


---
International News
A Warming Planet Struggles to Feed Itself
Justin Gillis
The New York Times, June 4, 2011

The rapid growth in farm output that defined the late 20th century has slowed to the point that it is failing to keep up with the demand for food, driven by population increases and rising affluence in once-poor countries.

Consumption of the four staples that supply most human calories — wheat, rice, corn and soybeans — has outstripped production for much of the past decade, drawing once-large stockpiles down to worrisome levels. The imbalance between supply and demand has resulted in two huge spikes in international grain prices since 2007, with some grains more than doubling in cost.

Those price jumps, though felt only moderately in the West, have worsened hunger for tens of millions of poor people, destabilizing politics in scores of countries, from Mexico to Uzbekistan to Yemen. The Haitian government was ousted in 2008 amid food riots, and anger over high prices has played a role in the recent Arab uprisings.

Now, the latest scientific research suggests that a previously discounted factor is helping to destabilize the food system: climate change.

Many of the failed harvests of the past decade were a consequence of weather disasters, like floods in the United States, drought in Australia and blistering heat waves in Europe and Russia. Scientists believe some, though not all, of those events were caused or worsened by human-induced global warming.

Click here to read the full story.
---
Animals face extinction threat
By Dan Vergano
USA TODAY, October 26, 2010

Nearly one in five mammal, reptile, bird or amphibian species — from Tasmanian devils to whooping cranes — face extinction, international conservation experts reported Tuesday.

And without the nature reserves erected over the past half-century, more would be gone.

"Conservation is working, there is just not enough of it," says study author Ana Rodrigues of France's Centre d'Ecologie Fonctionnelle et Evolutive. "Now is the time to scale up conservation."

The five-decade survey of the extinction status of 25,780 vertebrate species, roughly half of all backboned animals, was released by the journal Science. Led by Michael Hoffmann of the United Nations Environment Programme, the results find that almost one-fifth of those species are threatened with extinction (from 13% of birds to 41% of amphibians) — meaning either there are fewer than 50 individuals left, or the species' chances of extinction are 50% or greater within 10 years. The declines are mostly tied to expanding farmland, overlogging, overfishing and competition from invasive species.

Click here to read the full story.
---
Footprint of Nations: World's Ecological Footprint Exceeds Biocapacity by Nearly 40%
Redefining Progress works with a broad array of partners to shift the economy and public policy towards sustainability.

The Ecological Footprint is a measure of the amount of nature it takes to sustain a given population over the course of a year. According to the new 2005 Footprint of Nations report, humanity's footprint is 57 acres per person while the Earth's biological capacity is just 41 acres per person. By comparing a population's footprint with its biological capacity, Ecological Footprint analysis suggests whether or not that population is living within its ecological means. If a population's footprint exceeds its biological capacity, that population is said to be engaging in unsustainable ecological overshoot.

Please visit the Redefining Progress website to learn more.
---
General Information
Ecological Politics
UM's Larry Brand flouts the grant system, pays the price
BY STEVEN DUDLEY
Miami New Times, June 5, 2003

On Saturday morning, December 1, 2001, Larry Brand parked his black Nissan pickup in the lot at the University of Miami's Rosenstiel School of Marine and Atmospheric Science. Brand's a professor there, hired as a phytoplankton ecologist in 1981....

On that Saturday, Brand was carrying water samples he'd gathered in Big Cypress Swamp and the Everglades. He expected to filter the samples, then freeze them in one of the half-dozen fridges he had. Brand collects water samples all over the Glades and Florida Bay, and measures them for things like nitrogen and phosphorus, the microscopic particles that make up fertilizers. This seemingly innocuous work had become a nuisance for some of the most powerful businessmen and politicians in the state of Florida -- as we shall see. But Brand wasn't too worried back then. He was concentrating -- as he always does -- on the work, in an almost monkish way. He isn't so much a religious man as an altruist. He had a duty to look for the truth in these particles, which can cause as many problems as they solve. And as a scientist, he saw the data leading him toward that truth.

But on that Saturday morning, it was hardly about the data, and when he opened the door to his lab, reality hit him like a 50-foot tsunami. Everything was gone: $100,000 worth of equipment, test tubes, beakers -- all his papers.

Click here to read the full story.
---
Horseshoe crab survey in Florida
The Florida Fish and Wildlife Research Institute has recently started a new horseshoe crab survey. The goal of this survey is to locate and document horseshoe crab nesting beaches around the state of Florida. To document these important nesting beaches around the state, they are relying on volunteers to report any observations that they have of horseshoe crab nesting activity. The FMRI is asking anyone to report information on the date of their observations, location of their observations, whether or not horseshoe crabs were mating, and estimates of the number of horseshoe crabs seen. They have set up a toll-free phone line (1-866-252-9326), an email address (horseshoe@myfwc.com), and an online survey (http://www.surveymonkey.com/s/horseshoe_crab) for volunteers to use to report their observations. This project provides an excellent opportunity for the public to get involved with a scientific/conservation-oriented study.
You can also read more about horseshoe crabs, the results of the survey to date, and view photos at: http://myfwc.com/research/saltwater/crustaceans-marine-arthropods/horseshoe-crabs/.
---
Florida's "Impaired Waters Rule" and TMDL's
We have been participating with the Southeastern Regional Office of the Clean Water Network (CWN), in a challenge of Florida's "Impaired Waters Rule" (IWR). This rule was designed by the Florida Department of Environmental Protection (FDEP) to comply with the requirements of the TMDL (Total Maximum Daily Load) provisions of the Clean Water Act.
The CWN felt there were numerous problems with the IWR and coordinated with more than 50 organizations around the state (including the FSSR) to challenge this rule. The FL Department of Administrative Hearing's Officer ruled in favor of the FDEP. The ruling is being appealed and the participating organziations have also filed suit against the EPA for what we believe is their non-discretionary duty to either approve of or deny what amounts to Florida changing its water quality standards unilaterally.
If you would like to read more about TMDLs and the process Florida is currently following to implement them, click here for lots more information.
The state of Florida is also in the process of developing a system of water pollution trading credits. This is similar to the free-market based system the EPA has used for years in air pollution regulation. Below is an editorial about the efforts being pursued by the Florida Department of Environmental Protection (DEP). In addition, click here to read more information about the proposed DEP pollutant trading policy.
St. Sebastian River Preserve State Park - Volunteers
Informational Graphics
Sport Fish of the Sebastian Inlet - Life Cycle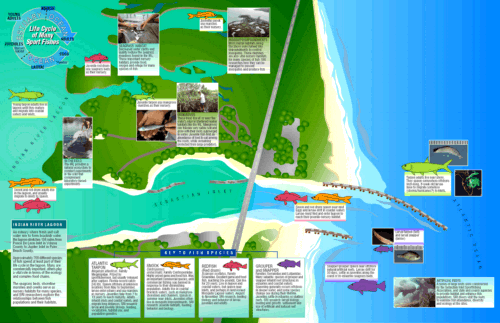 This image was produced by the Sportfish Research Institute, Florida Institute of Technology, Melbourne, Florida. To download the full-size version of the image, click here (1.4 MB).
Everglades Restoration
The following graphics are from an article in the Washington Post, June 23, 2002 on the components, projects and technologies being proposed for the restoration of the Florida Everglades.
Everglades Restoration Plan
Everglades Water Flow
Environmental Toll of Diverted Flow
Restoring the Kissimmee River
An Everglades Alternative
Lake Belt
Untested Technologies
Crowding out Panthers
Drinking Water Supply
The following graphics are from the Orlando Sentinel.
Drinking water sources...critical issues today
How rain refuels our drinking supply
Water useage per day
Sebastian Area Land Use and Submerged Aquatic Vegetation
Sebastian area 1995 land use, 1996 sea grasses
Sebastian area 1996 Submerged Aquatic Vegetation
---
Growing Native
Growing Native is an email list devoted to the discussion of Florida native plants and their cultivation, propagation, and conservation. It is moderated by Rufino Osorio, author of "A Gardener's Guide to Florida's Native Plants." One may join the Growing Native email list by sending an email to growingnative-subscribe@yahoogroups.com.