Next Meeting of the FSSR
Our meetings are bi-monthly on the fourth Tuesday of the odd numbered months (except July) and are held at the North Indian River County Library on CR 512 (Sebastian Blvd.) in Sebastian.
Our meetings are always free and everyone is welcome. These events are not sponsored by the North Indian River County Library.
The presentation at our meeting in March 2018 was about microplastics in our oceans and waterways. Speaker Nikki Munroe showed an extended trailer of the documentary "Plastic Oceans," demonstrating the magnitude of the problem. This trailer is displayed below and may be viewed by clicking on the image. Ms. Munroe works for the UFL/IFAS Extension Service in Indian River County and much of the information she presented at our meeting was developed by the University, and is available online at www.plasticaware.org. The "Plastic Aware" campaign is designed to help educate everyone about the scope of the microplastics issue and includes a citizen-science project, allowing anyone to contribute to greater understanding and finding a solution to this problem. The Plastic Aware website also includes a link to their "Take the Pledge" survey which Ms. Munroe handed out at the end of our meeting.
The PBS NewsHour has run a special segment on "Plastic Pollution" in late September 2018 on the issue of microplastics and plastic polluting our oceans. Click here to view their news segments on this issue.
Landscape Architect, Robin Pelensky gave a presentation to the Friends in November 2017 on rain gardens. Many of the online resources she mentioned are avaiable from the University of Florida/IFAS here.
Events
Florida Wildlife Federation Photo Contest
before December 31, 2018

Help protect Florida's wildlife and participate in the Florida Wildlife Federation's annual Lou Kellenberger Photo Contest. Take photos and enter them in the contest with eight different categories to choose from. Win cash prizes and public notoriety with your pictures! For more information and entry, visit the FWF Photo Contest website.
---
Indian River Bird & Nature Art Show
October 12-14, 2018


The Pelican Island Preservation Society is hosting the 4th Annual Birding Festival & Nature Art Show. Activities include local birding tours and lectures, Nature Art Show that will include a plein air paint-out at the Audubon campus, and a sunset pontoon boat cruise on the Indian River Lagoon to Pelican Island. Visit the festival Facebook page at www.facebook.com/TreasureCoastBirdartshow for more details, as they become available.
---
Pelican Island Audubon Society
Audubon House, 195 9th St. SE (Oslo Rd)

Friday, October 12, 6pm - Dr. Seuss' "The Lorax"
Saturday, October 27, 10am - Bats of Florida, Shari Blisset-Clark

North Indian River County Library, 1001 Sebastian Blvd., Sebastian

Tuesday, November 13, 6 PM - Protecting Our St. Johns River, Lisa Rinaman, St. Johns Riverkeeper

For more information, visit the PIAS website at http://pelicanislandaudubon.org or call 772-567-3520.
---
The Big Sit!
October 13-14, 2018

The Big Sit! is an annual, international, noncompetitive birding event hosted by Bird Watcher's Digest and founded by the New Haven (Connecticut) Bird Club. Every team that observes the year's "Golden Bird" has a chance to win $500. Every year, bird watchers from around the globe unite on this special day by participating in this free event, open to any person and club in any country!

The Big Sit! is like a Big Day or a bird-a-thon in that the object is to tally as many bird species as can be seen or heard within 24 hours. The difference lies in the area limitation from which you may observe.

To learn more and to register, visit the The Big Sit! website.
---
Florida Native Plant Society - Eugenia Chapter
Thursdays, 7 PM


October 18 - TBA

For information, please call Judy Avril at 772-567-1565 or visit FNPS - Eugenia Chapter.
---
St. Johns River Water Management District Meeting
Thursday, October 18, 6 to 8pm
Blue Cypress Room, St. Johns River WMD Palm Bay Office
525 Community College Parkway, Palm Bay

The St. Johns River Water Management District will hold their next Southern Recreational Lands meeting to give an update on land management, the Upper Basin Project and recreation. For more information, visit their website.
---
Florida Bat Festival
October 20, 2018
Gainesville, Florida

This unique event will provide a rare opportunity for the general public and wildlife lovers to visit a working research center and to see the bats face-to-face. This is the only day of the year when the center is open to the public.

The festival will be held on the grounds of the Lubee Bat Conservancy, a 110-acre ranch, located at 1309 NW 192nd Avenue in Gainesville, FL. This free festival offers exciting opportunities for the whole family. Whether you are viewing live fruit bats, sitting in on an education presentation, or visiting a vendor's booth, the festival offers relaxation and recreation.

Each year this event features free activities, including bat-themed crafts and games for kids, educational exhibits, presentations by bat experts, and the unique opportunity to see live fruit bats with 5 ft wingspans on exhibit in our Bat Zone. Local vendors will be spread across the beautiful grounds of the conservancy selling food and beverages, providing local environmental education information, and selling batty merchandise.

For more information as it becomes available, visit the Lubee Bat Conservancy website.
---
Florida Wildlife Festival
October 20, 2018
Umatilla, Florida

Come and experience the "Real" Florida at the original "wildlife focused" festival.

The purpose of the Florida Wildlife Festival is to increase awareness and promote the safe coexistence of humans and wildlife by fostering community appreciation of the Florida black bear and other native wildlife species, as well as Florida's unique ecosystems that serve as wildlife habitat.

For more information, visit the festival website at http://floridawildlifefestival.org.
---
Harbor Branch Oceanographic Institute
5600 US 1 North, Ft. Pierce, Florida


The films and lectures below are held in the Johnson Education Center on the Harbor Branch campus and are free and open to the public. For more information, visit the HBOI website or call the Friends of Harbor Branch office at 772-242-2559.
Ocean Science Lecture Series
Wednesday, October 24, 4pm - 2018 Status of South Florida Harmful Algal Blooms, Jim Sullivan, PhD., Executive Director, FAU Harbor Branch
---
Water Symposium
October 26, 2018
Sanborn Center, Deland, Florida

A symposium with short presentations by civic leaders, utility departments and water management orgainzations, about water quality and management issues and solutions. The event is free and hosted by the Volusia Water Alliance. For more information as it becomes available, visit the Volusia Water Alliance website.
---
Indian River Lagoon Science Festival
October 27, 2018
Veterans Memorial Park, Ft. Pierce

The free family-friendly festival is a celebration of science and aims to show that science is not only meanignful and relevant, but also fun! Exhibitors will have hands-on activities and demonstrations exploring different areas of science, such as agriculture, health science, entomology, ecology, marine science, and more! To learn more, visit the IRL Science Festival website.
---
National Prescription Drug Take-Back Day
October 27, 2018

On April 28th the public will have the opportunity to dispose of potentially dangerous expired, unused, and unwanted prescription drugs. The service is free and anonymous, no questions asked. Properly disposing of unwanted medications helps keep them out of our water, and ultimately our waterways. Americans are now advised that their usual methods for disposing of unused medicines—flushing them down the toilet or throwing them in the trash—both pose potential safety and health hazards.

Last October, Americans turned in 456 tons (over 912,000 pounds) of prescription drugs at more than 5,300 sites operated by the DEA and more than 4,200 of its state and local law enforcement partners. Overall since 2010 the DEA and its partners have taken in over 9 million pounds of pills.

For more information, and to locate a take-back location near you, visit the DEA's National Prescription Drug Take Back Day website.
---
Florida Panther Festival
November 3, 2018
Naples Zoo, Naples, Florida

Make plans to attend this family-friendly event to celebrate the local wildlife of Collier County, including the endangered Florida panther. Along with all regular zoo activities including see a living Florida panther, guests will enjoy outdoor exhibits by area conservation partners, fun activities for kids, and practical talks about living with wildlife presented by experts.

For more information, visit the Florida Panther Festival website.
---
Marine Resources Council
Lagoon House, 3275 Dixie Hwy NE (US 1), Palm Bay
Brown Bag Lunch Lecture
First Tuesday of the month at noon

Tuesday, November 6, Recycling, Waste Management

For more information visit the MRC website at www.mrcirl.org.
---
America Recycles Day
Sunday, November 15, 2018

Since 1997, communities across the country have come together on November 15 to celebrate America Recycles Day. More than a celebration, America Recycles Day is the only nationally recognized day dedicated to the promotion of recycling in the United States. One day to educate and motivate. One day to get our neighbors, friends and community leaders excited about what can be accomplished when we all work together. One day to make recycling bigger and better 365 days a year.

For more information and to get involved, please visit the America Recycles Day website.

For more information about recycling in Indian River County please visit the Indian River County Solid Waste Department website or call them at 772-770-5112, or visit the Keep Indian River Beautiful website or call KIRB at 772-226-7738. In Brevard County, visit the Brevard County Solid Waste Management website or call them at 321-633-2042, or visit the Keep Brevard Beautiful website or call them at 321-631-0501.
---
Arbor Day in Florida
January 18, 2019

Arbor Day is an annual observance that celebrates the role of trees in our lives and promotes tree planting and care. As a formal holiday, it was first observed in 1872, in Nebraska.

For many years, Arbor Day was celebrated on April 22, J. Sterling Morton's birthday. Today, National Arbor Day is celebrated on the last Friday in April.

Florida has celebrated Arbor Day since 1886 and has one of the first Arbor Day celebrations in the nation, on the third Friday in January. Due to Florida's warmer climate, it is convenient, and even advantageous to plant trees at this early date in the season. Over 200 communities in Florida celebrate Arbor Day, either as a stand-alone event or in conjunction with some other occasion. Sebastian celebrates National Arbor Day though closer to the April 22nd date, in conjunction with its annual Earth Day celebration.

For more information about Arbor Day, visit the Arbor Day Foundation, or for more information about Arbor Day celebrations in Florida, visit the University of Florida's "Arbor Day in Florida" page.
---
Space Coast Birding and Wildlife Festival
January 2019
Eastern Florida State College, Titusville

21st year in Titusville and the Space Coast. More than 200 activities, led by leading authorities. Considered by many to be the #1 wildlife festival in America.

For more information, please visit their website at www.spacecoastbirdingandwildlifefestival.org.
---
World Wetlands Day
February 2, 2019

2 February each year is World Wetlands Day. This day marks the date of the adoption of the Convention on Wetlands on 2 February 1971, in the Iranian city of Ramsar on the shores of the Caspian Sea.

Each year since 1997, the Ramsar Secretariat has provided materials to help raise public awareness about the importance and value of wetlands.

On 27 January 1998, the then Secretary General of the Ramsar Convention Secretariat, Mr. Delmar Blasco, signed the first partnership agreement between a global environmental convention and the private sector with Mr. Franck Riboud, CEO of the Danone Group, Yves Buchsenschutz, Director General of the Evian Water Company, France, part of the Danone Group, and Mrs. Dominique Voynet, French Minister for the Environment. The Danone–Evian Fund for Water was born. Its mission is to raise awareness among decision-makers and the public at large of the importance of water resources through a portfolio of projects and educational products.

For more information and downloadable resource materials, visit www.worldwetlandsday.org.
---
Orlando Wetlands Festival
February 2019
Fort Christmas Historical Park, Christmas

The City of Orlando, Orange Audubon Society, Orange County Parks & Recreation Department and Atkins Global invite you to come out to the Orlando Wetlands Festival at Fort Christmas Historical Park. Celebrate the City's 1,650 acre wetland oasis with guided birdwatching excursions, guided photo hikes, hay rides, bus tours, wildlife shows and fun activities just for the kids. Enjoy live music and food which will be available for purchase. Admission is free and door prizes will be given out. For more information, visit the Orlando Wetlands Festival website.
---
Pygmy Fringe Tree Wildflower Festival
March 2019
South Florida State College, Avon Park, Florida

SFSC Museum of Florida Art & Culture teams up with area organizations to celebrate native wildflowers of the Lake Wales Ridge. The Pygmy Fringe Tree Wildflower Festival at SFSC celebrates Lake Wales Ridge native wildflowers with guided walks on the Wayside Shrine Trail, native plant sale, student art exhibition, and music by Back Porch Revival.

For more information, visit http://mofac.org/programs/fringe-tree-wildflower-festival.
---
World Wildlife Day
March 3, 2019

On 20 December 2013, at its 68th session, the United Nations General Assembly decided to proclaim 3 March, the day of signature of the Convention on International Trade in Endangered Species of Wild Fauna and Flora (CITES), as UN World Wildlife Day to celebrate and raise awareness of the world's wild animals and plants. Countries around the world are encouraged to highlight species of wild animals and plants from their own countries.

For more information and events around the world, visit www.wildlifeday.org.
---
Pelican Island Wildlife Festival
March 9, 2019, 10am - 4pm
Riverview Park, Sebastian, Florida

The 26th Pelican Island Wildlife Festival, hosted by the Pelican Island Preservation Society and the City of Sebastian, celebrates the 115th anniversary of the establishment the Pelican Island National Wildlife Refuge (the nation's first), by President Theodore Roosevelt. For information, visit the PIPS website.
---
World Water Day
March 22, 2019

International World Water Day is held annually in March as a means of focusing attention on the importance of freshwater and advocating for the sustainable management of freshwater resources.

An international day to celebrate freshwater was recommended at the 1992 United Nations Conference on Environment and Development (UNCED). The United Nations General Assembly responded by designating 22 March 1993 as the first World Water Day.

For more information, visit the World Water Day website.
---
Florida Wildflower Festival
March 2019
Downtown Deland

In addition to wildflower & gardening education, the festival features vendors who provide information, wildflower and gardening-themed products, and arts and crafts related to general gardening, native plant gardening, gardening for birds, butterflies and wildlife, habitat creation, home improvement, environmental conservation, recycling and "Green" living.

For more information, visit the Florida Wildflower Festival website.
---
Earth Hour
March 30, 2019

On Saturday March 25th at 8:30pm, millions of people across the world are switching off lights for one hour - to celebrate their commitment to the planet. This year, you can do more. For more information, visit www.earthhour.org.
---
National Bat Appreciation Day
April 17, 2019

National Bat Appreciation Day occurs annually on April 17th. National Bat Appreciation Day is an excellent time to learn about the role bats play in nature. One important reason to celebrate bats is that they are considered to be an "insectivorous" creature because they rid our world of many bothersome insects. Visit www.nationaldaycalendar.com/days-2/national-bat-appreciation-day-april-17 to learn more fun bat facts!
---
Viera Wetlands Nature Festival
April 2019
3658 Charlie Corbeil Way, Viera, FL

The event includes an art exhibit, tours, kids' activities, nature exhibitis, birding and photography workshops. For more information visit http://www.vieravoice.com/April-2018/Viera-Wetlands-Nature-Festival-offers-unique-presentation.
---
Gopher Tortoise Day
April 10, 2019

April 10th was officially adopted by the Gopher Tortoise Council as Gopher Tortoise Day! In Florida, gopher tortoises are found in parts of all 67 counties and are frequently encountered in neighborhoods, along roadways, and in many of Florida's public parks and forests. The goal of Gopher Tortoise Day is to increase awareness and appreciation for these long lived, gentle reptiles.

http://gophertortoisedayfl.com/
---
Greater Everglades Ecosystem Restoration Conference
April 22-25, 2019
Coral Springs, Florida

Greater Everglades science continues to be a foundation element for Everglades restoration and management. Building on the successful GEER conferences in 2017, 2015 and before, GEER 2019 will address the most pressing and complex science issues that we face now and into the future of restoration – a future that includes uncertain climate patterns, threats from invasive species, altered hydrology, development pressure, and degraded water quality.

The conference is designed to bring together scientists and engineers, policy makers, planners and partners actively involved in or affected by all aspects of Everglades ecosystem restoration. Participants will interact in an interdisciplinary setting to summarize and review state-of-the-art planning, management activities and science in Everglades restoration.

For more information, visit the GEER Conference website.
---
National Park Week
April 2019

Each year in April America celebrates National Park Week –– a chance to hike, learn, share, and give back in the nation's 391 national parks. Take this time to celebrate what we all have inherited as Americans – 84 million acres of the world's most spectacular scenery, historic landmarks and cultural treasures.

Whether it is your first trip, or the latest of many memorable park experiences, National Park Week is a chance for all Americans to get active while experiencing the amazing places that make up the national park system for FREE. Visit any of America's national parks and enjoy free admission all week long!

Visit www.nps.gov/findapark/national-park-week.htm for more information.
---
Sebastian Lionfish Fest
May 2019
Capt. Hiram's, 1606 Indian River Dr., Sebastian, FL

Learn more about the ways invasive lionfish are impacting local waters, what you can do to protect coastal habitats, and how you can get involved! The event involves a fishing tournament, education, entertainment, and a cook-off. For more information, visit https://sebastianlionfishfest.com or the Reef Rangers Lionfish Control Team.
---
World Oceans Day
June 8, annualy

On World Oceans Day people around the planet celebrate and honor the body of water which links us all, for what it provides humans and what it represents. There are several events around Florida celebrating the day and the closest will be at the Loggerhead Marinelife Center in Juno Beach. The SMS event will be held from 10 AM to 3 PM. Please visit their website at www.marinelife.org for information about all the activities for this event.

For more information about World Oceans Day, please visit www.worldoceansday.org.
---
National Rivers Month
June 1st marks the start of National Rivers Month, a thirty day tribute and celebration of America's most treasured rivers. Take a moment this month to think about your favorite waterway and how it connects to habitat, drinking water, recreation, energy, and life. What can you do to ensure that these waterways remain clean and viable for generations to come?
The American Association for the Advancement of Science has some online educational resources available for kids of all ages, to teach them more about rivers and our important water resources. Visit their website at http://sciencenetlinks.com/daily-content/06/09/.
In addition, American Rivers and the Arbor Day Foundation have information about celebrating and protecting rivers at https://www.americanrivers.org/2017/06/need-healthy-rivers and http://arbordayblog.org/national-forests/happy-national-rivers-water-month.
---
National Trails Day
June 2018

American Hiking Society's National Trails Day® (NTD) is a celebration of America's magnificent Trail System, occurring annually on the first Saturday in June. NTD features a series of outdoor activities, designed to promote and celebrate the importance of trails in the United States. Individuals, clubs and organizations from around the country host National Trails Day® events to share their love of trails with friends, family, and their communities. NTD introduces thousands of Americans to a wide array of trail activities: hiking, biking, paddling, horseback riding, trail running, and bird watching and more. For public and private land managers alike, National Trails Day® is a great time to showcase beautiful landscapes and special or threatened locales as thousands of people will be outside looking to participate in NTD events.

For more information, visit www.nationaltrailsday.org.
---
International Coastal Cleanup
September 2019

Ocean trash is a serious pollution problem that affects the health of people, wildlife and local economies. Join the world's largest volunteer effort for our ocean and waterways by participating in the International Coastal Cleanup.

The Ocean Conservancy sposnors this even world-wide and Keep Indian River Beautiful (KIRB) will be coordinating volunteers and cleanup locations in Indian River County. For more information about this event, visit the Ocean Conservancy. For information about KIRB or to volunteer for the cleanup, visit them at www.keepindianriverbeautiful.org or call 772-226-7738.

In Brevard County, Keep Brevard Beautiful (KBB) will be hosting ICC cleanup events there. For more information about KBB or to volunteer in Brevard County, visit them at http://keepbrevardbeautiful.org or call 321-631-0501.
---
National Estuaries Week
September 2019


National Estuaries Week is the annual celebration of the vibrant and essential coastal areas where rivers meet the sea. Culminating with the National Estuaries Day celebration held on the last Saturday of September each year, it's a terrific opportunity to learn more about estuaries and the perfect excuse to spend a day on your local bay. You can take advantage of volunteer opportunities and hands-on restoration in your nearby bay or estuary, participate in a guided walk or boat tour, or simply explore your estuary with family and friends. Every year, Restore America's Estuaries and its 11 national member organizations across the country organize special National Estuaries Day events--beach clean-ups, hikes, canoe and kayak trips, cruises, workshops, and more!

For more information about National Estuaries Week and other events around the country, please visit them at www.estuaries.org/national-estuaries-week.
---
National Public Lands Day
Saturday, September 28, 2019

National Public Lands Day (NPLD), sponsored by Toyota Motor North America, is the nation's largest, single-day volunteer effort for public lands. Through NPLD, the National Environmental Education Foundation (NEEF) works to connect people to public lands in their community, inspire environmental stewardship, and encourage use of public lands for education, recreation, and general health.

To encourage people to join in and visit their public lands, NPLD is a fee-free day for all federal public lands and many state parks. Whether you volunteer on NPLD, enjoy some boating, hiking, fishing, or camping, or simply learn more about your public lands and the plants and wildlife that live there, we invite you to take this day to enjoy the great outdoors and celebrate the lands that give us so much.

For more information, visit the National Public Lands Day website.
Ongoing Events
Gopher Tortoise Coalition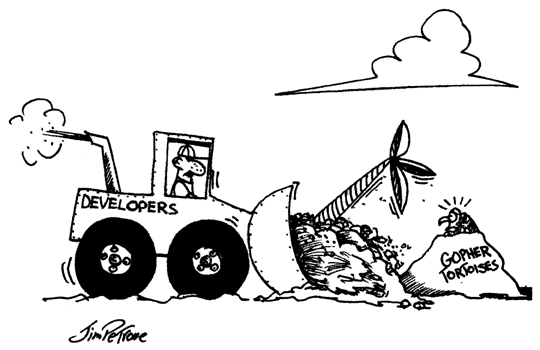 The Gopher Tortoise Coalition is a group of concerned citizens that was recently formed with the change in the status of the gopher tortoise in Florida, by the Florida Fish & Wildlife Conservation Commission (FWC). The FWC took the action to upgrade the status of the gopher tortoise to "threatened" and just recently has changed the requirements for relocating tortoises out of the way of development.
The gopher tortoise suffers from an "upper respiratory tract" disease and the FWC has always required that tortoises being relocated off-site from areas being developed, to be tested for the disease before they can be relocated. In lieu of that, developers were allowed to apply for an "incidental take permit", which allowed them to pay a mitigation fee and entomb any gopher tortoises on-site as a result of the development work. This has historically been the easiest and most expeditious process for developers. With the recent change of policy by the FWC, tortoises can now be relocated off-site without the testing and many developers seem eager to do that. One logistical problem is having the time and man-power, to actually do the work of relocation. That's where you, the public and the Gopher Tortoise Coalition come in. If you are interested in helping out, please call Ilka Daniel, Director of Outreach Services with the Humane Society at 772-388-3331, ext. 28 or 772-473-6889.
---
Operation Medicine Cabinet - A Prescription for Safe Kids and a Clean Environment
Operation Medicine Cabinet is a professional, comprehensive, public safety and environmental awareness program designed to prevent the misuse and abuse of unwanted over-the-counter and prescription medications, and keep them out of communities' water supplies.
Operation Medicine Cabinet keeps unwanted medications out of the wrong hands. Medicines left unattended or disposed of carelessly are a danger, whether it's accidental ingestion by people or pets, illegal use or theft, or identity theft from discarded containers with patient information.
Operation Medicine Cabinet protects the environment and prevents pollution by helping communities properly dispose of unused medications. Studies show that flushing medications down the toilet or sink drain contaminates water supplies and endangers aquatic life in our rivers and streams; wastewater facilities aren't designed to remove pharmaceutical chemicals.
For information on collection of unwanted medications in Indian River County, please contact the Indian River County Sheriff's Department at 772-569-6700 or visit their website. They will accept old/unwanted medications year-round at the Sheriff's Office, located at 4055 41st Ave., Vero Beach.
For collection information in Brevard County, please contact the Brevard County Sheriff's Department at 321-264-5201. Unwanted medications can be dropped off at the their South Precinct Office located at 1515 Sarno Road, Melbourne.
The U.S. Food and Drug Administration has additional information on the proper disposal of unused and unwanted medications. While flushing medications down the toilet is the least desirable method of disposal, there are certain medications that this is still the recommended method. The FDA maintains a list of these medications. For more information on disposal of unused medications, environmental concerns and guidelines for disposal, please visit the FDA website.
The American Rivers organization has published a page on their website entitled "Pharmaceuticals in the Water Supply." "In 2008, the Associated Press found an array of pharmaceuticals, from pain killers to antibiotics to mood stabilizers, in the drinking water of 24 major metropolitan water suppliers. Further, 34 of the 62 water suppliers contacted by the AP couldn't provide results as they had never tested for pharmaceutical compounds." Their website discusses the problems and imapcts to your health and the environment.
You will also find more information on medication safety, environmental impacts and safe disposal on the National Community Pharmacists Assocaiton Dispose My Meds, the Teleosis Institute's Green Pharmacy Program and the Product Stewardship Institute's The Drug Take Back Network websites. Please visit these websites for more information on the safety, and prevention of environmental hazards, in disposing of unused medications. Our local waterways will be better for it!
Winn-Dixie recently announced that its pharmacies will offer specially designed medication disposal envelopes to help its customers safely dispose of unused, outdated or unwanted medications.
The specially designed TakeAway Environmental Return System envelopes, made by Sharps Compliance, offer a convenient, safe and environmentally responsible method to dispose of unused, expired or unwanted noncontrolled prescription or over-the-counter medications, the grocer stated.
"Winn-Dixie is making it easy for our customers to dispose of unwanted medications, preventing potential misuse of these medications and also preventing contamination of our lakes and rivers, many of which serve as community water supplies," stated John Fegan, Winn-Dixie VP pharmacy.
The US Drug Enforcement Administration holds a "National Drug Take-Back Day" each year in September. You will find more information about this event and drug disposal information on their website at http://deadiversion.usdoj.gov/drug_disposal/takeback/index.html.
---
Vintage & Green Market, Downtown Vero Beach
Second Saturday, 9 am to 4 pm
Heritage Center, 14th Ave., Vero Beach

For more information, please visit the Main Street Vero Beach website or call 772-563-0620.