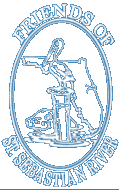 Home
About Us
Meeting Info/Events
Photo Gallery
Membership Info/Renew
Contact Info/Volunteer
Links
News and Information
Famous Quotes
Like us on Facebook

Library
The majority of the documents located on this page are in Adobe Acrobat format and you will need the free Adobe Reader program in order to view or print these documents. If you need the Reader program, it is free to download from Adobe. Click on the link here →

For help and tips on using Adobe Reader, click here.
Below are links to sections further down this page. Click on a link to go directly to that section.
Invasive Plant Information
Brazilian Pepper - Why So Terrible?
Invasive Plants of East Central Florida - You Should Know
Old World Climbing Fern - UF/IFAS, Center for Aquatic and Invasive Plants
Old World Climbing Fern - The Nature Conservancy
St. Sebastian River Research Project
The Friends of St. Sebastian River has taken on a long-term project of gathering data and information about the St. Sebastian River and surrounding areas. The concept is broad-ranging, and has already sparked new ideas of what information may be available, and where it may lead us.
The concept is that we would like our website to be a repository of information about our river and its watershed. In other words, what do we know about our river and what impacts its health or habitat. This information may include history about the wildlife that depends on our river and how it has changed over the years, and our human history that has developed around it. This could include anything of how life depends on the river, right through to current day implementation of fertilizer ordinances to protect the river as a resource. We are also interested in more technical information, to include hydrology and how it has changed with development and human impacts.
The idea is not necessarily for us to become an archive for publications and artifacts, but rather, a bibliographic reference and description of what information exists. The scope of our project has blossomed as we imagine the possibilities and have come across the very beginnings of our findings. Therefore, we would like to ask for the help of anyone who may have ideas or information that we should consider, including where we may find that information. We would also be interested in photos or documentation about the river and our community that we may copy. We are aware of information that exists in our local libraries and historical societies. It is just a matter of putting in the effort to locate and document a reference to these resources.
As you can imagine, this project could take on a life of its own and is more than we can undertake on our own. We would be grateful for any assistance anyone would like to offer. That assistance can be in whatever amount or form that interests you. So if you have any information, documentation, or would like to help with research, please get in touch with us - we would love to talk with you! One of the first mysteries unearthed as we've gotten started with this project is where was Gibson Springs? Do you know where Gibson Springs was, or can you help us uncover our next mystery? If so, please click on "Contact Info" in the menu on the left, and get in touch with any one of us. Thank you!
St. Sebastian River Area Documents/Reference/Information
A Glimpse Into Old Florida, by Ann Taylor, Vero Beach Magazine, January 2016, - feature story about the St. Sebastian River and the FSSR
All Aboard Florida - Environmental Impact Statement, Federal Railroad Administration
FSSR comments to the FRA on the AAF Draft Environmental Impact Statement
Be a Life Saver for the Indian River Lagoon, Indian River Lagoon Coalition [web page version] [PDF version]
Brevard/UF IFAS County Extension Service - Florida Friendly Landscaping, including fertilizer restrictions information
Dale Wimbrow, The Guy in the Glass
Ellicott Dredges - St. Sebastian River dredging case study, 2006
Fellsmere Water Control District - Fellsmere & C-54 Canals
Florida Department of Transportation - CR510 Widening/Improvement Project
Florida-Friendly Landscaping, University of Florida, IFAS Extension
Florida Water Science Center, USGS
Florida's Water - Indian River Lagoon Watershed
Guide to Natural Communities of Florida - Florida Natural Areas Inventory
Harbor Branch Oceanographic Institute's Indian River Lagoon Observatory
Healing the Lagoon - Guide to Local Fertilizer Ordinance, Indian River Neighborhood Association
Indian River County, 2030 Comprehensive Plan - Chapter 3E, Stormwater Management, includes a map of the county's drainage basins, and a description of the St. Sebastian River basin
Indian River County - Boat Ramps Map
Indian River County Conservation Lands Program and Map
Indian River County Conservation Lands Brochure, Pelican Island Audubon Society
Indian River County Stormwater Division, including fertilizer restrictions information
Indian River County Utilities, North Sebastian Area - Sanitary Sewer Feasibility Study, November 2013
Indian River County Utilities, Indian River County Septic Tank Map
Indian River Lagoon: An estuary of national significance, St. Johns River Water Management District
Indian River Lagoon Aquatic Preserve - Malabar to Vero Beach
Indian River Lagoon Facts/Watershed - St. Johns River Water Management District
Indian River Lagoon protection projects, St. Johns River Water Management District
Indian River Lagoon Species Inventory, Smithsonian Marine Station, Ft. Pierce
KayakGuide.com blog - St. Sebastian River, North Prong
KayakGuide.com blog - St. Sebastian River, South Prong
Kayaking 2 U - St. Sebastian River kayaking blog
Lawn watering restrictions, St. Johns River Water Management District
Little Hollywood, Barbara Maltby, Historian (1992)
Manatee Key - US Army Corps of Engineers maps and documentation to evaluate projects impacting manatees
Manatee Protection Zone maps, FL Fish and Wildlife Conservation Commission
North County Greenways Plan, Indian River County Metropolitan Planning Organization
Ocean Research and Conservation Association Indian River Lagoon Kilroy Monitoring Network
Pelican Paths - the Greenways and Blueways of Sebastian map, City of Sebastian
Rare and Endangered Biota of Florida - Volume 2: Fishes, North Indian River County Library, Fla. Coll. 591.529
Relation of Salinity to Freshwater Dishcarge in the St. Sebastian River, USGS 1999
Roseland designated Florida Heritage site - at last, VeroNews.com, May 11, 2015
St. Johns River Water Management District - Consolidated Annual Report
St. Johns River Water Management District - Hydrologic Data, Information, Maps, etc.
St. Johns River Water Management District, Upper Basin Project Map - Water Control Districts, Water Control Conveyances and Structures
St. Sebastian River Access & Amenities - Indian River County Online Map Portal
St. Sebastian River Preserve State Park - Official State website
St. Sebastian River Preserve State Park
St. Sebastian River Preserve State Park - South Prong Invasive Plant Removal Project 2016-17
Sebastian River Improvement (formerly Water Control) District
Sebastian River salinity regime, Mote Marine Laboratory, 1994
Survey of distribution and abundance of fishes and selected invertebrates in the St. Sebastian River, Richard Paperno, FWC, May 2004
USGS WaterWatch - Florida Streamflow data
Watershed Protection and Restoration, FL Department of Environmental Protection
Waterwise landscaping helps save water resources, St. Johns River Water Management District
Wheeler Stormwater Park, North Prong, St. Sebastian River, St. Johns River Water Management District
Where have all the birds gone? - Carolina Parakeet, Pelican Island Audubon, May 2009
---
Newsletters
May 2019
The link above is for the latest issue of our newsletter. Older versions of our newsletter are in "Adobe Acrobat" format and requires that you have the free Adobe Acrobat "Reader" program installed on your computer. An Acrobat document can either be opened or saved directly to your computer, depending on the preferences you have set for your Acrobat Reader software. Once the document is open, you may read or print individual pages, or save it on your computer.
Email delivery! Current members may request the newsletter be delivered to you via email. The benefit is that you will be the first ones to receive our newsletter when it comes out, and you won't have to access our website to retrieve it. It will also help us to save more paper - if you are currently receiving the paper version and are willing to not have it mailed to you.
If you would like to subscribe to this service, please click here to send us an email request. We now use the MailChimp service to send emails to our members. Each email you receive has an "Unsubscribe" link. If you would like to stop receiving the electronic newsletter only (and receive a mailed copy instead), please send us an email with you request, as clicking on the Unsubscribe link in the email will remove you from all mailing lists. There is also a link in each email to update your "preferences," including your email address. Please update your address if it changes.
If you are having problems accessing the Adobe Acrobat version of the newsletter, click here for a page of information to help answer questions or a possible fix to your problem. You can also click here to access a page of tips for configuring and using the Acrobat Reader program.
Newsletter Archives
2019
2018
2017
Jan Mar May Jul (no newsletter) Sep (no newsletter) Nov
2016
2015
Jan Mar May Jul (no newsletter) Sep Nov
2014
2013
Jan Mar May Jul (no newsletter) Sep Nov
2012
Jan Mar May Jul (no newsletter) Sep Nov
2011
2010
Jan Mar May Jul (no newsletter) Sep Nov
---
Board of Director's agendas & meeting notes
Agendas
2019
2018
Jan Feb Mar Apr May Jun Jul Aug - no meeting/vacation Sep Oct Nov Dec
2017
Jan Feb Mar Apr May Jun (meeting canceled) Jul Aug - no meeting/vacation Sep (meeting canceled) Oct Nov Dec
Meeting notes
2018
2017
---